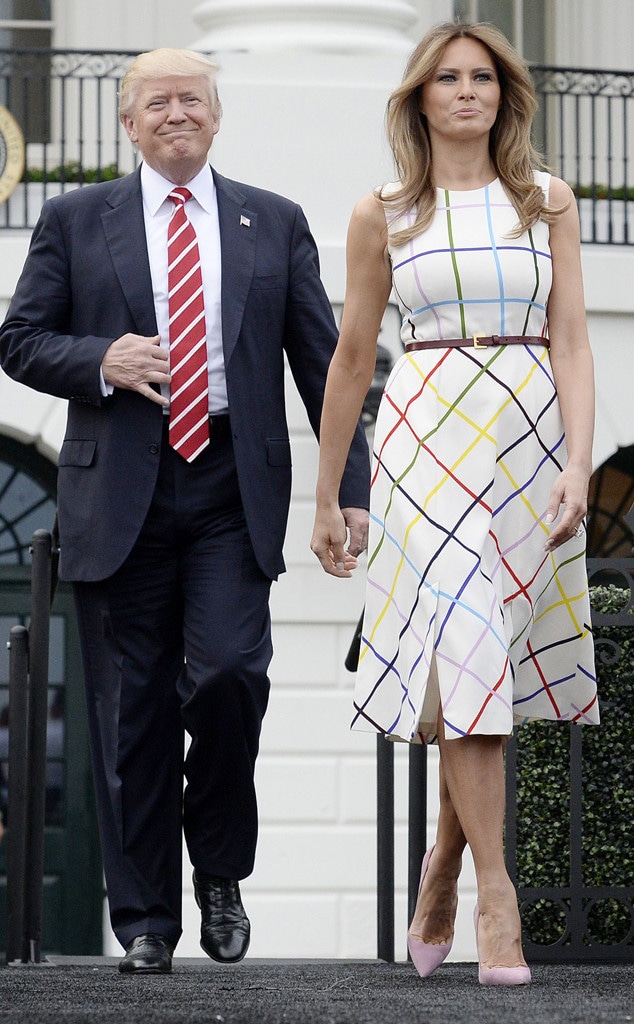 REX/Shutterstock
Words, words, words...
After being accused of having affairs with multiple women, including porn star Stormy Daniels, President Donald Trump has nothing but love for his wife, First Lady Melania Trump, ahead of her 48th birthday on April 26. 
On Tuesday, #45 sent out an email to the Trump Make America Great Again Committee with the subject line "My better half". The email called for well wishes for his wife whom he married in 2005 and with whom he shares son Barron Trump.
In the email, the former reality star wrote, "This month, our family is looking forward to a very special day. Please join us in celebrating the First Lady and my beautiful, kind-hearted and exceptional wife Melania's birthday by signing her card.
The email continued, "Melania is my rock and foundation, and I wouldn't be the man I am today without her by my side. She's the cornerstone of our family, and an incredible mother to our son, Barron. I'm so proud of her accomplishments, and I hope you'll wish her well on her special day."
The email also has a link to Trump's website, where people can leave birthday wishes to the first lady.
Last month, the adult film star sat down with Anderson Cooper on CBS' 60 Minutes Sunday to clarify reports about her alleged affair with real estate mogul-turned-commander-in-chief. Nielsen ratings indicate that the show was watched by 22 million viewers. It's expected to rank as the program's highest-rated episode since Barack Obama and Michelle Obama gave their first post-election interview in November 2008. 
In her 60 Minutes interview, Stormy claimed that when she first visited Donald's hotel suite in the summer of 2006, the year after he married Melania. Stormy claims he bragged about his picture on the cover of a magazine and she told him that someone should "spank" him with it, which she did. 
According to Stormy, she and Donald ate dinner in his suite. After using the restroom, she returned and saw him "perched" on the edge of the bed. "I just felt like maybe...I had it coming for making a bad decision, for going to someone's room alone," she said. "And I just heard the voice in my head, 'Well, you put yourself in a bad situation, and bad things happen, so you deserve this.'" Stormy, who was 27 at the time, said she was not physically attracted to the 60-year-old and didn't want to have sex with him. "But I didn't say no," she said. "I'm not a victim."
Stormy also claimed Donald did not use a condom during their sexual encounter.
The adult film star also said that she had been offered money to keep it quiet.
The day after the interview, Melania's spokeswoman, Stephanie Grisham, was asked if the Slovenian and watched the interview. Grisham told NBC News, "She's focused on being a mom and is quite enjoying spring break at Mar-a-Lago while working on future projects."