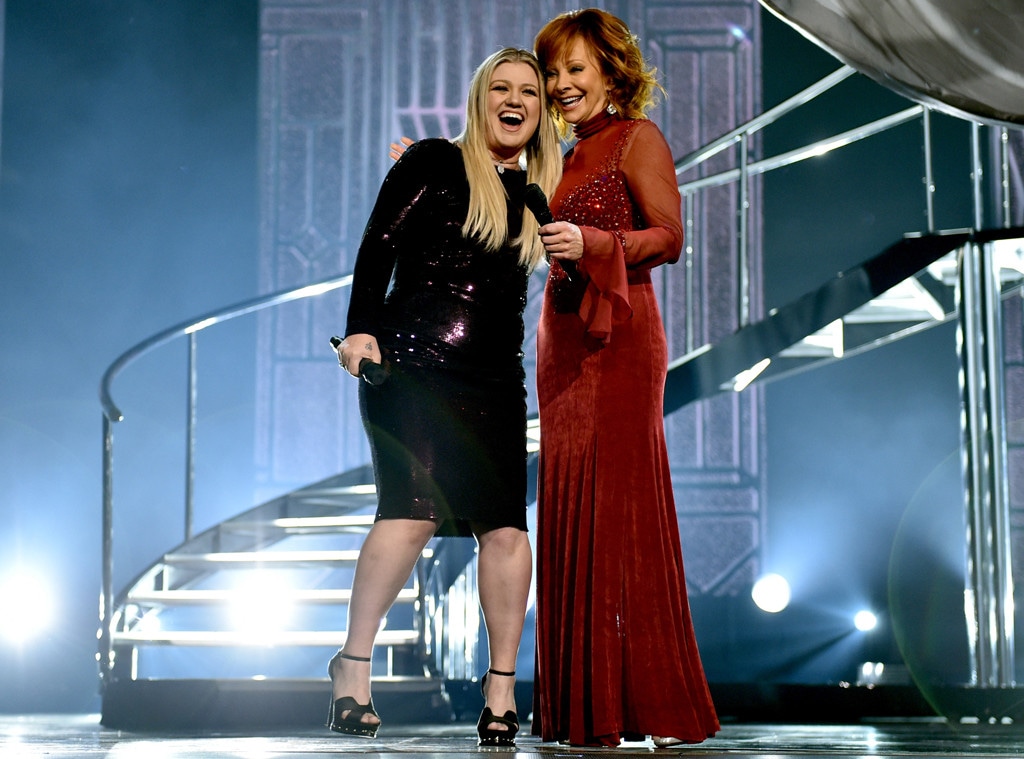 John Shearer/ACMA2018/Getty Images for ACM
Talk about a time warp!
Reba McEntire pulled double duty Sunday night when she not only hosted the 2018 ACM Awards, but also took the stage to perform her signature duet, "Does He Love You," in pure Reba style—literally. The country icon stepped out donning a bedazzled crimson gown with a plunging neckline and turtleneck sheer overlay, the same Sandy Spika gown she sported back in 1993 for a performance of the duet with Linda Davis at the CMA Awards. 
On social media, McEntire referred to the look as "THE red dress," a nod to the amount of attention it garnered 25 years ago because of its style. "I got more press off that dress than if I'd won Entertainer of the Year," she's been quoted as saying. 
From the classic song to the retro wardrobe, it was a perfect combination for the ACM flashback performance. 
Ethan Miller/Getty Images, Rtgwinn/mediapunch/REX/Shutterstock
For an extra dose of nostalgia, McEntire's famous daughter-in-law Kelly Clarkson joined her for the rendition. It's certainly not the first time the songstress has joined her musical idol on stage. Ever since Clarkson won American Idol back in 2002, the ladies have performed the duet several times among other successful collaborations. As fans well know, Clarkson has been married to McEntire's stepson Brandon Blackstock for nearly five years. 
After finishing the duet, Clarkson tried to step away in an act of respect for McEntire, but in true family fashion, the star refused let Clarkson slip away. Instead, she grabbed for her wrist and the two took in their applause side by side.