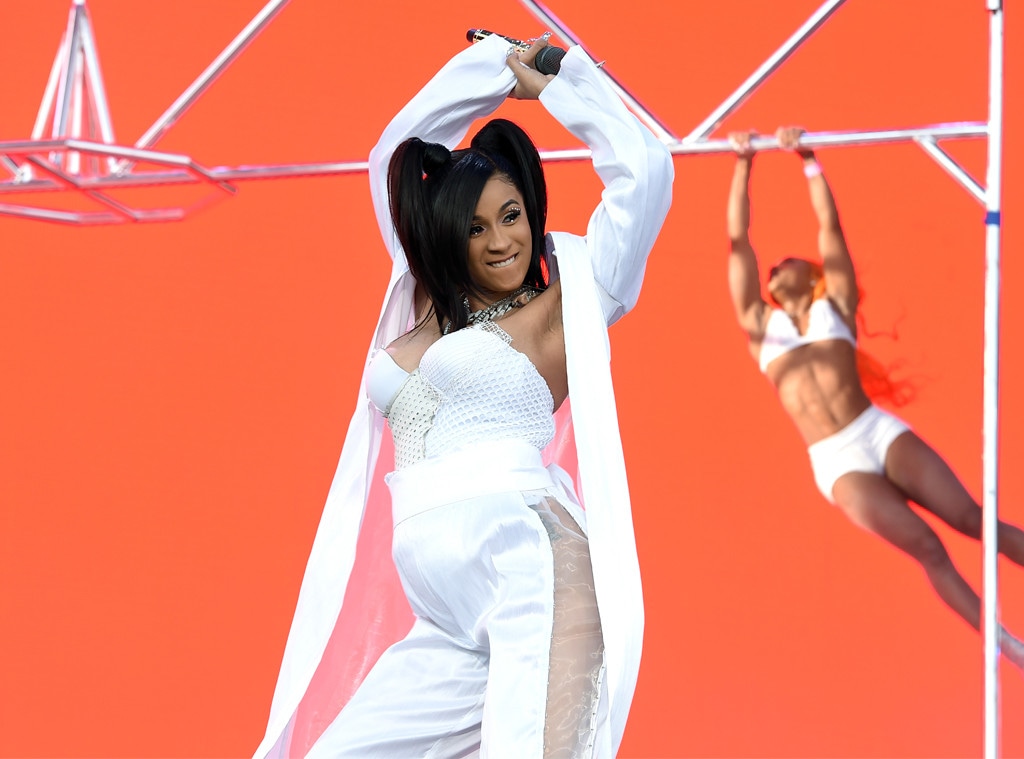 Kevin Winter/Getty Images for Coachella
Pregnant and performing at Coachella? Not a problem for Miss Cardi B!
While Saturday night was all about Beyoncé and her Destiny's Child reunion, Sunday evening proved to be all about a former Love and Hip Hop star who wowed the crowd with her set.
Wearing a custom design by Alejandro that was inspired by TLC, the rapper brought out several special guests including YG, G-Eazy, Chance The Rapper, Kehlani and 21 Savage.
But perhaps what really caught the attention of fans were Cardi B's moves while pregnant.
Whether twerking to the music or communicating with the crowd—"I'm running out of breath, you know my pregnant ass"—the 25-year-old gave it her all.
Larry Busacca/Getty Images for Coachella
And yes, she appeared to please the thousands of fans who came to see her set before night three headliner Eminem took the stage.
It's been a huge month for Cardi B who recently released her debut album Invasion of Privacy. Earlier this weekend, the woman behind "Bodak Yellow" celebrated a major milestone in her career.
"Thank you sooo much everybody !!!I'm super exited!! It wouldn't happen with out yaa," she wrote on Instagram after her album made No. 1 on the Billboard charts. "I love ya so much. A dream come true. Check out #invasionofprivacy !!...The devil calls me but God hugs me !!"
And yes, there's also a baby coming soon.
"She'll be a cool mom," sister and The Challenge: Champs vs. Stars star Hennessy Carolina told E! News exclusively. "She'll be the best mom, actually. She'll be a really good mom. She spoils a lot, she knows how to buy the best gifts so she'll be the best mom. And she's funny so we're going to have a lot of fun."