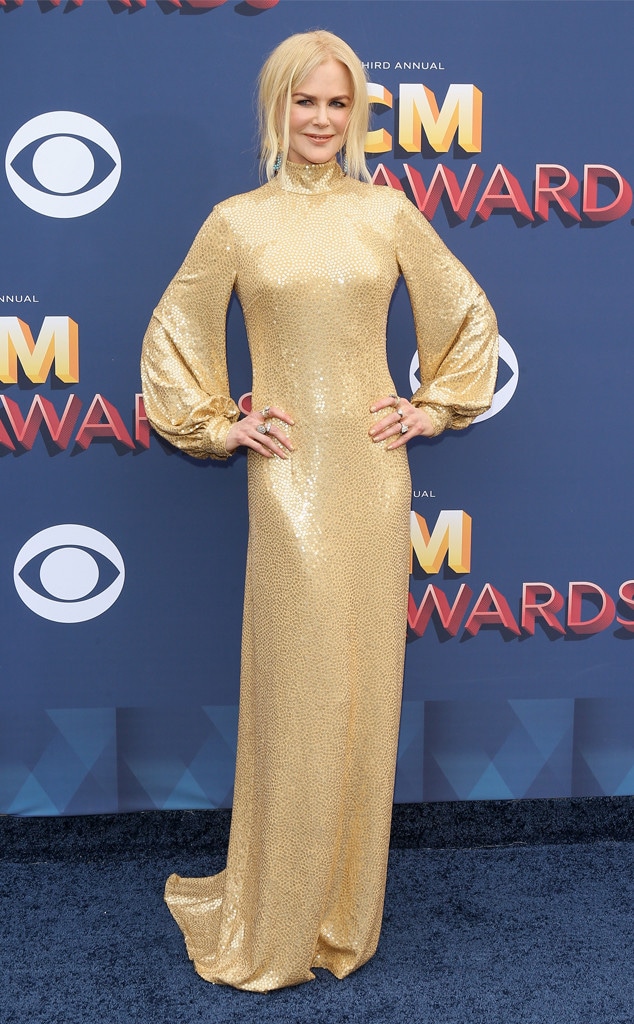 Michael Tran/FilmMagic
Nicole Kidman was glowing at the 2018 ACM Awards.
Hand in hand with husband Keith Urban, the award-winning star transformed into a golden goddess on the red carpet. Although her high-neck Michael Kors dress covered her neck, arms and legs, the silky fabric fit the star perfectly, subtly revealing her shape. With so many opting for thigh-high splits and plunging necklines, which we also love, the actress reasserted that sultry appeal doesn't require skin.
Beyond the design, the golden sequins perfectly match her blond hair. Together, her look is a new iteration of monochromatic style. She's literally glowing in the same hue from head to toe.
Just after we swooned over her look, the Big Little Lies star turned around and everyone's jaws dropped (See: Keith's face of admiration). The gown, which we initially thought covered her entire body, is actually backless. 
The opening begins at the nape of her neck and ends just above derrière. It reveals her incredibly toned back—a stunning feature to show her athletic build. 
Most of all, it makes us rethink the silhouettes we deem sultry. If an unexpected backless number makes our significant others look at us the way Keith is looking at her, we're definitely going to add the style to our wardrobe.