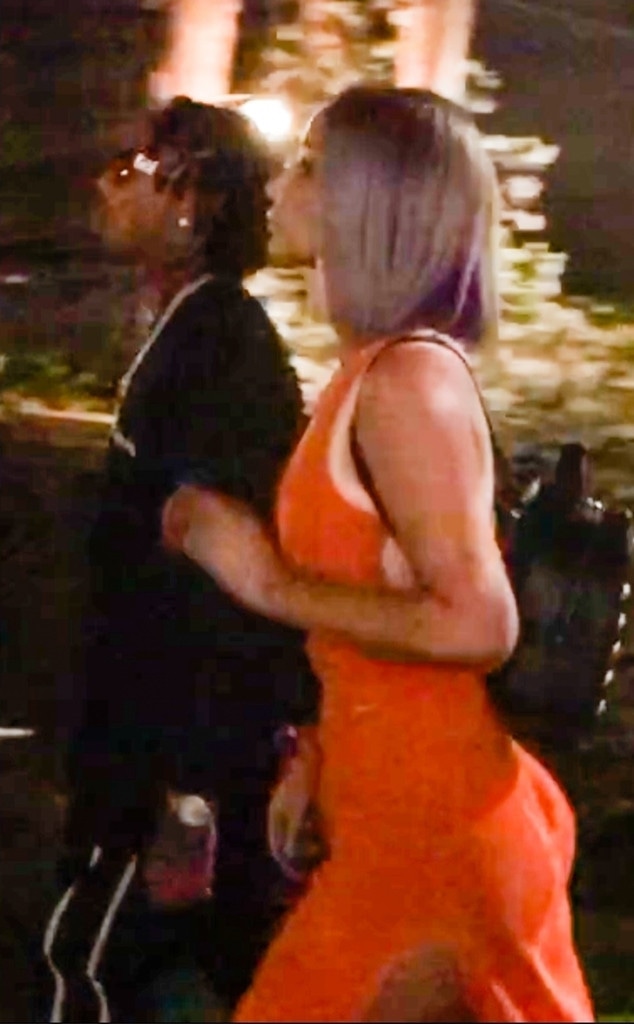 Roger / BACKGRID
Well, well, well, what do we have here?
Iggy Azalea and Tyga have sent the rumor mill flying after the two were spotted hanging out together on night one of the 2018 Coachella Valley Music and Arts Festival in Indio, Calif. Iggy wore an orange ensemble and was sporting a blunt purple bob for the music event in the desert.
In addition to being photographed arriving together on the first night of the fest, fans were quick to pick up on some clues that Iggy and Tyga, who performed at 5 p.m. in the festival's Sahara Tent on Saturday, may have inadvertently left on social media. 
On Friday, social media followers caught that Tyga, who previously dated Kylie Jenner and was married to Blac Chyna, posted an image of women's Vans shoes in a variety of different prints, as well as a Louis Vuitton bag and a Goyard bag. 
Meanwhile, lookyloos couldn't help but spy that on the same night, the Aussie hopped on Instagram and posted some sexy selfies, which just so happened to feature her wearing a pair of kicks that were very similar to the ones in Tyga's Snapchat.
Now let's check out all the signs that things are heating up between the musical duo...
Both Tyga and Iggy appeared on a Valentine's Day edition of MTV's Total Request Live exactly two months ago from today.
Since then, the rappers have been spotted together West Hollywood's Sunset Marquis Hotel in a business meeting, reports the Daily Mail.
An eyewitness also tells E! News that on March 25, that the pair were spotted roller skating at World of Wheels in Los Angeles. The spy caught the duo renting skates together. 
A fan account also posted a pic of Iggy which shows Tyga in the background from that day. 
Additionally, Iggy made an appearance during Tyga's set at a hip-hop festival in Melbourne recently and talked to Billboard on March 30 about the performance, which was her first in Australia since 2013 .
During the interview she explains, "He says [to the crowd], 'Okay, y'all know I couldn't come out here without bringing out the queen of Australia.'" She continued, "I was like, 'Oh, I don't know. That's a big statement. Are they gonna be like, "Boo, f--k you, bitch!"?'"
She then told the publication that the crowd did not, in fact, boo her. 
File these under: things that make you go hmm...
Do you think the rappers are dating? Sound off in the comments!