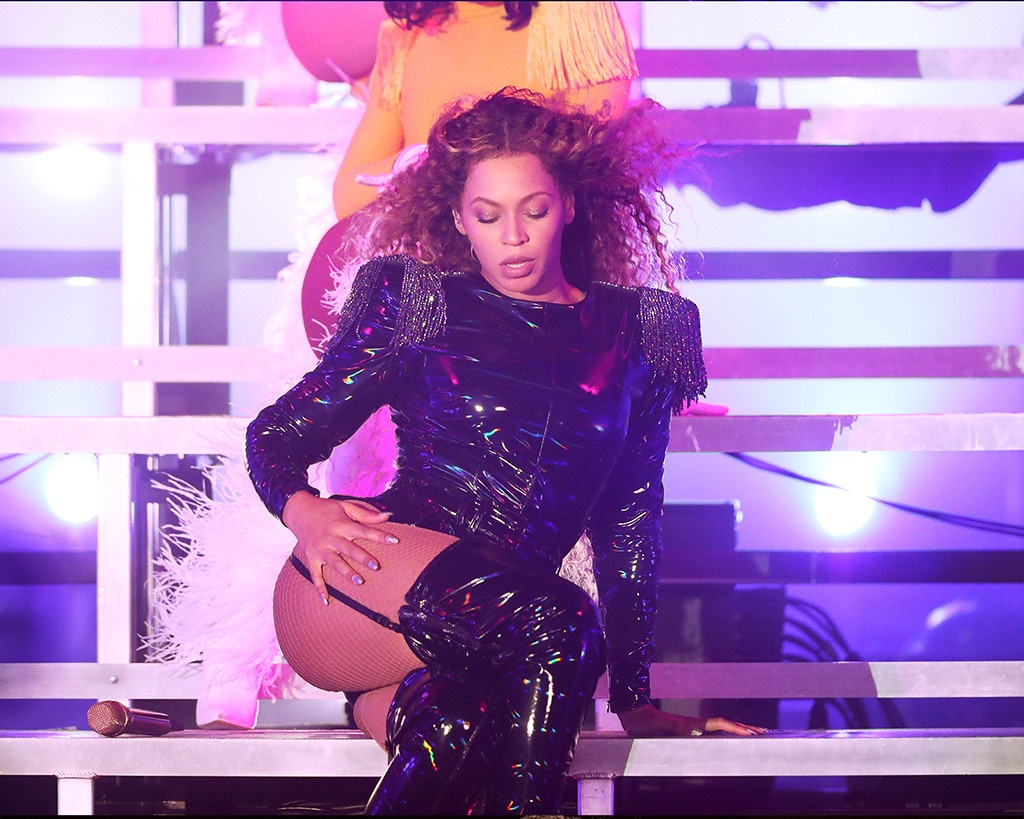 Raven Varona
She's back!
Beyoncé took the stage on Saturday for her long-anticipated performance at Coachella 2018, following her cancellation of her headlining set at the annual music festival last year due to her pregnancy with her twins. It's quite the historic night, as her show-stopping performance marks the first time that a black woman has headlined the music festival.
The set was packed with costumes by Balmain's Olivier Rousting, an army of dancers and special guests like husband Jay-Z and Destiny's Child, who performed hits, including "Say My Name and "Soldier." Bey's sister Solange even came out to dance alongside the Grammy winner.
Earlier in the night, it was confirmed that Bey would be joined fellow Destiny's Child stars Kelly Rowland and Michelle Williams for a throwback moment. 
This also marks Bey's first performance since the 2017 Grammy Awards and her first concert set since late 2016.
At the top of her set, which begun past 11 p.m., the chart-topping singer appeared onstage with over 200 backup dancers and a marching band, who appeared throughout the high-octane performance.
The superstar dazzled the crowd in an elaborate leotard, cape and headdress created by Rousteing. The 36-year-old opened the set by asking the excited crowd, "Y'all ready Coachella?" and then broke into hits "Crazy in Love."
After rocking her Egyptian-inspired ensemble, the mother of three quickly changed into a yellow sweatshirt, jean shorts and glittering boots, which was also custom-made by Rousting, and broke into "Formation."
Later on in the performance, B opted for a sexy, futuristic look that consisted of a patent leather leotard and thigh-high boots. 
Over an hour into the headlining performance, Jay surprised the audience at Empire Polo Field when he took to the stage for their duet "Deja Vu."
Towards the end of the show she was joined by Rowland and Williams in military-inspired numbers. 
Right before the final song, "Love on Top," Bey thanked the crowd for being there and explained: "I was supposed to perform at Coachella before but I ended up getting pregnant...thank God."
The show went past 1 a.m.
For months, there were rumors that she and the Destiny's Child members would have a group reunion onstage at Coachella—and lucky for everyone, that rumor was  true!
The girl group last reunited on stage at the 2015 Stellar Gospel Music Awards. Two years prior, Rowland and Williams joined Beyonce for her Super Bowl 2013 halftime show.
Earlier on Saturday, Bey gave her fans a shout-out.
"I am so excited to see the BeyHive tonight at Coachella," Beyoncé said on Facebook that morning. "We have been working hard and have a special show planned for you so please be safe and stay hydrated. We need your energy! There will be an hour intermission before my performance, so mark your spot, charge your phones, grab your drinks. Can't wait to see y'all at 11:05pm!"