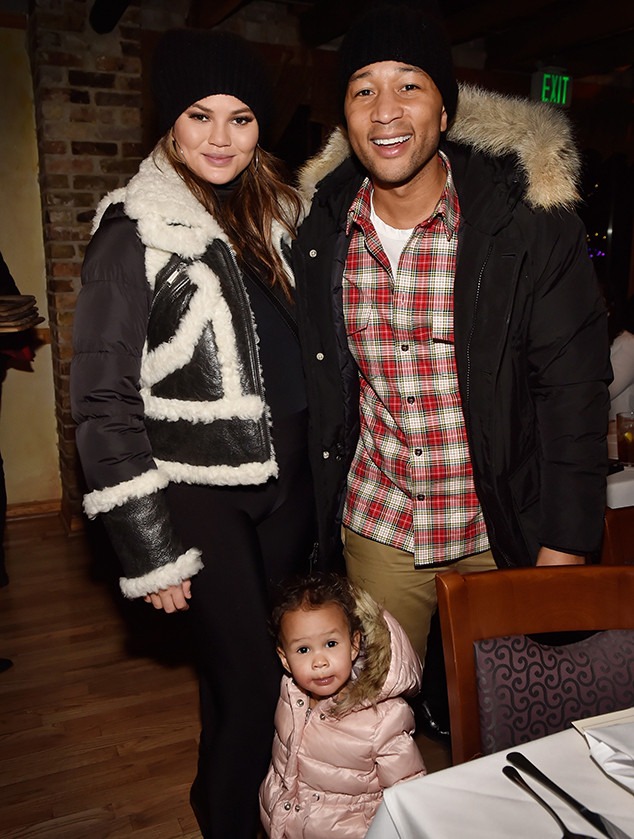 David Becker/Getty Images for RAND Luxury
Can you tell me how to get to Sesame Street? Just go to Chrissy and John's house, of course! 
It's sunny days at Chrissy Teigen and John Legend's home, as the duo are pulling out all the stops for their daughter Luna Stephens' second birthday on Saturday. The proud parents took to social media this AM to give the world a look at what's going down for their little girl's big day—and that's a Sesame Street-themed birthday bash. 
Chrissy  posted a video on Twitter of a three-tiered cake and wrote, "Happy birthday, loons!!! Mommy and daddy are killing the cake game."
The colorful cake features a red tier, a yellow "feathered" tier and a blue tier. The pregnant social media star can be heard saying to her daughter, who is sitting atop her dad's shoulders, "Look at the bird feathers!"
John says to his birthday girl, "Look at your bird feather cake, baby girl."
A few minutes later, the hands-on mom, who revealed on The Ellen DeGeneres Show that she's expecting a son in June, shared another video of the pre-party setting up, featuring larger than life Big Bird, Elmo and Cookie Monster balloon animals.
The kid-tastic bash also has blue table cloths and fire-engine red chairs. Yellow, blue and red balloons are floating atop the pool in the backyard. 
Later in the day, Teigen took to her Instagram to show another image of the cake, only this time it was finished! The expectant star wrote, "!!! Thank you @duffscakemix and @tianasakona for helping us make this amazing cake for Luna! Ok so you did most the work but those eyes and half of cookie's fur is all john and I!"
The social media star also shared a sweet image of her daughter all gussied up her birthday best.
Along with the video, Teigen wrote, "Thank you @pamperspure for helping celebrate our big girl's 2nd birthday! Luna's rocking her llama diaper under this birthday suit! Aaaaaannnnd Pampers made a donation to the Southeast Llama Rescue in honor of this day. Thanks for making her day so special! #llamabutt forever!"
Meanwhile, Chrissy's famous pal Kim Kardashian, who attended her 20-year high school reunion last night, brought baby Chicago West to Luna's birthday bash, dressed her up in a sweet white frock and shared an adorable video of the newborn girl, who was born in January, at the party.
Chrissy and John were married on Sept. 14, 2013 and welcomed Luna on April 14, 2016.