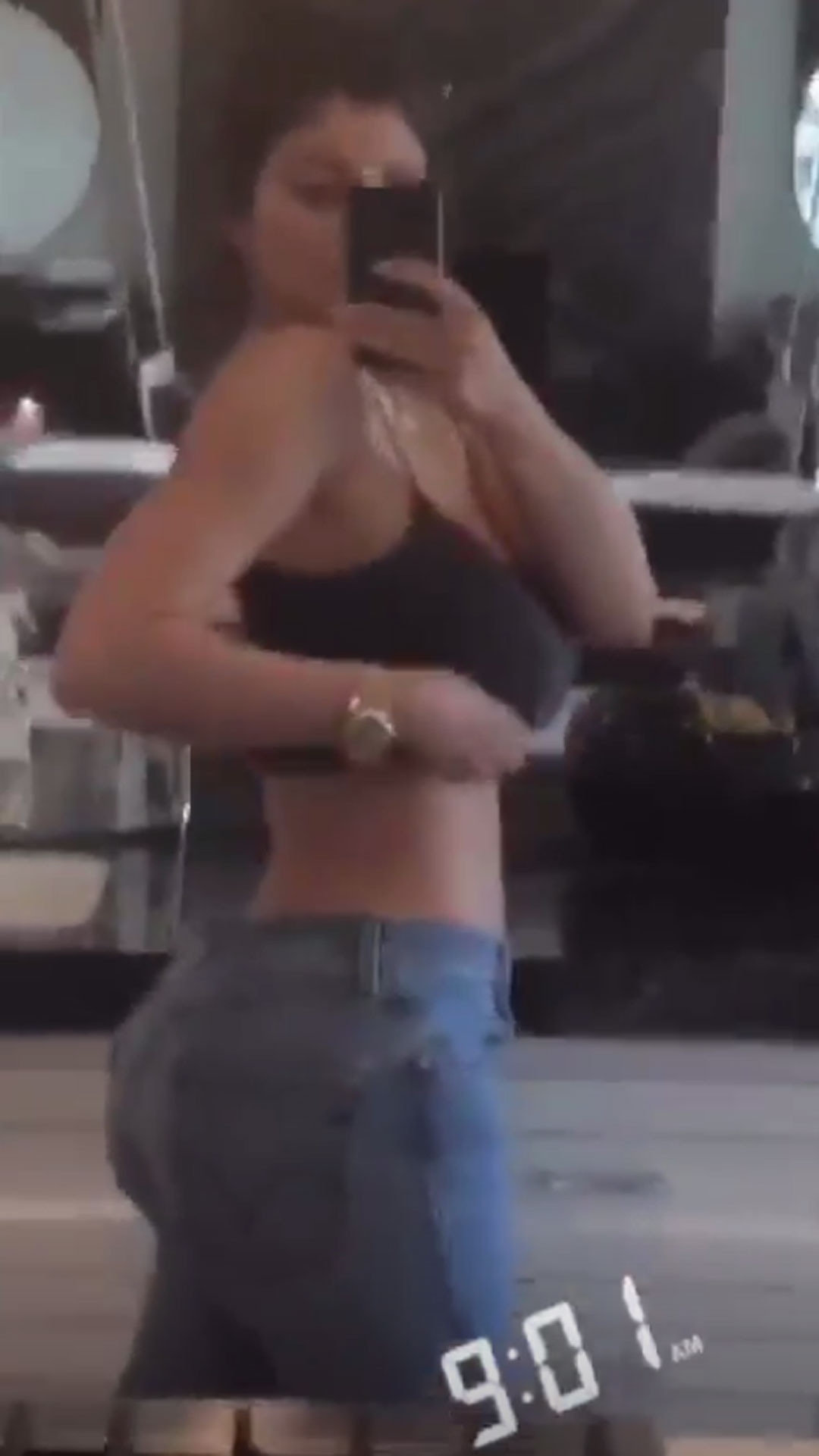 Instagram
Kylie Jenner is feelin' herself.
The Keeping Up With the Kardashians star took to Instagram and Snapchat on Friday morning to share a video of herself in a bra and jeans. Kylie, who just gave birth to baby Stormi Webster two months ago, zoomed in on her belly and booty in the video.
Since giving birth to her and boyfriend Travis Scott's first child on Feb. 1, Kylie has steadily returned to social media. In recent days, Kylie has been increasingly active on her apps. Just yesterday, the Kylie Cosmetics founder shared a photo of herself taking baby Stormi out for a stroll in a Fendi stroller and matching dress.
Later on Thursday, Kylie took to Snapchat to congratulate her sister, Khloe Kardashian, on the birth of her baby girl. While out driving with her BFF Jordyn Woods, Kylie shared a video using a Snapchat filter that read, "Kongrats, Khloe! It's a girl!"
And on Wednesday, Kylie celebrated "hump day" in a skintight tracksuit, showing off her backside to her social media followers.
Judging from all of her recent posts, the E! star seems to be adjusting to life as a mom very well.
Shortly after Kylie gave birth to baby Stormi, a source told E! News, "Kylie's first few days of motherhood have been the happiest of her life."
"She feels like being a mom is her true calling, and there's nothing that's ever felt so right. Bringing the baby home has been the greatest joy and most sacred experience," the insider added. "She is elated and overjoyed."
Earlier this month, Kylie and Travis celebrated their first Easter with their daughter. Kylie shared a video from the celebration on social media that showed her 25-year-old rapper beau snuggling with their little bundle of joy.
One source recently gave us insight into Travis' life as a dad.
"He can't get enough and wants to just hold her and stare at her," the insider told E! News. "It's surreal for him that they created this. He's working a lot but spending time with Kylie and Stormi when he isn't. He misses them so much when he's gone and wants to make sure he doesn't miss anything."