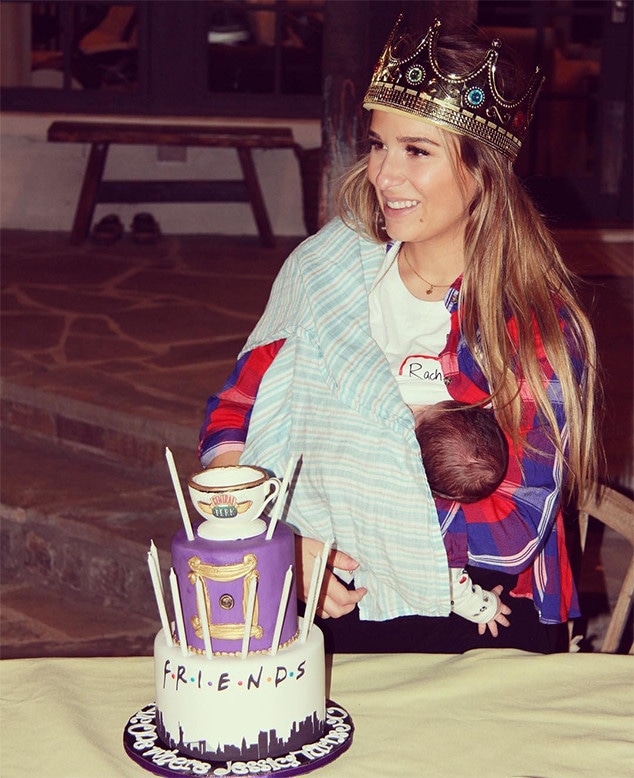 Instagram
Could Jessie James Decker's 30th birthday party be any cooler? No one told her it was gonna be this way...
The singer celebrated her milestone birthday with family and friends at a Friends-themed dinner on Thursday. She posted on her Instagram page photos from the party, including a pic of her wearing a crown and a nametag that reads "Rachel" and breastfeeding her and husband Erick Decker's almost 2-week-old son Forrest, their third child.
The party included place cards that read things like "15 Yemen Road, Yemen"—a country Matthew Perry's character Chandler Bing pretends to have to travel to in order to escape from annoying girlfriend Janice, "Hello, My Name Is Chanandler Bong," "He's Her [photo of lobster]"—referring to Lisa Kudrow's character Phoebe Buffay's interpretation of Ross and Rachel's relationship, and "Regina Falange"—referring to Lisa Kudrow's character Phoebe Buffay's fake name.
"Thanks for all birthday wishes!" Jessie wrote. "Never did I imagine I would be celebrating my 30th birthday with my newborn on the boob who wanted to feast at that very moment lol my family knows me way too well and threw me a 'Friends' intimate birthday dinner! So grateful for my family and friends and where I'm at in my life and will never take it for granted❤️ #30."
Jessie also received a three-tier Friends-themed birthday cake, which featured the show's logo amid a New York City skyline, the words "The One Where Jessie Turns 30" and a replica of Monica's apartment's framed door peephole, and was topped with an edible coffee cup bearing the Central Perk logo.