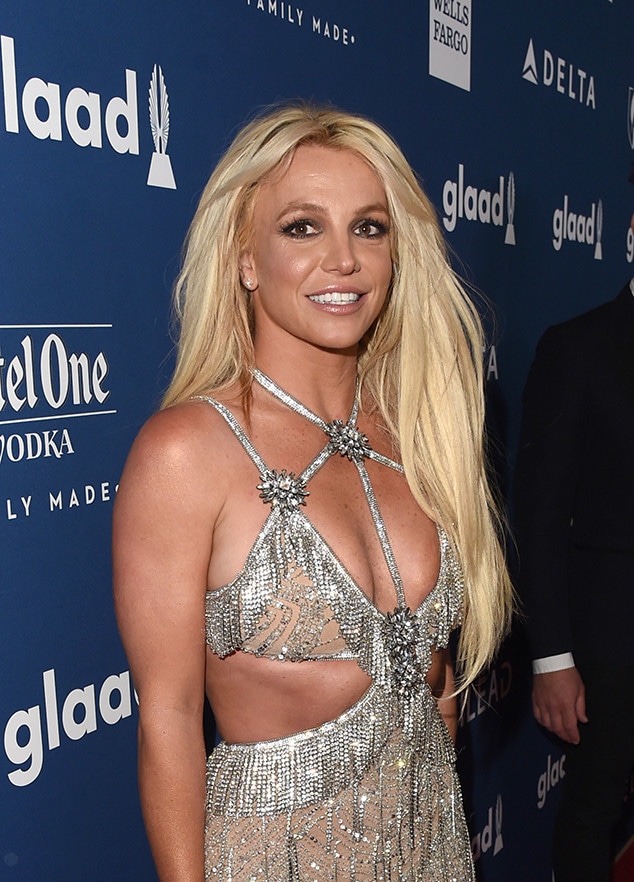 J. Merritt/Getty Images for GLAAD
All eyes were on Britney Spears last night.
The 36-year-old "Work Bitch" singer shimmered on the red carpet at the 2018 GLAAD Media Awards Los Angeles, wearing an ab-baring Giannina Azar mini-dress and Christian Louboutin heels. Spears walked the red carpet solo before joining her boyfriend, Sam Asghari, inside for dinner. She later posed for pictures with Winter Olympians Gus Kenworthy and Adam Rippon.
Spears was on hand to collect the Vanguard Award, which is given to individual who have made an impact promoting equality and acceptance of LGBTQ people. Past recipients include Jennifer Aniston, Drew Barrymore, Cher, Whoopi Goldberg, Josh Hutcherson, Janet Jackson, Jennifer Lopez, Demi Lovato, Eric McCormack, Aaron Spelling, Charlize Theron and Kerry Washington.
J. Merritt/Getty Images for GLAAD
Ricky Martin, star of The Assassination of Gianni Versace: American Crime Story, brought Spears up onstage. "Nine years ago, when I became a father, I knew I had to publicly come out; it was not easy. But I met GLAAD, and I am so grateful they were there to help me. This year, I felt like I had a mission to play Gianni Versace's lover, Antonio D'Amico, and bring awareness to this tragic story. GLAAD knows that sharing our stories is what accelerates acceptance, and sadly, the lives of LGBTQ people—famous or not—are still at risk," he told the audience. "We must all find our own ways to fight against injustice, whether it is directed at us, LGBTQ people, at immigrants, or at my fellow Puerto Ricans, who are still without food, water and power."
"Our ally, Britney Spears—she fights for acceptance in her own way. Britney is a multiplatinum, Grammy Award-winning pop icon. It's incredible," the actor said. "She could be one of those stars with a huge LGBTQ following who says nothing and does nothing, but instead, she uses her platform to remind audiences around the globe that intolerance is unacceptable." Martin then introduced Spears, a lifelong LGBTQ supporter, calling her an "artist, fighter and a friend."
J. Merritt/Getty Images for GLAAD
After being escorted through the Beverly Hilton Hotel's ballroom, Spears walked onstage to accept her award. "Wow!" she said as the room cheered her on. "This is so incredibly amazing!"
"I feel like our society has put such an emphasis on what's 'normal,' and to be different is unusual or seen as strange," the pop princess said. "But to be accepted unconditionally and to be able to express yourself as an individual through art is such a blessing. Events like this, the one we are attending here tonight, show the world that we are not alone. We can all join hands together here and know that we are all beautiful and we can lift each other up and show our gifts without hesitation. Being a mother has shown me what it means to love unconditionally, and you all in this room have shown me throughout my career what it means to be loved unconditionally. It's such an honor to be here. Thank you so much, GLAAD, and thank you to the LGBTQ community. And to my family and all of my friends and fans, I love you very much."
Jim Parsons was honored with the Stephen F. Kolzak Award, while television programs including Andi Mack, Brooklyn Nine-Nine, Master of None and This Is Us were also recognized.