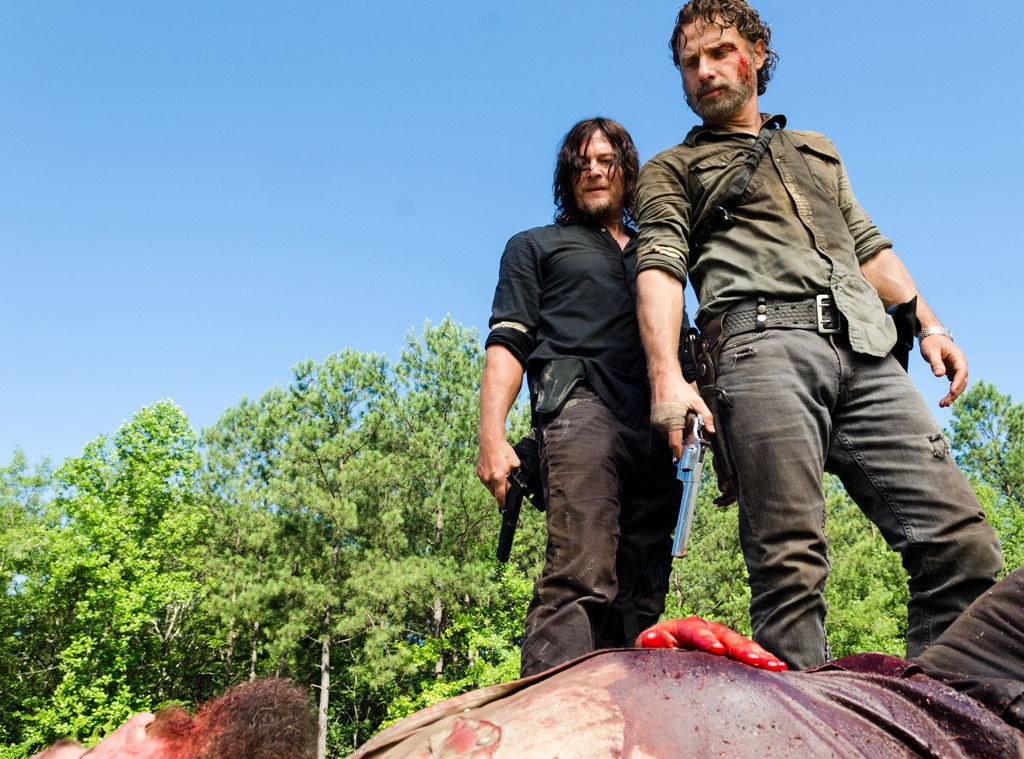 AMC
The television industry is a fascinating beast.
It takes so much to just get a show on the air, an undefinable alchemy of skillful storytelling, network support, and plain ol' luck, that when a show connects with the audience in a big way, everyone involved would be damn near crazy to stop the good times from rolling while the interest is still there. This is a business after all, and if advertisers still want to align their product with yours, who are you to say no?
But the thing about stories is that all the good ones need to have three things: a beginning, a middle, and—you guessed it—an end. And time and time again, TV shows prove to use that they're real good at the first two, but have either no idea how or an unwillingness to approach the third. The latest to continue to haunt the TV landscape, lumbering about like a listless zombie? Ironically, that'd be The Walking Dead.
AMC's post-apocalyptic zombie thriller wrapped up its eighth season this weekend, bringing to close a story arc that showrunner Scott M. Gimple promised to Entertainment Weekly is "sort of the conclusion of the first eight seasons." It's a common refrain from showrunners when their shows have reached the most untenable of phases in their life cycles—that of inertia. It comes with the assurance that the "show will be very much a new show next year." And it's not hard to see why.
Ever since the series introduced Jeffrey Dean Morgan's Negan, when it arguably reached the apex of its cultural cache, it's remained tirelessly stagnant. For an arc subtitled "All-Out War," The Walking Dead had become remarkably slow, portioning out advancements in its story like they're government rations. It's a move that not only frustrates the viewer, who no doubt feels like they're being strung along, but also tends to indicate that there's not enough story left to appease the demands of the network. 
It makes sense that AMC would want to keep The Walking Dead alive for as long as humanly possible. The show is the highest-rated cable series in history and has reigned as the No. 1 show on TV for the last six years. They are making money hand over fist on this thing, critics be damned. But the lesson they're learning is that when you milk your cash cow for all they're worth, they dry up faster than you'd hope. 
Ratings have begun to slow for the show, with Sunday's numbers down substantially from this time last year (7.92 million total viewers compared to 11.31 million), and folks just don't seem to care as much as they did when Negan first arrived on the scene, bashing in skulls of beloved characters. Attempts to turn the series into a franchise for AMC have been shaky, with prequel spinoff Fear the Walking Dead miraculously making it four seasons purely out of the network's sheer stubborn determination and not because the fans have been demanding it.
Of course, this is all to be expected. All TV shows have a shelf life, a "Best When Used By" date that points to when they're perfectly primed for the audience's attention. Heading in to season nine, it's become abundantly clear that The Walking Dead has just aged out of that window of time. And that's the danger of adapting a comic book series, a product that, by design, is encouraged to never end its story because there's always another issue to sell the following month. What works for one medium doesn't always work for another, especially when the other involves real people, who age or simply want new jobs.
But The Walking Dead is hardly the first series to completely overstay its welcome. Hell, it's not even the only series currently airing on Sunday nights that, were it making an acceptance speech at an award show, would have the orchestra attempting to loudly play them off.
Currently airing its seventh season, Homeland has gone from vital, can't-miss programming to something that elicits a "That's still on?" whenever its mentioned. The political thriller, starring Claire Danes in the role of her career as CIA operative Carrie Mathison, has begun the yearly reinvention phase that any high-concept drama must enter in order to keep itself on the air in these trying Peak TV times. After exhausting itself in the Middle East, the show dropped Carrie in Berlin, of all places, before bringing her home to offer its take on a presidential election and the dire aftermath. And however high the quality may be in the current season—and we hear it's pretty high from our one friend who's still watching—it's merely the latest in a long line of shows that Showtime keeps resuscitating year after year, DNRs be damned. 
Between Homeland, Shameless—which, when it returns for a ninth season, will earn the distinction of becoming the network's longest-running original scripted series—Ray Donovan, Episodes, Nurse Jackie, Weeds, and—perhaps most egregiously and most infamously—Dexter, the network has earned itself quite a reputation for clinging to shows long past the point that anyone is actually talking about them anymore, while also failing miserably to stick the landing when it finally does wrap up. (Again, looking at you, Dexter.)
Of course, this is hardly a cable TV-specific problem. The broadcast networks have been just as guilty as their cable counterparts, and one would only need look at ABC's Modern Family, now in its ninth season and a shell of what it once was, for proof of that. Like How I Met Your Mother, Glee, The Office, Desperate Housewives and ER before it, Modern Family seems to be surviving purely on fond memories of days past and a general fondness for the cast and crew. (After all, in all this advocating for shows to come to an end, we shouldn't forget the very real outcome of that, which involves a great number of people losing their jobs.)
As TV has become more cinematic and auteur-driven, the loglines for TV shows have begun sounding more and more like the plots of films. And while that's been a boon for quality, it's also created a bit of a problem in that, you know, films have endings. But when we refuse to entertain the idea that our TV shows might be better off leaving us hungry for more rather than stuffed and running away from the table in disgust, we're only hurting ourselves. 
Good stories end. It's time we let good TV shows end too.