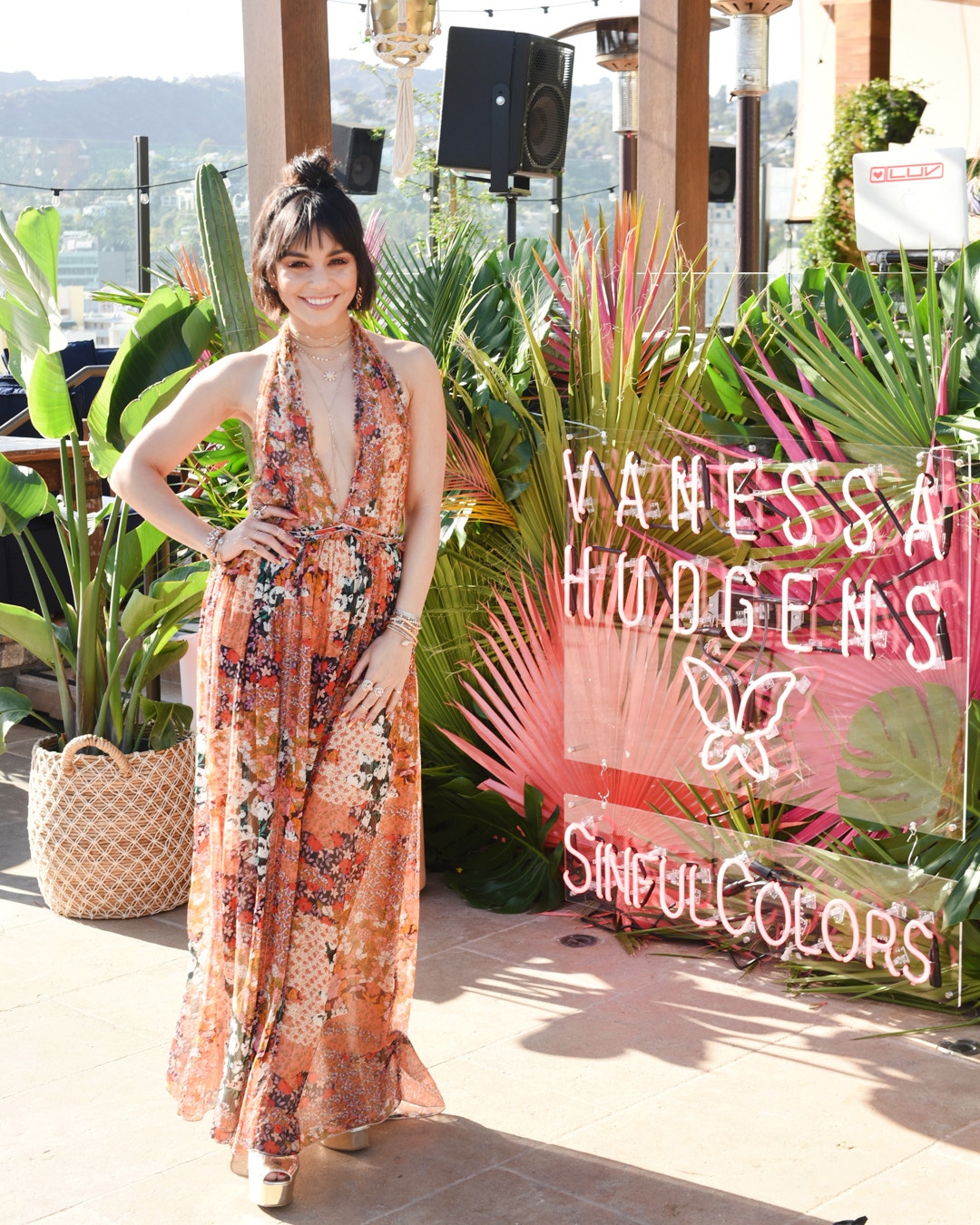 Getty Images
No celebrity does music festivals better than the Queen of Coachella, Vanessa Hudgens.
The High School Musical alum is just as much of a festival staple as the annual event's scorching heat, pool parties or long bathroom lines. So it makes sense that the actress would partner up with Sinful Colors to create a makeup and nail collection inspired by—you guessed it—festivals.
"Well, I love festivals! I think there's no secret about that," Vanessa told E! News at the L.A. launch party Wednesday. "I think it's such an amazing place to be able to express yourself and do things you're too afraid to do in everyday life. I think through just the act of doing it, it kind of makes you feel more comfortable in the exploration of yourself."
Although Coachella doesn't officially start until Friday, the Powerless star already looked ready to party, wearing a Missoni maxi-dress, Giuseppe Zanotti shoes, Jacquie Aiche body chains and arms full of Le Vian banges, courtesy of stylist Natalie Saidi. Her eyes were bedazzled with rose-hued rhinestones. Even her perfectly polished nails were festival-bound.
"I live for a bronzy nail polish, and there's one color called Mystical that I love," Vanessa explained. "I think it's a great neutral that goes with everything. But I'm loving ombre nail art, kind of like what I'm doing now."
However, when it comes to her actual Coachella looks, Vanessa has no idea what she's going to wear quite yet. She does, however, have tons of music festival experience and basic preferences that may help you, whether you're headed to an outdoor concert or vacation.
Festival Essentials: "Always [bring] sunscreen, glow sticks for nighttime because it's not fun trying to find your friends at night, so glow sticks or finger lights. You put them on the floor and you can follow each other. Rosewater spray is a necessity because it's so freaking hot and it's the best way to refresh. I always love bringing stones. I feel like festivals are a great way to reconnect with myself. A big part of me is being outside. There's something spiritual about being in a massive group of people and listening to the same thing, and all having your focus on the same thing. If you think about how A.D.D. the world is nowadays, it's rare that people can focus on the same thing for an extended duration of time. For me, it's a spiritual thing, so I love having my essential oils and my stones and just vibe out in the desert."
How to Keep Your Beauty Look Together…All Day: "It doesn't. You don't. You just embrace what's happening. I love rosewater spray to feel refreshed and obviously I'll bring a compact for powder, because being too shiny is not the cutest in the world. But you just kind of embrace what happens—it's part of the experience."
How to Go Festival-Lite: "With Sinful Colors, I did this colored mascara, and it comes in blue and burgundy, and it's a really fun, easy way to try something different and isn't too scary." 
Acts to Watch: "Honestly, I love The Blaze—they are these really dope DJs. They did this music video with this director I'm obsessed with, Romain Gavras, and they are just so cool. I'm excited to see them because I've never seen them before. I'm also really excited to see Tyler, the Creator—I've never seen him live before. Obviously, Beyoncé is amazing, and Migos will be fun."
Have No Regrets: "My favorite look? Last year, I wore this one top that was gold and mirrored with a pair of Maison Margiela pants, and I thought it was so chic and fun. Yeah, there are definitely some looks where I'm like, 'Wow, I did not have a full-length mirror,' but that's part of festival. You're not really going for memorable looks; you're going to express yourself and create new memories."