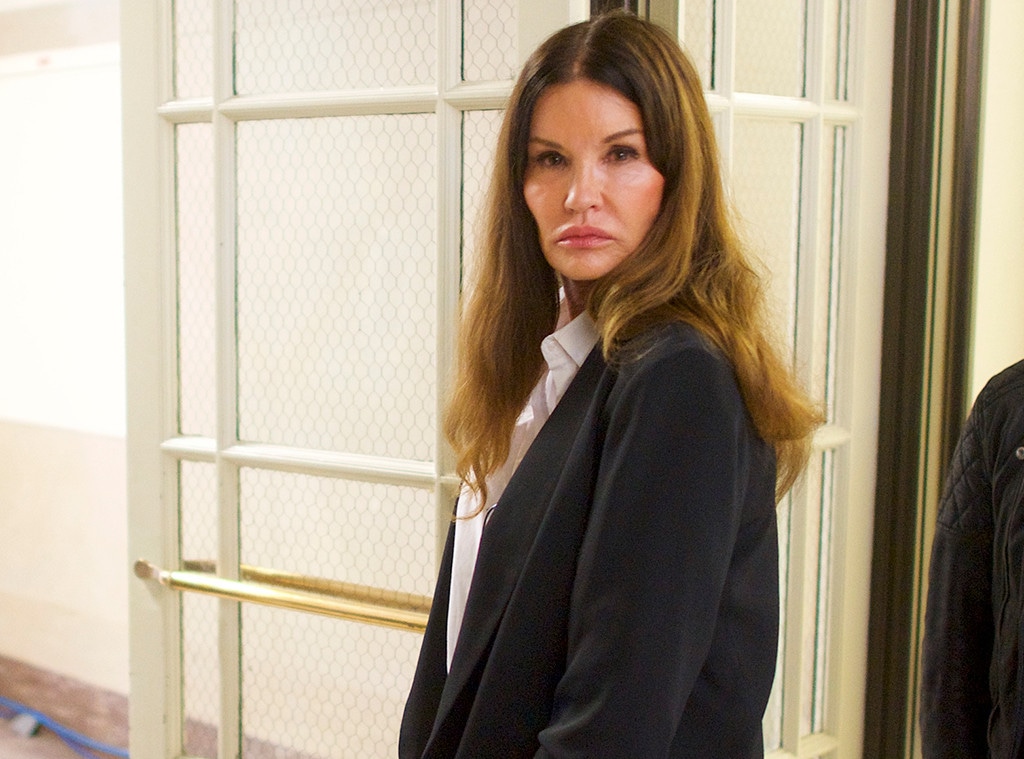 Mark Makela/Getty Images
Janice Dickinson took the stand to testify in Bill Cosby's sexual assault retrial on Thursday.
Back in 2014, the model and reality TV star opened up to CNN and Entertainment Tonight, claiming that Cosby drugged her in Lake Tahoe in 1982 and subsequently raped her while she was unconscious.
"I would like Cosby to come out and at least acknowledge that he is a pig, he is a monster, and he raped me," Dickinson said during her ET segment.
At the time, Cosby's attorney, Marty Singer, called the allegations "a complete lie."
In 2015, Dickinson sued Cosby for defamation after his response to her allegations. "Janice is not only alleging that Bill Cosby drugged and raped her in 1982, but he re-victimized her in 2014 by sending out his representatives to publically ridicule her. That's called defamation," her lawyer, Lisa Bloom, told E! News at the time.
Cosby is on trial on charges of assaulting Andrea Constand in 2004. He has denied any wrongdoing. Cosby's first trial on the case ended in a mistrial in 2017 after a deadlocked jury failed to reach a verdict. In his new trial, the judge is allowing other accusers to testify against him as witnesses.
On Thursday, Dickinson testified that during her 1982 encounter with Cosby in Lake Tahoe she started to get menstruation cramps and "Cosby said I have something for that."
She continued, "Cosby gave me a little blue pill. After I took the pill I started to feel dizzy and woozy. Cosby said we'll finish this conversation let's go upstairs so I followed him to his room."
Michael Loccisano/D Dipasupil/Getty Image
Dickinson then said during her testimony, "I was feeling really lightheaded and it didn't sound like my words were coming out. I couldn't get the words out I wanted to say. After I took pictures he got on top of me as I was seated on edge of bed. I remembered his smell of cigars, espresso, body odor...I couldn't move, I was motionless...wondering what the heck is he doing...I was in shock I didn't consent to this I hadn't said yes. I didn't fly to Tahoe to have sex with Mr. Cosby."
"I remember the taste of his breath, the kiss...here was America's Dad on top of me happily married man with five children," she continued. "Before I passed out I felt vaginal pain between my legs. I passed out after he entered me it was gross."
When she woke up the next morning, Dickinson said she didn't know where she was.
"I looked down and I noticed semen between my legs and I felt anal pain and I could see I was very very sore...pajamas halfway on and halfway off and no bottoms on and I am disgusted and humiliated," Dickinson said Thursday.
Dickinson testified that Cosby didn't say anything about the alleged incident later on that day.
"He didn't say anything and it made me feel like I was crazy," Dickinson shared. "I said you're married how did this happen why did you do it? I wanted to hit him I wanted to punch him in the face...I felt disgust, humiliated, ashamed..."
When asked why she didn't call the police after the alleged incident, Dickinson said, "Because I finally made it as a model and had conservative clients, shows, TV commercials, Revlon and I had clients that would not appreciate the fact that I had been raped and gone to police and I felt victimized."