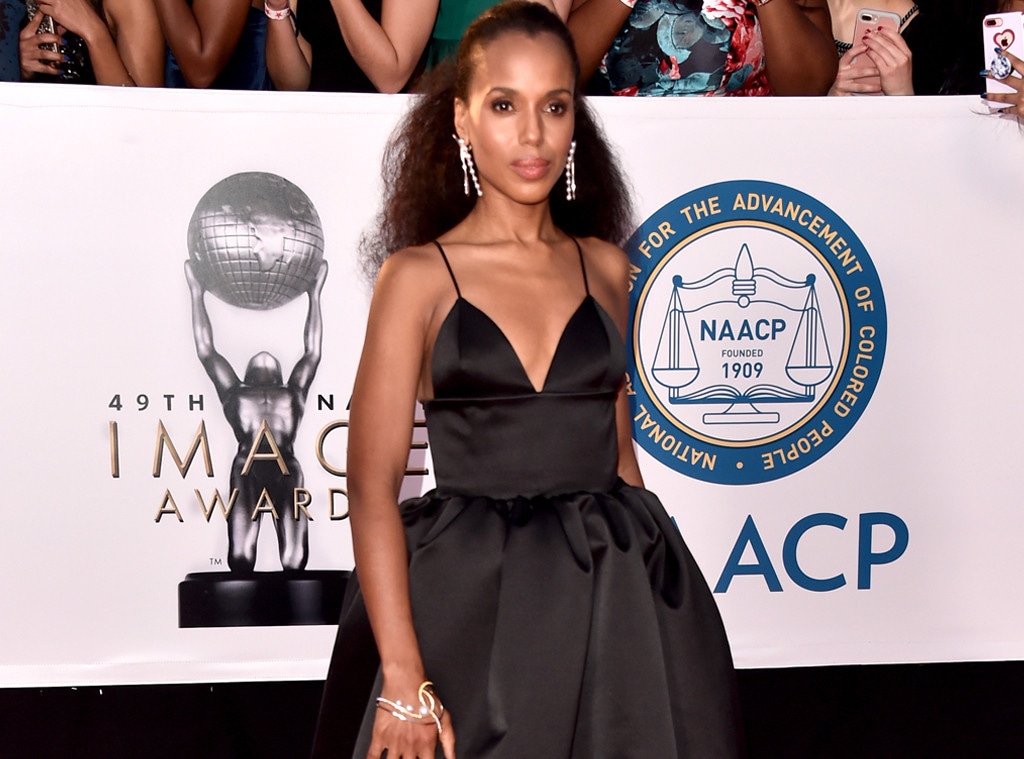 Alberto E. Rodriguez/Getty Images for NAACP
Kerry Washington had been on the map for years, but Scandal provided her with her own zip code.
As the ShondaLand-produced political thriller-romance-drama winds down after seven seasons, Washington has become synonymous with her character, Olivia Pope—the Washington, D.C., fixer extraordinaire with a personal life that needs some serious retooling.
But while you'd probably fear Olivia a little (or a lot) in real life, while simultaneously coveting her entire wardrobe, getting to see more of and hear more from Kerry Washington over the years has been rather delightful.
Now a three-time Emmy and two-time Golden Globe nominee, including nods for playing Anita Hill in the HBO movie Confirmation, Washington was the first African-American woman to be the main star of a network drama in nearly 40 years when Scandal premiered in 2012.
"You know what's really exciting, it's not so much that I'm 'making history,' or that the show is making history," she told Terrence Jenkins for E! News at the time, "but we're becoming more inclusive. That when you turn on your television you can see stories about all different kinds of people—of all races, and genders, and religions and sexualities. That's important, because I feel like we're in the business of telling stories and everybody deserves to have their stories told."
Only given a seven-episode order by ABC at first, Scandal became a sensation thanks largely to social media, with self-designated Gladiators following along with the show's stars—including Washington—as they live-tweeted the show on Thursdays, for multiple time zones.
"If people weren't watching, we wouldn't have a second season," Washington told E!, explaining how grateful she was for all the Gladiators watching at home. "So we are as obsessed with our fans as they are with us."
In 2013 she told Vanity Fair, ""One of the most profound things for me about the show is the number of white women of all ages who come up to me and say 'I want to be Olivia Pope.' It's especially profound in a place like South Africa. It's called The Fixer over there, and it just started its second season. The fact that white women can see this woman of color as an aspirational character is revolutionary...I don't think white women would feel that way about Olivia if her identity as a woman, period, wasn't first in their mind."
Reflecting again on her history-making role six years later, Washington told the New York Times this month, "I understood the historical weight of it, but I wasn't going to be able to do anything about that in any other way than dedicating myself as an actor. We weren't going to get picked up by me organizing a march at ABC. We were going to get picked up because we did work that was undeniable and that was the best version of storytelling up against all the other dramas."
For starters, Shonda Rhimes' pick to play the ultimate D.C. insider couldn't have been more spot-on.
Washington was primarily known for film roles, including ones as the strong but put-upon woman in the lives of famous men such as Ray Charles in Ray and Idi Amin in The Last King of Scotland, and as the cool and ultra-desirable leading lady in lighter fare such as She Hate Me and I Think I Love My Wife. But over the course of her career she'd done everything, from rom-coms, biopics and Law & Order to voice work, tiny indies and big-budget superhero movies.
So she had the range. And she had the interest in how Washington (the town) really worked.
Washington (the star) has been a committed political and humanitarian activist for the better part of two decades, showing up for women's health, anti-domestic violence campaigns and LGBT rights. She worked on former President Barack Obama's reelection campaign (she says that's how she knew just how useful social media would be to connect with Scandal fans) and spoke at the Democratic National Convention in 2011. She was a member of the Obama administration's Committee on the Arts and the Humanities, and in 2016 she endorsed Hillary Clinton along with Rhimes and fellow Shondaland stars Ellen Pompeo and Viola Davis.
The New York-born actress is also a member of the Creative Coalition and the violence awareness group V-Day and most recently she was among the big names who got Time's Up off the ground in Hollywood. Like Olivia Pope, Washington enjoys the finer things when it comes to fashion, and she combines her passions when possible, such as when she designed a limited edition, $595 handbag for Aquatalia—with the entirety of sales going to the National Network to End Domestic Violence.
Yet somehow she still had time to make Scandal. And after a little bit of a break, maybe, she's already got her next project lined up—starring in and co-producing, with Reese Witherspoon, a limited series adaptation of the Celeste Ng best-seller Little Fires Everywhere. (That, plus the shows her production company, Simpson Street, is developing; the play she was considering; and the upcoming Facebook Watch series Five Points, on which she's an executive producer.)
But while staying breathtakingly busy, Washington has been sure to keep a little something for herself—namely, her personal life.
"Between the press for Scandal and the press for Django, which comes out Christmas Day, there isn't a whole lot of downtime," she told E! in 2012. "When I can just hang out with my dog, and hang out with my friends and family, that's what makes me happiest. But luckily, this cast at Scandal, we really are family, we all really inspire each other, so it's a good place to be."
To stay healthy she mixes Pilates with cardio and tries to keep it fresh, local and organic in the food department. She cooks, not as much as she would like on a daily basis, but she shines in the kitchen on holidays.
Washington, despite being a very familiar face for most of the 21st century, was never really one to make salacious headlines—or any personal headlines at all. And while you could say that more inquiring minds were on the case once Scandal started, Washington has impressively managed to have a life out of the spotlight. The world may be well-versed in her politics, but as for anything more, well, scandalous, we only knew who Olivia Pope was hooking up with. 
"I don't talk about my personal life in the public," she amiably told Terrence with a big smile when he asked if she was dating anyone. "We did decide to keep it under wraps between the two of us," he joked back. "Yes, come on!" she playfully chided him.
Kevin Winter/Getty Images
Washington was engaged to actor David Moscow—all grown up after playing 13-year-old Tom Hanks in Big—and she even appeared on the cover of InStyle Weddings in 2005, but they broke up in 2007 after several years together.
"I was always that girl who was in long-term relationships, and I was never really single," the actress told People in July 2007 about venturing back into the dating world. "I had always met guys in other ways and never really did the whole dating scene where you go out on multiple dates with different guys. I am totally the girl who gets introduced to someone through a mutual friend and a dinner party, falls in love and then is with them for like two years."
So far, she didn't have any horror stories to speak of, and she was having a good time meeting people. "No one has to feel sorry for me," she added. "I'm not lonely. I have my dog."
And that's pretty much where the trail went cold until, lo and behold, Washington turned up married in 2013.
Going deep, deep under the radar, Washington avoided dating and engagement rumors by meeting and falling in love with San Francisco 49ers player and sometimes-actor Nnamdi Asomugha without tipping off anyone besides their inner circle and one very tuned-in blogger. They tied the knot on June 24, 2013, in Hailey, Idaho, with E! being first to officially confirm that news a couple weeks later.
"I did know she was dating," Scandal actor Dan Bucatinsky told E! News later that summer. "I didn't know that they were going to get married, but all of us sort of hoped. We wish her the best always. She did it in the perfect way."
Sharpshooter Images/Splash
Sporting a wedding ring but not dishing any details, Washington told Glamour in 2013, "I'm walking around in the world with my ring. And when people say congratulations, I say thank you. But I'm going to continue to not talk about it and just let it unfold."
Like his wife, Asomugha, a graduate of UC Berkeley, is big on political engagement, participating in the Clinton Global Initiative for years and starting his own two-pronged foundation to benefit widows and orphans in need in Nigeria, where his parents are from, as well as help kids in the U.S. get to college. 
He retired after 11 seasons in the NFL in 2013 to pursue acting full-time (which he had always wanted to do, long before meeting Washington)—and prepare for fatherhood. 
Washington, who didn't confirm that she was pregnant until she was undeniably with child, and then proceeded to talk about it sparingly, although she was radiating happiness.
"You know, it's sort of like the rest of my private life: I'm not talking about it that much, but I feel really, really blessed," Washington told E! News at the 2014 SAG Awards. "It just feels like a really good time."
She had one of the loveliest fashion Moments ever at the 2014 Oscars, and then gave birth to daughter Isabelle Amarachi Asomugha on April 21, 2014. Once again, no one was the wiser until TMZ picked it up weeks later.
David X Prutting/BFA/REX/Shutterstock
Of course, with increased fame comes increased interest in one's personal life—and though Washington has kept her vow to not talk about her personal relationships publicly, and has steadfastly kept her Instagram account a husband-and-child-free zone, that hasn't inoculated her from the Internet getting all Internetty about her private life. 
"Social media has actually been great for [other celebrities'] relationships with the weeklies or the gossip sites because people say things and they say, 'That's not true! Just so you know, that's BS!'" she said at the "New Rules of Social Stardom" panel at the 2016 SXSW Music, Film + Interactive Festival. "I say 'BS' because it's Sunday. So I'm thinking in some ways, it's been great because people are able to maintain their voice."
Acknowledging some split rumors that had recently cropped up, she continued, "If I don't talk about my personal life, it means I don't talk about my personal life. That means not only did I not tell you when I was getting married, it also means if somebody has rumors about what's going on in my marriage, I don't refute them, because I don't talk about my personal life."
She punctuated the sentiment with her second baby bump at the White House Correspondents Dinner a couple months later. Washington and Asomugha welcomed son Caleb Kelechi Asomugha on Oct. 5, 2016 (and, like clockwork, the world only knew two weeks later).
Ever since becoming a mom, she's been more willing to talk about motherhood—she's not a fan of the tendency for working moms to feel guilty because they can't be everywhere at once—but her kids are otherwise off-limits. 
She showed off pictures of her daughter during an InStyle interview in 2015, but only to the magazine. She allowed them to report that Isabelle looked like her dad.
Meanwhile, Asomugha has also waded into the movie-making game, winning rave reviews for his role in the 2017 film Crown Heights, playing the best friend of a wrongfully convicted man (based on a true story) who devotes his life to proving his innocence and getting him out of prison. Asomugha also produced and, quite remarkably, nowhere in the press surrounding the film does he (or even most interviewers) mention his famous wife. 
In turn, the couple have started to make the scene together more often, such as at the Golden Globes in January, where Washington pointed to her husband's Time's Up pin and opined to ET, "You gotta get a woke man, ladies. You gotta get a woke man!"
Last month she was his date to the 2018 Film Independent Spirit Awards, where Asomugha was nominated for best supporting actor.
And to this day, with all the magazine covers and with Washington's visage beaming from the TV on Scandal, on talk shows, at the Women's March, in movies and more, she remains a laudably private person. As in, her friends and fellow celebrities really admire how she's able to be such a force to be reckoned with as an actress and activist without getting bogged down in the sillier stuff. Some likely wish she'd write a how-to guide on the subject.
But what we all know is that she'll be spending Thursday night live-tweeting her final Scandal episode, presumably with wine, popcorn and Kleenex (and her new Prada bag collection) nearby. "I can barely breathe right now," she told the New York Times in discussing the looming end of the series. "It has taken every tool in my acting toolbox to not weep through this entire interview. It's very raw."