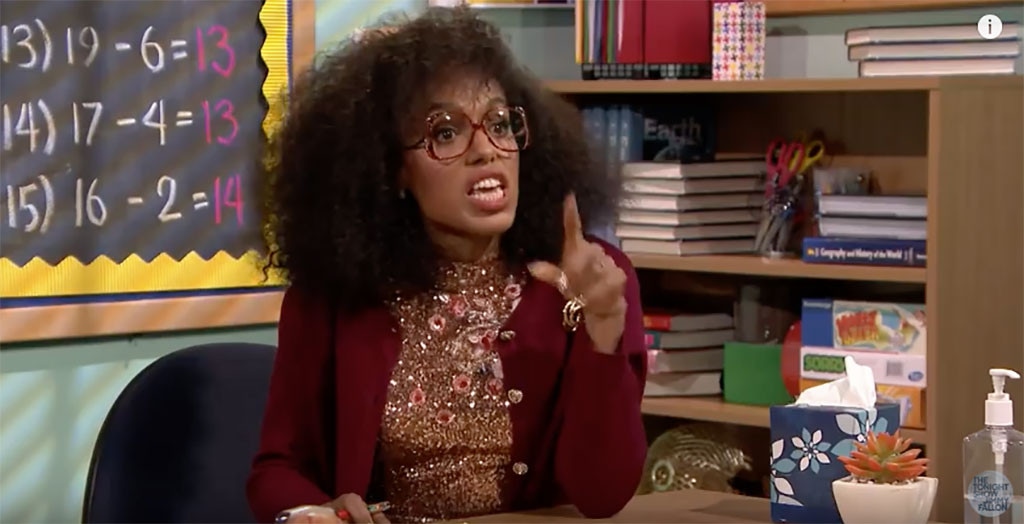 YouTube
The Oscar for Best Actress in a Mad Lib Theater goes to Kerry Washington. 
Time and time again, the star has proven her acting chops with characters like Olivia Pope and Anita Hill. Well, add another unforgettable woman to the list—a New York school teacher holding a conference with Jimmy Fallon. 
The actress visited The Tonight Show set on Wednesday, where Mad Lib Theater was on the late-night menu. Before they could launch into a hilarious skit, they needed a script, so Fallon read off a series of prompts to Washington, including "type of nut" and "old TV show."
By the time they were done, the script included Lady Gaga, "belly button" and "screwing" among many other eccentric choices. Let the show begin!
Donning a sweater, glasses and distinct New York accent, Washington was dedicated to her character as a concerned teacher at Lady Gaga Elementary School holding a conference with a student's father, played by Fallon. 
It was quickly time to break the news to the dad. "I've never seen such a fuzzy child," Washington said. "I am as surprised as you your son is getting a Q in math."
She also had to address the fact that she found the student in the back of the classroom "screwing."
After suggesting Fallon's character read to little Coconut for "19 years" every night, the performance culminated in a musical finale of the "Lily Pads on the Bus Go 'Round and 'Round."
As bizarre as the whole scene was, we couldn't help but believe Washington's portrayal. After all, she's not a two-time Golden Globe nominee for nothing. Give her the gold!