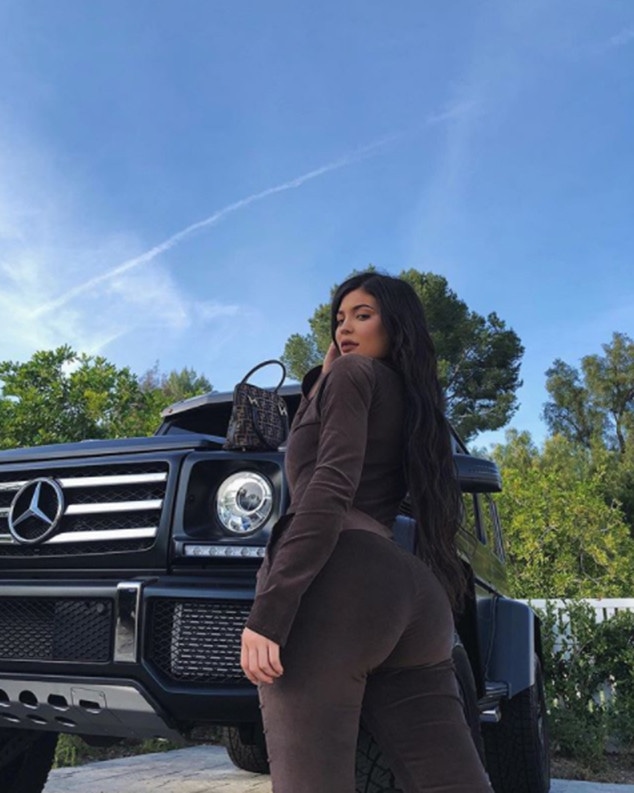 Instagram
Happy hump day from Kylie Jenner!
Earlier this afternoon, the Keeping Up With the Kardashians star found herself enjoying the great outdoors in front of a Mercedes Benz G-Wagon.
So what's a girl to do? Have a surprise photo shoot for millions of social media followers, of course.
In a series of photos posted on Instagram, Kylie posed for the camera while wearing a skintight brown tracksuit. She completed the look with a Fendi handbag and sunglasses.
"Wearing DOLCE matte lip today just in case you were wondering," Kylie wrote to her followers while giving love to Kylie Cosmetics. "Hump day."
She added in a separate post, "big body benz, please don't crashhh."
While many followers agreed that the businesswoman and E! reality star looks pretty darn good more than two months after welcoming baby Stormi Webster, Kylie recently admitted on Snapchat that she wants to lose 20 pounds.
At the moment, however, the priority is savoring family time with Stormi and boyfriend Travis Scott.
"Kylie and Travis are currently in the best place they have ever been in their relationship," a source recently shared with E! News. "Things really came full circle once Stormi was born and they now have an unbreakable bond. Travis has been fully accepted into the family and everyone is in love with their little family they created."
Another insider added, "She feels like being a mom is her true calling, and there's nothing that's ever felt so right. Bringing the baby home has been the greatest joy and most sacred experience. She is elated and overjoyed."
And for those keeping track, all three of Kylie's "Hump Day" Instagrams have received more than two million "likes" each.