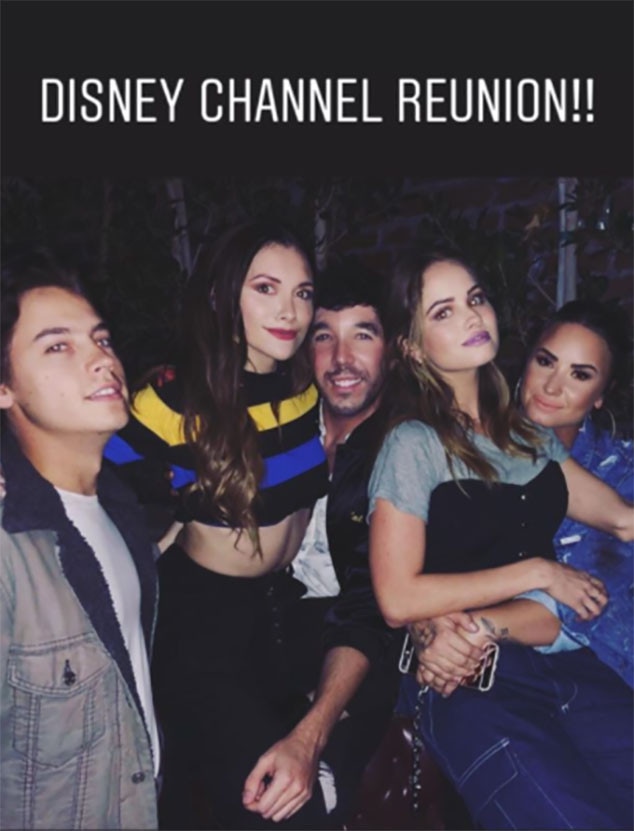 Instagram
Demi Lovato is putting any and all speculation to rest.
Just last week, the "Sorry Not Sorry" singer enjoyed an evening out in Hollywood to celebrate Hayley Kiyoko's new album being released.
Joined by fellow Disney Channel stars Cole Sprouse, Matthew Scott Montgomery, Debby Ryan and Alyson Stoner, the reunion quickly went viral with fans celebrating the Hollywood actors all together again.
Soon after, however, some began to examine the reunion photos with some questioning what Demi was holding—and drinking—during the celebration.
In screenshots first obtained by BuzzFeed, one follower started asking what was really in Demi's glass.
"@DDLovato Bishh I'm not hating on you or tryna put you on blast but frs frs can you at least explain this lmaooo," she wrote. "Also at all of you who will prolly get defensive and pissed, I'm not tryna question Demi's sobriety bc I have a lot of respect for her. It's just it seems weird."
Demi would reply, "I don't have to defend anything but it was red bull." Case closed folks!
Just last month, the Grammy nominee marked six years of sobriety. She was able to celebrate the milestone during the Tell Me You Love Me tour with DJ Khaled.
"Yesterday was a really big day for me," Demi told the sold-out New York City crowd. "Yesterday, six years ago, I was drinking vodka out of a Sprite bottle at nine in the morning, throwing up in the car and I just remember thinking, 'This is no longer cute. This is no longer fun. And I'm just like my dad.' So I made changes in my life."
She continued, "The reason why I became so open about my story is because I know that there are people here tonight that need to ask for help and I want them to know that it's OK. Mental health is something that we all need to talk about and we need to take the stigma away from it. So let's raise the awareness. Let's let everybody know it's OK to have a mental illness and addiction problem."