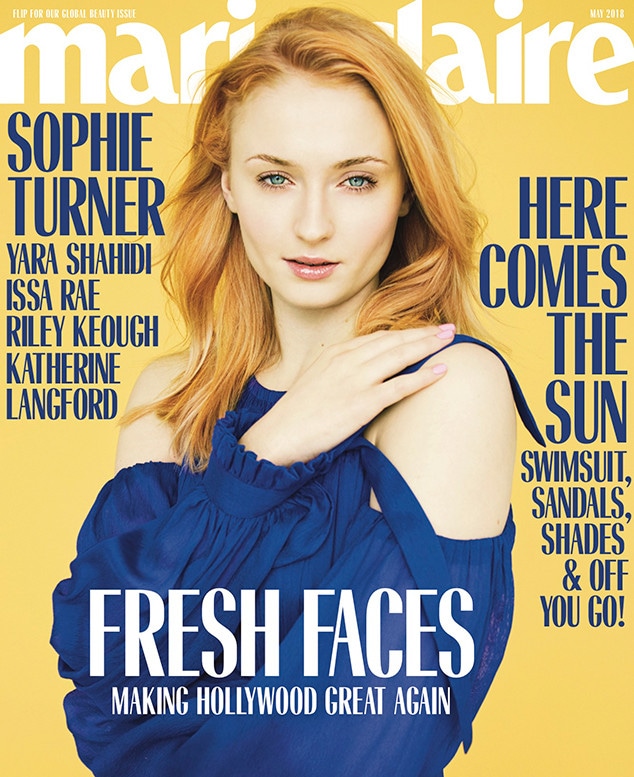 Erik Madigan Heck for <i>Marie Claire</i>
It's been about six months since Sophie Turner and Joe Jonas announced their engagement, but the Game of Thrones star still hasn't fully grasped her new relationship status. 
"I'm still like, Holy sh-t! I'm engaged," the 22-year-old actress told Marie Claire for the May "Fresh Faces" issue. 
While the Sansa Stark star said being engaged is "lovely," she doesn't equate it to the thrill she gets when she reaches a major milestone in her career. 
"There's this weird misconception that being married is the greatest thing that'll ever happen to you. But I've always found that my career is something I work for, and when I achieve something, there's a sense that this is the greatest thing I'll do in my life," she told the magazine. "It's lovely to be engaged. Not like I achieved anything, but I found my person, like I'd find a house that I love and want to stay in forever. There's a sense of peace that comes with finding your person. But there's a drive that comes with your career."
The DNCE singer proposed to Turner in October 2017.
"She said yes," Jonas wrote on Instagram alongside a photo of Turner's pear-shaped diamond sparkler. The actress shared the same photo and wrote, "I said yes." 
The two have already checked a few items off of their wedding planning to-do list. For instance, they've selected members of their bridal party. Maisie Williams confirmed she'll be a bridesmaid in her co-star's wedding. 
The couple also celebrated their upcoming nuptials with a star-studded engagement party in November. The groom's band members Cole Whittle and JinJoo Lee attended the New York bash as did his brothers Nick Jonas, Frankie Jonas and Kevin Jonas.
The couple has been together since 2016. In fact, Hailee Steinfeld encouraged the romance from early on.
"I mean, I will say, I did get that text from Sophie being like, 'So tell me about Joe,' and I was like, 'Go for it,'" Steinfeld said during an interview with Nova 96.9's Smallzy in January. 
Still, the actress said dating in the public eye hasn't always been easy.
"You do feel like you're living in a fishbowl," she told Marie Claire in 2017. "It's frustrating [that] it's the most mundane things that make the news—how boring!"
To read more about Turner, as well as the other women in the issue, check out Marie Claire.