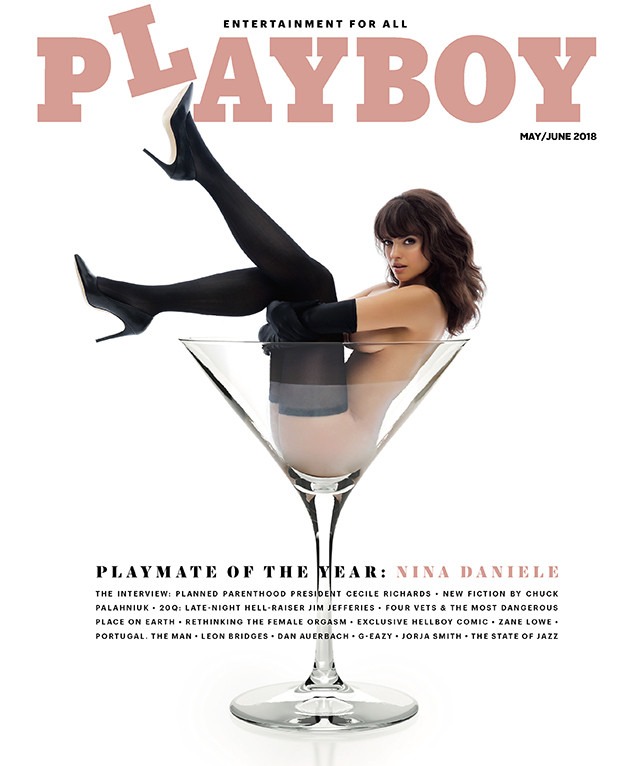 Jennifer Stenglein
Ladies and gentlemen, Nina Daniele is a name you may want to know.
Earlier today, Playboy revealed the Bronx native is the 2018 Playmate of the Year. Nina's 11-page pictorial breathes new life into an iconic Playboy character, the Femlin, created by Playboy founder Hugh Hefner and illustrated by artist Leroy Neiman.
In addition to glamorous photos, Nina is also interviewed by Joyce Nizzari—who served as the December 1958 Playmate—to discuss sex appeal and more.
"It means so much to me – to not only be seen in my most vulnerable state, but to also be presented, in words, for who I am," Nina shared in the May/June 2018 issue. "That's important to Playboy: how my brain works, how my heart works. Through Playboy I was able to talk about how it feels to be a woman in today's society."
Before the issue hits newsstands nationwide by April 24, we decided to dive into Nina and learn more about her. Take a look at what we discovered below.
Playboy History:  Nina made her debut in Playboy's March/April 2017 issue as the April Playmate of the Month. It was a special issue for the publication as nudity was re-introduced into the pages of Playboy with #NakedIsNormal. For her latest photo shoot, Nina posed in both lingerie and nude for world-renowned fashion photographer Jennifer Stenglein.
Brains & Beauty: Nina previously auditioned for Sports Illustrated Swimsuit 2017 where she discussed her education background in an audition tape.  "I studied creative writing for four years and I graduated with a degree in publishing," she shared. "I was always interested in fashion. I've always collected magazines but I never thought of being in them."  
Animal Lover: As a proud owner of two pit bulls, Nina hopes to do some good for animals in need. "My dream is to have my own sanctuary for dogs on death row," she shared with Playboy. "They would live their lives out there or get adopted, and everything would be donation-based."
All About the Pole: While some may be quick to shame the exercise, Nina has a different perspective. "I find pole dancing very liberating and empowering. I think about when I would open jewelry boxes as a kid and watch the little ballerina spin around," she explained to Playboy. "I think there's something really beautiful and even innocent about it. It's freeing, and it's a great workout."
Free the Nipple: "Why is showing nipples a taboo? At the same time, the bigger deal you make of something, the bigger deal it becomes and the harder it is to explain why you feel a certain way. The whole 'free the nipple' thing? Just let it go," Nina—who identifies herself as a feminist—shared with Playboy. "Move on to something else. There are children dying and you want to complain about nipples? Let it go."