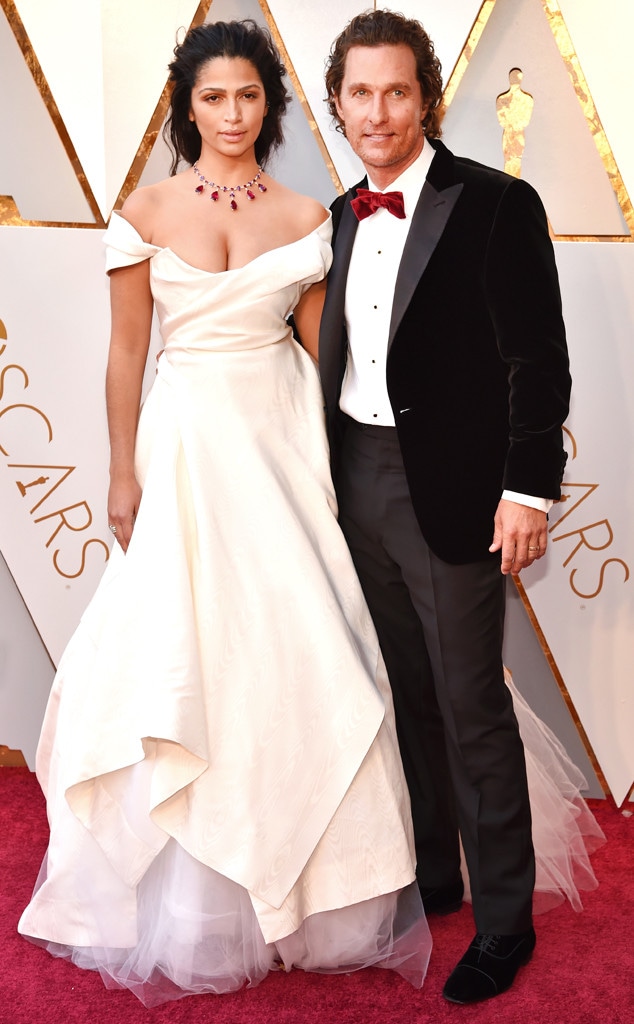 Kevin Mazur/WireImage
Matthew McConaughey is sharing some exciting news with his fans!
The Oscar winner went live on Facebook on Tuesday to update his social media followers on his life and share some personal details with them.
"Hello world, Matthew McConaughey here on a beautiful Tuesday afternoon in Austin, Texas," Matthew told his fans. "I've got something that I'm going to introduce to you, I've got a release today. I'm not gonna tell you what it is, give me a couple of minutes and then I'll tell you what that is. But I hope everything is fine and well wherever you are in the world."
Let's take a look at the five things we learned from Matthew's Facebook Live:
1. Matthew and Camila Alves Are Still Going Strong and Are More Adorable Than Ever: At the beginning of the Facebook Live, Matthew shared that his kids are "good" and his wife, Camila Alves, was there with him watching. "What else has been going on this year? My kids are good, my wife doesn't want to change me," Matthew smiled as he looked off-camera. "She's over there, behind the camera."
2. He's Launching a New Bourbon: Matthew shared with his fans, "I got a new product I want to introduce. Three years ago, as most of you may know, I started off as the creative director for the brand of Wild Turkey."

Matthew shared that about two years ago, he and Eddie Russell started talking about creating a bourbon that would be his favorite.
"I'm from Texas, he's from Kentucky, we talked about how could we bridge those two and we came up with a bourbon that is my favorite in the world, it's called Longbranch," he announced.
3. Matthew Tasted a "Whole Lot" of Bourbon in the Process: One fan asked Matthew during the Facebook Live, "How much whiskey did you taste in the process?"
Matthew replied he tasted a "whole lot" of Bourbon in "many places."
4. He Found the Perfect Taste of Bourbon on His Birthday: Matthew revealed he was camping with his family when he found the taste he loved.
"The night that I found the taste of this that turned out to be Longbranch, my favorite bourbon, happened to be at about 4:30 a.m. on the night of my birthday," he shared. "I was camping with my family down on the Frio River. So I would take it places like that, camping, I would take it out when my wife and I would go dancing to see what it felt like at 11:30, 12 at night while we were out at a club shakin' a leg."
5. Which of His Movie Characters Would Love Longbranch the Most?: "I'd say that's Kenny Wells from Gold," Matthew revealed. "He'd love to have a good drink."
Wild Turkey Longbranch will be available in the U.S. next month for $39.99 and will roll-out to additional markets around the world later this year.
Watch the Facebook Live above to get more details!