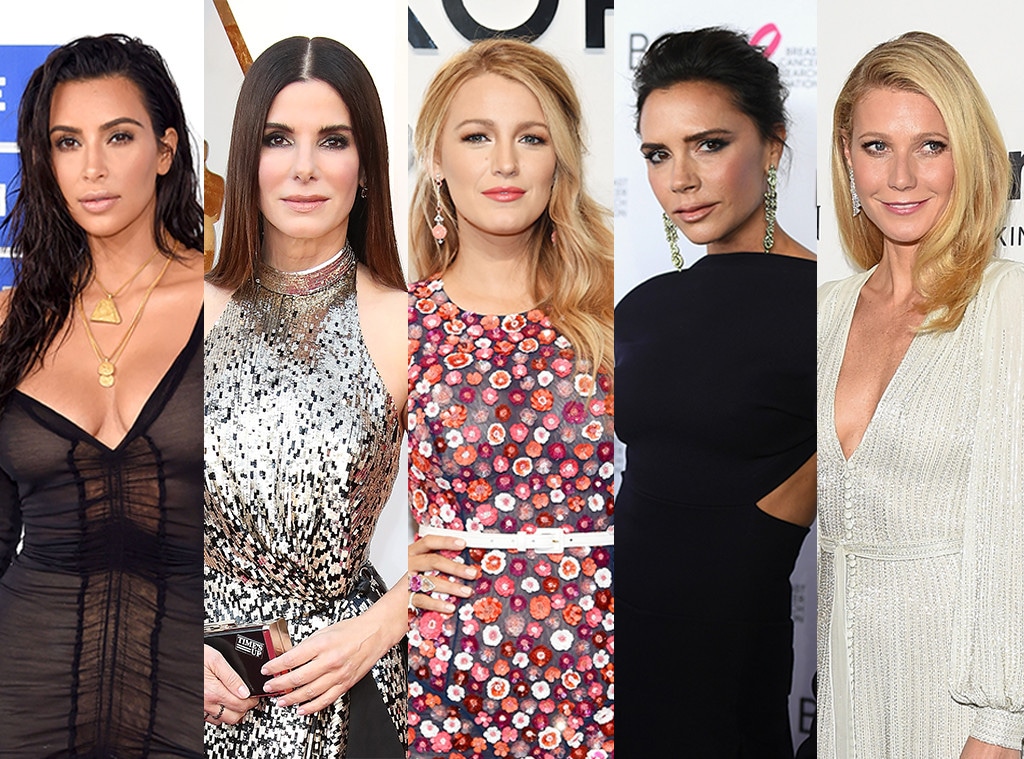 Getty Images
We all want to look our best, but for celebrities it's part of the job. That might be why stars are famous (and sometimes infamous) for trying unconventional beauty hacks in their quest for ageless skin and healthy hair. 
But is Sandra Bullock and Cate Blanchett's "penis facial" actually effective? What about Blake Lively's homemade mayonnaise mask? We asked board-certified dermatologist Dr. Harold Lancer and celebrity hairstylist Ted Gibson to set the record straight on which beauty treatments are hype and which really do work.
Well, obviously we're going to start with what the heck a penis facial is.
Blanchett created quite a buzz when she talked about the scandalous-sounding spa treatment she and Ocean's 8 co-star Bullock got from New York facialist Georgia Louise.
As the actress told Vogue Australia (via Marie Claire), "I don't know what it is, or whether it's just 'cause it smells a bit like sperm—there's some enzyme in it so Sandy refers to it as the penis facial."
This enzyme, according to Louise's website, is Epidermal Growth Factor (EGF), and it's "derived from the progenitor cells of the human fibroblast taken from Korean newborn baby foreskin" and put into a serum. The cells in Louise's "secret" EGF serum are clones of the originals, but they're not actual biomatter derived from foreskin.
The famous facialist clarified this in an Instagram post, writing, "NO BABIES WERE USED - ONLY CLONE CELL[S] TAKEN YEARS AGO!"
The EGF serum is part of what Louise has dubbed "The Hollywood EGF Facial." According to her website, what Blanchett and Bullock called a "penis facial" first involves "a cleanse, followed by an intensive TCA peel." Louise then uses a "special electric micro-needling wand" that creates a "temporary micro-channel" allowing the active ingredients of the EGF serum to penetrate deep into the skin. 
It definitely sounds like an interesting experience, but from a dermatological standpoint, Dr. Lancer—whose clients include Kim Kardashian, Ellen DeGeneres and Ryan Seacrest—doesn't recommend this particular facial as a skin saver. Of course, he told E! News, "certain beauty treatments come down to personal preference. It can offer a sensorial or mental satisfaction."
The Vampire Facial
Kim Kardashian underwent this bloody treatment during an episode of Kim and Kourtney Take Miami filmed in 2013. She later revealed it to be one of her greatest beauty regrets, writing on her blog, "Before I got the procedure, I just found out that I was pregnant, so I couldn't use numbing cream or a painkiller and both are suggested. It was really rough and painful for me."
However, that didn't deter sister Kourtney Kardashian from trying out the treatment, which she Snapchatted her way through in 2017—and countless other immortal-skin seekers have followed suit.
As it turns out, the E! stars aren't onto anything new with the vampire facial. "It's been around for about 20, 25 years," says Lancer. The process involves taking a blood sample from the patient and spinning it down so that only the platelet-rich plasma proteins (PRP) remain. 
"This (PRP) is then applied to the skin with a micro-roller during a facial," the doctor explains, "and while there are some therapeutic benefits, it's not something majorly important in a cosmetic facial."
Pascal Le Segretain/Getty Images
With the right application, this spun-down blood sample does have restorative benefits to the skin. As Lancer says, "If you utilize the PRP element in a medical office with skin insertion, it has value in scar revision treatments, which is what we do in the Lancer office."
The Caviar/Gold Facial
Kourtney and Khloe Kardashian have treated themselves to Nurse Jamie's $1,200 Platinum Caviar facial. According to Nurse Jamie's website, this involves a deep cleanse followed by the application of a mask that's a mix of fresh caviar and an EGF cream fortified with platinum and 24-karat gold. The luxe treatment is supposed to reduce worry lines and age spots while leaving the recipient with "a lasting glowing splendor and opulently smooth skin." 
Caviar was also the star ingredient in a luxury anti-aging skincare line Melania Trump launched but never sold in stores after legal matters got in the way, but La Prairie's Skin Caviar cream remains a celebrity favorite for its reported restorative benefits.
As far as gold-infused facials go, there's no shortage of stars wanting to show off their 24-karat glow on social media. Jessica Alba and Rosie Huntingon-Whiteley have Instagrammed their gold-infused Lonvitalité eye masks, while stars such as Caitlyn Jenner have posted photos of their full-face golden treatments. 
Coco Austin treated herself to a 24-karat gold leaf facial at New York City's Dyanna Spa, which she documented on her Us Weekly digital series "Out of This World With Coco Austin." During the session, she told her aesthetician, "I have to tell you, Innessa, you rubbing my skin and massaging it, it's wonderful, but knowing that there's gold flakes in it is making it even [more] exceptional."
The opulence of these treatments seems to be as much of their appeal as their purported results. Once again, if the process is enjoyable, "there's no harm here," Lancer assured, "but perhaps no significant benefit."
The Bird Poop Facial
Victoria Beckham popularized the "bird poop facial" in 2008, but powdered nightingale droppings are actually a century-old Japanese beauty secret. Shizuka New York Day Spa uses this unique ingredient in its $180 Geisha facial, claiming this treatment helps "to brighten, heal and retexturize the skin due to their natural enzymes and guanine, which imparts a pearly luster to the skin." 
According to the spa's website, the nightingale droppings are "perfectly safe to use on the facial skin, sanitized through exposure to ultraviolet light before being milled to a fine powder." 
In any other case, bird droppings are "highly infectious and contagious," Lancer warns, and he wouldn't recommend this particular facial.
Bee Stings
In 2016, Gwyneth Paltrow told the New York Times she was "open to anything" when it came to trying out beauty treatments—including getting stung by bees. "It's a thousands of years old treatment called apitherapy," she said. "People use it to get rid of inflammation and scarring. It's actually pretty incredible if you research it. But, man, it's painful."
But don't stick your head in a hive just yet. As Dr. Lancer tells E! News, "A bee sting is just going to release histamine, and there are many other ways to get that, [including] medications that release histamine. You don't need bee stings for it."
Jamie McCarthy/Getty Images
Food For Thought
Some stars' food-to-face treatments can actually be beneficial—and are bargains, to boot. Kendall Jenner's simple, homemade acne mask with egg whites and lemon juice acts as an exfoliant. Lancer notes, though, "Just be mindful if have a little bit of an abrasion on the skin, it could cause an irritation."
Priyanka Chopra told Vogue one of the secrets to her glowing skin is a mask with yogurt and honey. Dr. Lancer approves—and recommends a similar probiotic yogurt mask with honey and oats that works well as part of The Lancer Method (Polish, Cleanse, Nourish).
But ultimately it's what you put into your body (and how you take care of it) that's going to make the biggest difference in how your skin looks. Turns out, the less sensational stuff we've heard from Jennifer Lopez, Oprah Winfrey, Reese Witherspoon, Jennifer Garner and many more is true: Wear sunscreen, get plenty of sleep, drink more water, eat healthy and stay active. 
As Dr. Lancer puts it, "If you don't do that [eat well and exercise] as a maintenance routine, there is no home skincare that's going to do great things for you—nor is there a procedure that will."
Living a healthy lifestyle is also key to having healthy, beautiful hair. "I think it's really important," says hairstylist Ted Gibson, whose clientele includes Lupita Nyong'o, Angelina Jolie, Mandy Moore, Ashley Graham, Debra Messing and Saoirse Ronan. "And I also think it's important to take things that are specifically for hair growth, like multivitamins."
"I always think that the hair is a product of the scalp," says Gibson, "and so eating the right foods is going to help keep the follicle nourished... Where the scalp gets all of its nourishment from is going to be from the foods that you eat...[and getting] your grains, and eating the right carbohydrates and having the right kind of fats in your diet, like salmon."
Felipe Ramales / Splash News
Gibson has his own line of bestselling hair products, but he's also a fan of home remedies like Blake Lively's mayonnaise mask and Camila Alves' avocado treatment.
"Just apply those things only to the mid-lengths and the ends of the hair," he clarifies. "Don't apply it to the scalp—the scalp has its own [natural oils] and doesn't necessarily need any [additional ones]."
Suki Waterhouse told Us Weekly that rinsing her hair with Coca-Cola gave it body, but Gibson recommends another carbonated beverage. "I always say if a woman is looking for some bounce and some body, use beer—because beer has yeast in it, which rises," he says. "So if you put beer only on the mid-lengths and the ends of your hair—don't put it at the scalp—that will give you a little bit of body."
And that beer is better for rinsing your hair than it is for drinking. As Lancer puts it, "If you think of alcohol as being anti-skin, having a couple of glasses of wine or a couple of cocktails with dinner is a very poor idea."
"The body only knows three things," he explains. "It only knows what protein is, what fat is, what carbohydrates (interchangeably sugar, starch) are—and alcohol is a carbohydrate, it's a sugar."
But also, you've got to live life. As Gwyneth Paltrow told the New York Times, "I think I see now that life is really a balance. And it's great to eat nutrient-dense organic food, if you can. It's also really great to drink a vodka and have French fries."
Prepare the bee venom!