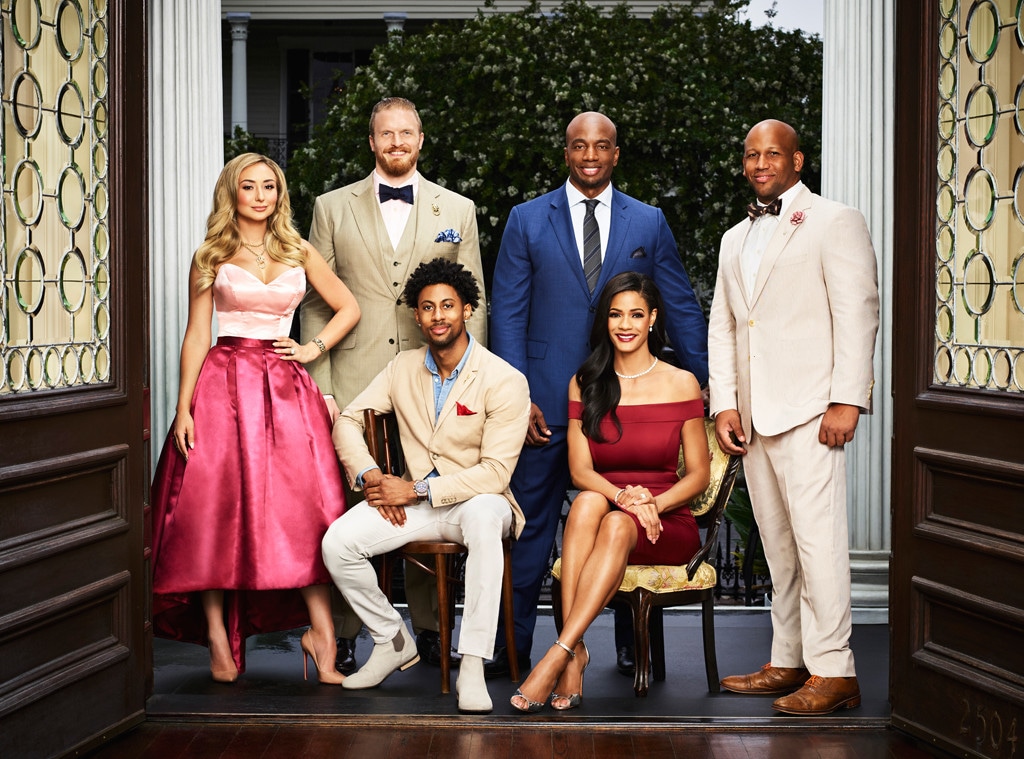 Bravo
Think you know New Orleans? Think again.
The cast of Bravo's Southern Charm New Orleans is here to spill the tea on the Big Easy. There's more to NOLA than Bourbon Street and beads—much more.
"When everyone thinks about taking a trip to New Orleans, the French Quarter is the first thing to come to mind," Reagan Charleston, a jewelry designer and law student, told E! News. "However, there are so many special spots just off the beaten path. New Orleans is home to more historic districts than any other city in the United States, and each one has its own eclectic vibe and ambience—picking a different neighborhood for a night out can be a bit like taking a trip somewhere!"
Reagan's New Orleans secrets:
"I love heading Uptown to the Columns Hotel on St. Charles Avenue. Sitting on the live oak shaded portico in the afternoon while street cars pass up and down the avenue is something just short of magical!"
"Bouligny Tavern, also in the Uptown neighborhood, is a chic little spot for cocktails and mingling."
"The Marigny, Bywater, and Treme neighborhoods are also home to some amazing spots for both food & music. Paladar 511 in the Marigny is a fab Italian restaurant that's rumored to be one of Beyoncé & Jay-Z's favorite NOLA spots!"
Reagan's husband, former New Orleans Saints player Jeff Charleston, had this to add: "My best-kept secret about New Orleans is the 1100 block of Decatur. When I was playing football I use to live on this block and I love the variety this block has to offer. You can go from dive bar to fine dining all on one block. Trinity, Molly's at the Market, the Abbey, and Turtle Bay are some of my favorites."
Personal trainer and gym owner Barry Smith's New Orleans secrets are:
"Locals DO NOT frequent Bourbon St. We steer clear of Bourbon as much as we can. Uptown, Garden District, Warehouse District and Mid City is where you'll find most of your locals."
"Here, we MAKE groceries, instead of going to the supermarket to shop for groceries."
"New Orleans is the mecca of festivals. People only know the Jazz, Essence and Voodoo Festivals, but we have the fried chicken, oyster, beignet, alligator, crawfish, po-boy, and Greek Fest. That's just to name a few! Oh, and not everyone Second Lines for a funeral."
News anchor Tamica Lee shared her favorite spots to visit in the Big Easy:
"I love Frenchman street! It's at the end of the French Quarter. It's known for its weekday happenings. Great dives, local music and extremely low key."
"I also love the local style and local merchants in the Magazine street corridor and the local art scene that's also flourishing (Ogden Museum, NOMA)."
Justin Reese, an attorney, dropped some knowledge about antiquing:
"An interesting fact about New Orleans is that French Quarter was built by the Spanish after it was acquired by the French. That is why the French Quarter is filled Spanish Architecture as opposed to a French style."  
"There is an antique store on Royal St., M.S. Rau Antiques, in the French Quarter that has a secret room filled with historic art and artifacts that are for sale. However, you must ask to see it or they won't advertise it."
Jon Moody, an artist, revealed his favorite seafood restaurant:
Castnet Seafood: Especially during crawfish season, is a local seafood cuisine in New Orleans East that always has fresh catches.  They are more of a local spot that isn't spoken much about, nevertheless they have the best crawfish in the city and also some of the best raw oysters. There's no doing seafood wrong at Castnet."
Southern Charm New Orleans premieres Sunday, April 15 at 9 p.m. on Bravo.
(E! and Bravo are both part of the NBCUniversal family.)