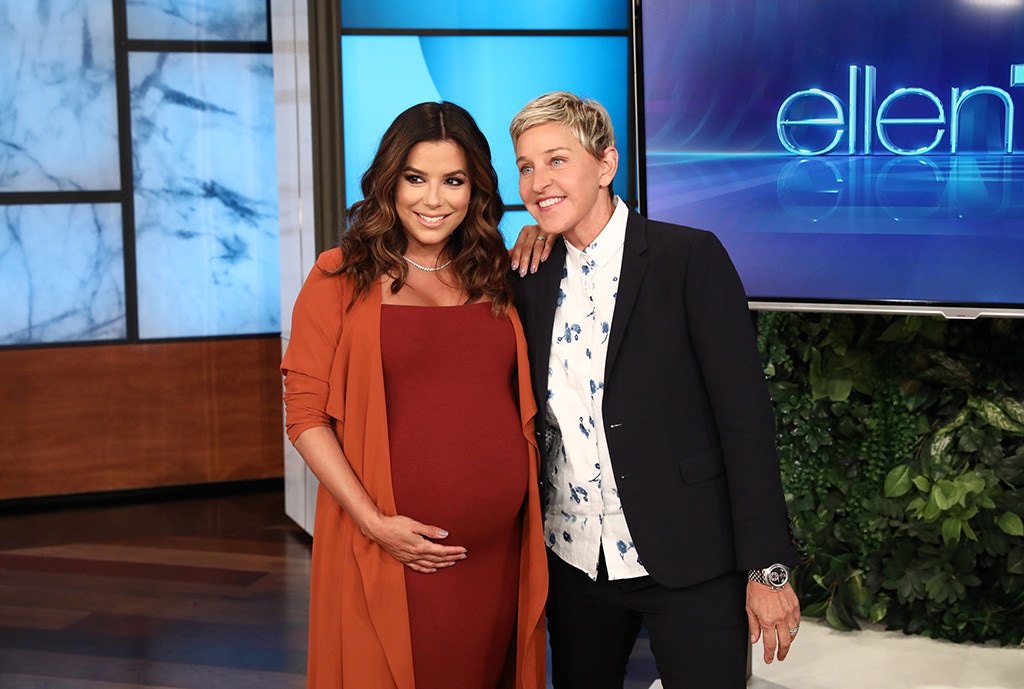 Michael Rozman/Warner Bros.
Eva Longoria is pregnant with her first child, but she still doesn't know what to name the baby boy. Thankfully, Ellen DeGeneres is here to help.
The Desperate Housewives star appeared on Tuesday's episode of The Ellen DeGeneres Show and used the host's baby name generator to come up with a moniker.
The machine spit out interesting suggestions like Poquito Mas Longoria and Don Jolio Longoria.
"Yes, like the tequila," the actress said. 
However, this wasn't the only beverage-based name it produced. The machine also suggested Tequila Sunrise Longoria. 
"What would we call him for short?" Longoria asked.
"Tiki Sunny," DeGeneres responded.
Cinco De Mayo Longoria was another idea.
"It's so funny because my baby shower is going to be on Cinco de Mayo," Longoria said. "It's just accidental because it's the only weekend I have available."
"See? Then why not Cinco De Mayo?...It's settled that's his name," DeGeneres said.
Watch the video to see them go through a few names.
Thankfully, Longoria still has time to figure out a name. The Telenovela star said she and her husband José Antonio Bastón plan to welcome their son in June. However, choosing a name isn't the only thing she needs to cross off her to-do list. The actress said she also needs to set up a nursery.
"No, I don't have anything. I'm in between homes, so I haven't had a chance to, like, get a nursery ready or anything," she explained. The actress recently listed her Hollywood mansion for $3.8 million.
In addition to using DeGeneres' baby name generator, Longoria played a game of "Oops My Water Broke!" with a little help from Jersey Shore's "Pauly D" DelVecchio.
This isn't the first time DeGeneres helped a celebrity pick potential baby names. In January, she produced a few suggestions for Khloe Kardashian, who is also pregnant with her first child.
To see Longoria's full interview, tune into The Ellen DeGeneres Show Tuesday at 3:00 p.m. EST.