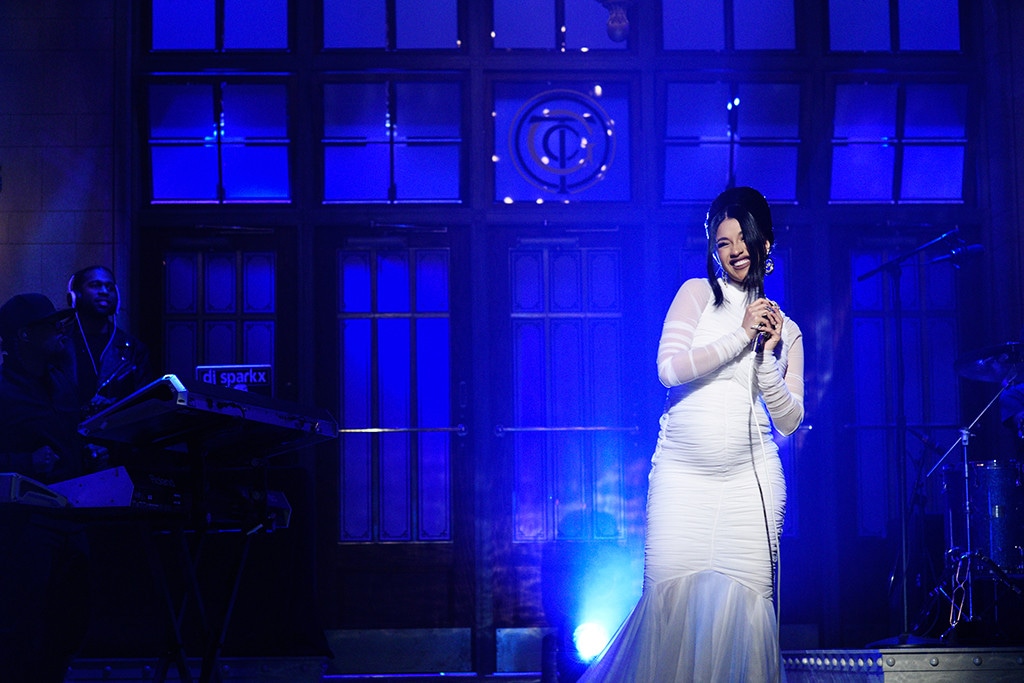 Will Heath/NBC
Cardi B is ready to be a mama, no matter what anyone has to say. 
After much speculation, the celebrated rapper unveiled her baby bump live on SNL Saturday night, confirming once and for all that she indeed has her first little one on the way with fiancé Offset. With the debut of her first studio album, Invasion of Privacy, taking place just a day earlier, some were concerned about what kind of an impact a pregnancy would have on the star's skyrocketing career. 
During a sit-down for Power 105.1's The Breakfast Club on Tuesday, the 25-year-old phenom was asked whether she had thought about not having her baby after she learned of her unplanned pregnancy. "Kinda, sort of," she answered. "I just didn't want to deal with the whole abortion thing. I just didn't want to."
Instead, Cardi B felt ready for motherhood. "You know what—I'm a grown woman. I'm 25 years old," she added. "I'm a schmillionaire and I'm prepared for this."
As for her doubters, the star is eager to defy them. 
"It just really bothers me and it disgusts me because I see a lot of women online like 'I feel sorry for you. your career is over' and it's like why can't I have both?" she asked the show co-hosts. "Why do I gotta choose a career or a baby? Why can't I have both. I want both."
And she wanted both sooner than later. "I don't want to wait until I'm thirty-something to have a kid," she explained. "I want my kid now that I have energy and stuff."
As for the baby's father, she said Offset is happy about their little one on the way and even recalled the night they conceived their child. 
"It was this one night," she said with a laugh. "It was a good night."