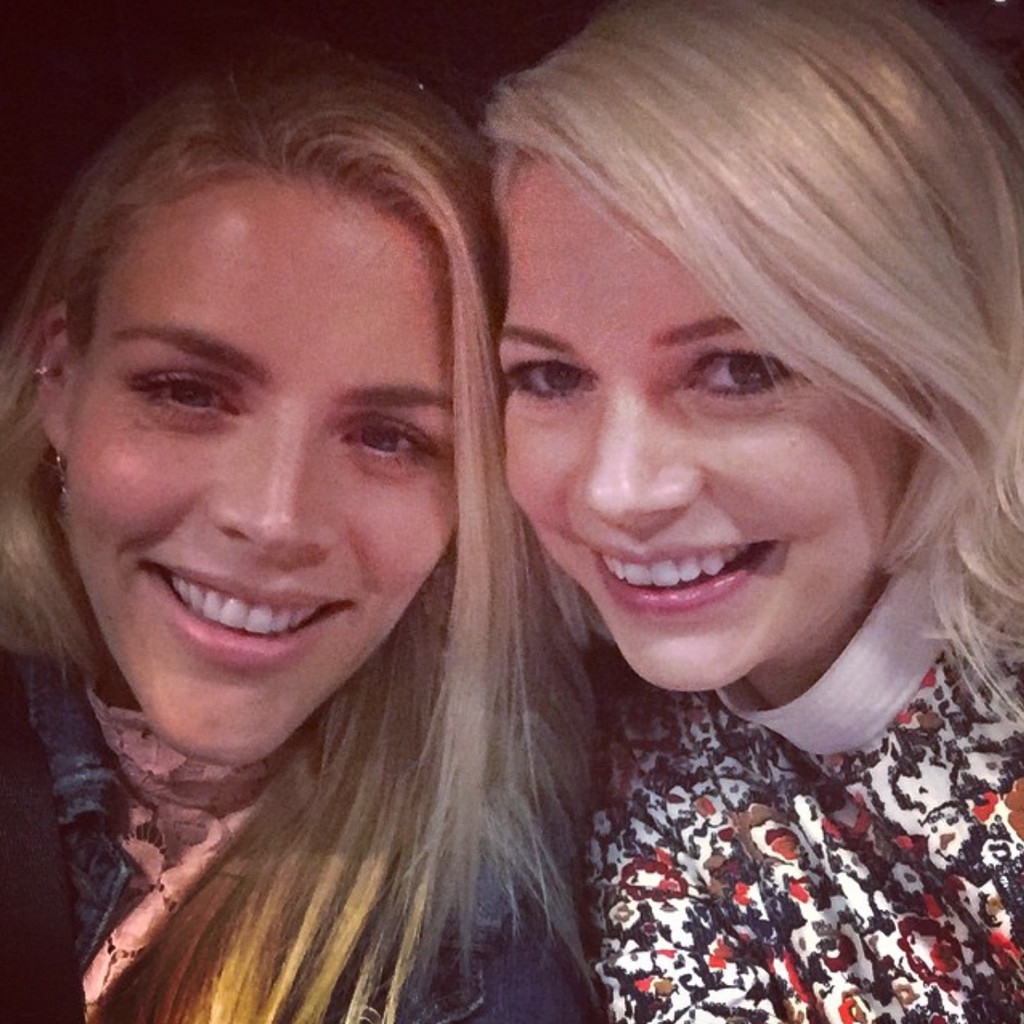 Instagram
At her core, Michelle Williams is a private person.
Sure, she can give refreshingly, endearingly candid answers in interviews, touching on everything from her tough start as a teen actor to how she recovered after losing Heath Ledger to a drug overdose. But there's a reason the naturally reticent star hasn't taken the plunge into the murky world of social media.
To hear her best friend Busy Philipps tell it, the decision stems from their days on Dawson's Creek when Williams stumbled upon an "I Hate Jen Lindley" website devoted to her teen rebel character. Still, she doesn't begrudge Philipps' choice to engage directly with her 930,000 Instagram followers.
No less than 200,000 tune in daily to view the actress' stories, reports The Cut. And while her life's happenings are filled with some A-list moments, Philipps' style—speaking straight to camera in a conspiratorial tone and often playing with her hair—means she manages to come off somehow relatable. While the average person doesn't get the chance to attend the premiere of Broadway's Mean Girls or a screening of Williams' latest Oscar vehicle, Manchester By the Sea, if they did, they'd probably report on celeb sightings and lament how they managed to end up with a tray full of mini crab cakes on their dress.
And while Philipps says her goal wasn't to become an influencer—"I was just truly attempting a different type of connection and a different type of entertainment," she told The Cut—her side hustle has earned her the chance to make bank doing spon con for brands such as Hidden Valley Ranch, LG and Michaels and caught the eye of an editor at Simon & Schuster's Touchstone division, who offered Philipps the chance to pen her memoir.
"I feel like I'm beating the system," she explained of her new gig. "I'm making money, I'm able to support my family and make a living and support my expensive workout habits and juice habits."
That brings us back to Williams and her frequent cameos in Philipps' stories. The appearances are not, as one might think, to help build up her pal's following because Philipps is doing that just fine on her own, thank you very much. Rather, speculates the I Feel Pretty actress, "I think it's fascinating to her, because it's so outside of what she would normally do or project. I think she's very curious about the immediate feedback of fans and people you know, giving you reinforcement. Positive and negative."
And that's how, one night during last October's Paris Fashion Week, Williams found herself agreeing to let a wine-imbued Philipps dye her hair a shade of what she called "perfectly millennial pink." The process, documented on Instagram, ended with Philipps' declaring, "Guys, my best friend now has…I mean she's kind of naked and has slightly pink hair and it's f--king beautiful."
It's the breezy behavior that's landed the four-time Oscar nominee, 37, and the Critics Choice Award-winning actress, 38, to land a spot on endless listicles praising their #BFFGoals behavior. Having followed in the footsteps of Jennifer Aniston and Courteney Cox and Tina Fey and Amy Poehler, they have made the seamless leap from coworkers to cohorts. And Williams insists their 17-year friendship is just as fun as it looks on camera.
Being a solid companion is something the mom of Birdie, 9, and Cricket, 4, "puts a lot of time and energy into," explains Williams. "Her passion is people. She has this amazing quality: People just fall in love with her. Like, you spend ten minutes with her, and people are like, She's incredible."
For Williams, that moment came when the vivacious Chicago-area native joined the Dawson's Creek cast in 2001 as Audrey Liddell—the college student tasked with bringing Katie Holmes' studious Joey Potter out of her straight-laced shell.    
"When I met her, she was the coolest girl I had ever seen," Williams recently recalled to Entertainment Weekly. "She had a nose ring. She wore her hair in braids. She wore overalls. And she had this attitude like, 'I know who I am and don't cross my line.' I just thought, 'I want to be this person when I grow up.' She was my first real friend I ever had."
(Proving their bond is as sweet as everyone imagines, Philipps tweeted that she cried when she read Williams' quotes.)
Though the twosome had little interaction onscreen, a mutual friend had told the Freaks and Geeks alum to connect with Williams, predicting that they'd hit it off.
"It was like, you know, how people say love at first sight? We had that thing," Philipps told the mag. "We had that friend connection. It was just an immediate: 'Of course we're drinking wine and smoking cigarettes and getting in bar fights.' We just had an immediate love for each other that's continued over the years."
To Williams, what linked them was a shared vulnerability. "We were both really young, and we were both really messy, but it translated in different ways," she explained. "Like mine made me kind of weak and hers made her kind of iron."
That meant when the duo navigated the bars in Wilmington, North Carolina, the small seaside town where Dawson's was filmed, Philipps was the defender. She would shoo away patrons who tried to hit on Williams. And when one girl "tried to start a fight" with the future Oscar nominee, says Philipps, "I also defended your honor."
The early days of their friendship were fueled by rebellion, boxed wine—"I got so drunk one night that I dislocated my knee in a bar," Philipps admitted on The Wendy Williams Show of life on the teen dramedy's set—and long nights sharing their hopes and dreams.
"My memory of being with her then doesn't have anything to do with the show or working, but it was on our time off," Williams told Entertainment Weekly. "It was talking on the porch all night long and it was back when bread was still okay to eat. It was copious amounts of bread. That's what I remember: an endless conversation over multiple bread baskets."
As they graduated Dawson's, their environment grew more glamorous but their let's not take ourselves too seriously attitude remained. Starting with the 2006 Screen Actors Guild Awards (which saw Williams recognized for her turn in Brokeback Mountain), Philipps took on the role of the oft-nominated star's preferred plus one, making it her responsibility to take some of the stress and stuffiness out of the black tie situations. Rattled by the endless flashbulbs lining the carpet? Unwind with a bathroom selfie. Lost out to Viola Davis at the Golden Globes? Time to indulge in a bowl full of carbs.
"For the most part, these awards shows, while they are fun, they're high pressure for the people who are nominated and for those walking the red carpet. It's just great to have somebody that can be your touchstone for reality," Philipps explained to Elle.com last year. "Maybe I'm giving away a secret, but we always try right before we get to one of these red carpets to just look at each other and say, 'Don't forget how lucky we are. This is our life now."
(Also, when Williams nabbed a Golden Globe for 2012's My Week with Marilyn, Philipps got to hold onto it for safe-keeping. "At some point, I'll make sure that she puts it in her suitcase and takes it back," she admitted to her Instagram followers.)
MiamiPIXX/SBMF/FAMEFLYNET PICTURES
Off-duty, the duo indulges in more ordinary bestie behavior. They'll go on double dates (while Philipps insists she didn't play matchmaker with Williams and her Freaks and Geeks costar Jason Segel, she was there when they first crossed paths at a party). They share gossip. (Williams revealed to Elle that Philipps was the one that let her know former costar Holmes was dating Tom Cruise.) And they've linked up for vacations to the Bahamas, the Maldives and Punta Mita, Mexico, where a then-pregnant Philipps claims her screenwriter husband Marc Silverstein and Williams "were at the bar constantly."
And, okay, there was also that one time they posed on a Dawson's Creek-esque dock and reminisced about the costars they kissed while filming the early-aughts hit.
Really, if you can ignore the fact that they're pretty freaking famous, they're just like any other pals who enjoy spending time together.
Jonathan Leibson/Getty Images for Landmark Vineyards
After an L.A. excursion last spring where they went shopping, had dinner, then hit up a museum, Philipps posted a public thank you, writing, "I'm sad we don't get to live in the same place but yesterday was a perfect day together and just what I needed for my soul and that's what best friends are for, right? To show up when you need them most and remind you of who you are and why you are and that no matter what, it's all ok cause you will always have each other."
And for the Vice Principals star that wasn't mere lip service. Known as the friend you can always hit up for a favor, she's also the friend who always shows up. Period. The day after Ledger was found dead in his New York City apartment, Philipps was spotted arriving at the Brooklyn row home Williams shared with then 2-year-old daughter Matilda. (Philipps is one of her godparents.)
Perhaps more importantly, when asked by the New York Daily News about the tragedy months later, she remained tight-lipped because that's what best friends do.
"In your early 20s, it was maybe acceptable to have a friend who was taking all of your time and energy, and exhausting you, and always a drama," Philipps mused to Elle.com of her friendship philosophy. "When you're in your 30s or you're starting to have babies, you just can't put up with it anymore, and that's okay, because I think your priorities shift."
Even when Philipps does open up, as she did on the tenth anniversary of Ledger's death, documenting her trip to San Francisco to grieve with Williams, it's with her pal's express permission.
Noting to The Cut that some fans found her story "exploitative," Philipps explained, "I've never talked about it. I've never shared it, because I'm hyper protective of [Williams] and her daughter. But I also think…I think it's okay. Everyone's allowed to have their own feelings about something that happens."
And while she said "certain people in the public feel protective" in regards to Ledger's story, Williams wasn't among her critics. As she told the outlet, "I trust her judgment implicitly."
Jeff Vespa/VF11/Getty Images
With a bond so tight—and their penchant for holding hands, sharing best friend jackets and raving that they're "so in love" with each other as Williams did at a 2016 Manchester By the Sea screening—the pair have even had to fend off speculation their union was more than platonic. Though Philipps told The Advocate in 2013 she hadn't heard the lesbian rumors, "I get why people would say that about us," she admitted. "It does seem plausible."
In her mind, their kinship belongs in the lofty BFF hall of fame alongside the likes of Oprah Winfrey and Gayle King. "I believe sexuality is fluid, and women can have a deep love and affection for other women," she explained. "My friendship with Michelle has stood the test of the time, and we've been together through many different versions of our lives. I love her as deeply as I love almost anyone. But we don't do it."
That lack of romantic entanglement, says Philipps, means their relationship will endure anything. Speaking with Bravo's Personal Space about the allure of their friendship, she explained, "You know people just love two famous people who find each other." And unlike, say Brad Pitt and Angelina Jolie or Channing and Jenna Dewan Tatum, they're a completely safe couple to ship. "At least ours, you know, we're not gonna like break up," she noted. "So you can really invest in this relationship. We're not gonna break up."