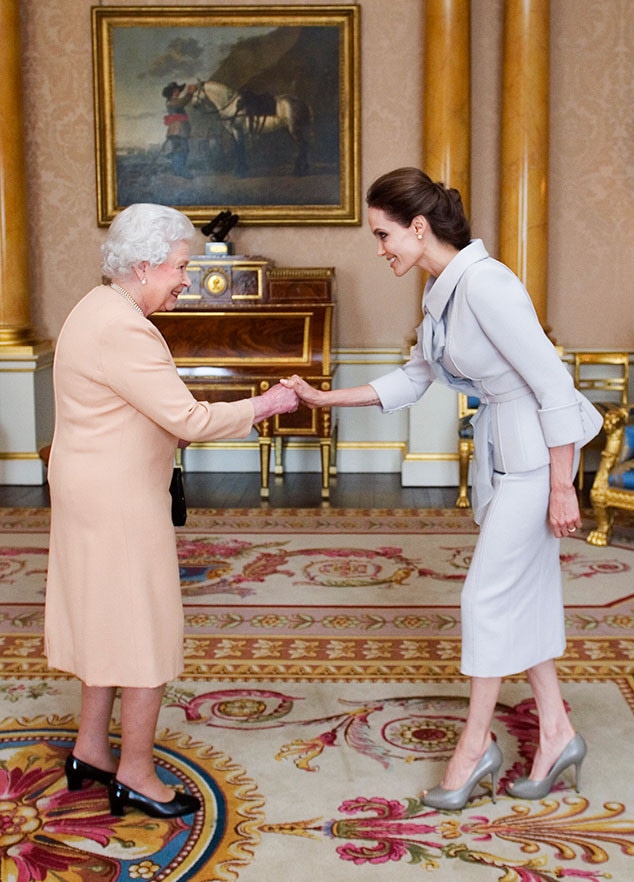 AP Photo/Anthony Devlin, pool
Angelina Jolie and Queen Elizabeth II share a common interest: environmental protection.
In the new ITV documentary, The Queen's Green Planet, Jolie visits Namibia with her children to promote forest conservation. "For us to come here and say to the children, 'This is why it's important to plant a tree,' that's the biggest message I can teach my kids," the Maleficent actress says. "It's something that they've certainly learned from Her Majesty and her message."
Jolie recalls sitting "up at night in a tent" with her children, who would ask, "Why does the Queen of England care about planting trees in Africa?" and "Why is it so important to her?"
The Academy Award-winning actress was made an honorary dame in 2014, for services to U.K. foreign policy and for her efforts to end sexual violence in war zones—but she doesn't presume to know what makes Queen Elizabeth tick. In fact, during the activist's candid conversations about conservation efforts in Africa, Jolie says she would remind her children, "Really, you don't know her; you can't understand all that it means to be a queen and all that.' But you try to say, 'You know, she's just this really lovely lady who really cares about people around the world, and she really cares about the future, and she wants your grandkids and her grandkids to be able to be running around, enjoying nature and other cultures, and the importance of other cultures.'"
"She thinks that really matters," Jolie adds, "and I agree with her."
The documentary, airing in the U.K. Apr. 16, centers on the environmental project The Queen's Canopy, which hopes to unite every country in the Commonwealth via its preservation efforts. At one point in the program, Jolie lovingly watches her children "trying their best to dig a hole" so they can plant a tree in a local village, musing, "I bet they're fighting over the biggest shovel."
"It says it all when you see the local tribe, the bushmen, come in—and their reaction to it. The trees affect the environment, the soil, the shade, the natural resources, the animals, the ecosystem—but also it affects the local cultures. They live very dependent on every single plant, and they use every single plant," the actress continues. "And when certain trees, certain species, disappear, that affects an entire culture and their way of life, and they start to die out."