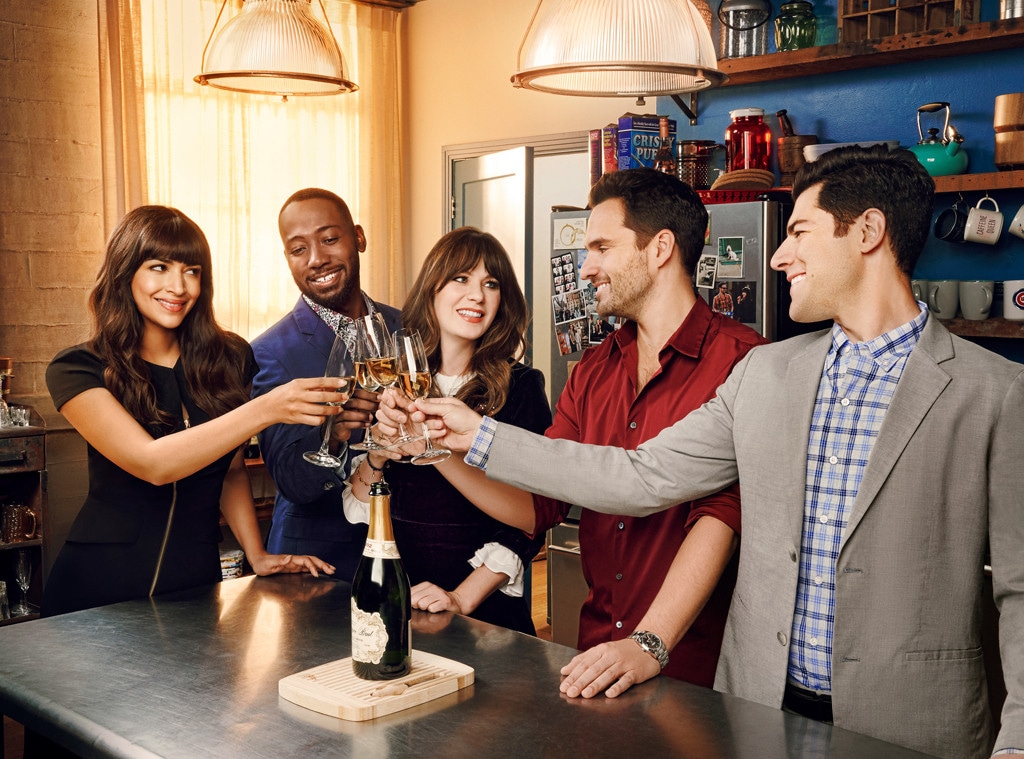 Fox
The beginning of the end for New Girl has arrived, and the final season has an interesting job to do.
When the sixth season ended, no one knew if the show would return or not, so the finale was written as a pretty perfect possible series finale. Winston and Aly got engaged and he finally decided to call his dad. Schmidt and Cece found out she was pregnant, and Nick and Jess finally got their end-of-the-romcom-kiss after a long slapstick sequence of just barely missing each other. It was a beautiful ending full of beginnings that would have served the show extremely well, until the series was renewed for a seventh and final season.
Now, with just eight episodes left, the show gets to explore what happens after the happily ever after romcom ending, and we get to see what happens when these grown up children have to be actual grown-ups, sometimes with their own actual children. And based on tonight's premiere (and the further episodes made available to critics), true adulthood hasn't slowed anyone down, or made anyone less hilarious.
The show picked up three years after Nick and Jess' big elevator kiss. They're still happily together, fresh off a book tour for Nick's Pepperwood Chronicles series (despite a quick fake out in the opening scene). Winston and Aly are married and expecting, and Cece and a mustachioed Schmidt have a three year old daughter named Ruth Bader, who will quickly become your new favorite three year-old.
While everybody's got their little things to deal with, Nick and Jess are in the midst of finally taking a big step. He's trying to propose, but things keep getting in the way, like every single one of their friends showing up just as Jess is about to open a mysterious ring-filled package from Turkey. We also had to deal with Jess lying to Russell/Fancy Man about being engaged already, and with Jess' dad losing his mind over Nick not proposing yet, but all that is just part of the journey to finally getting these two hitched in what we're imagining is going to be a perfect mix between a classic sitcom wedding finale and a wedding finale only New Girl could bring us.
Now let's talk about a few of the best premiere moments:
"We have something to show you…we got…in a vespa accident!"
The premiere was full of Nick and Jess-related fakeouts, but none as gross as Nick and Jess arriving at Schmidt and Cece's house and showing off their injuries instead of an engagement ring. Nick lost part of his shin!
Schmidt's mustache
It was so wrong, and yet somehow, also just right. RIP mustache.
Little Ruth Bader
Schmidt and Cece's weirdo little daughter hasn't made a huge impression yet, but that will all quickly change. She's incredible, as any little girl named Ruth Bader should be.
Grown Up Nick
We've never seen a Nick like this. Successful author Nick may still live in the loft, but now he's got an office and he travels to Europe and hires au pairs to send mail and his most recent Pepperwood was named the longest Pepperwood of the year! He's an adult now and we couldn't be more proud. 
Everything About Winston and Aly
As much as we love little Ruth, we cannot wait to see what kind of child is created by Winston and Aly. Can we get another time jump at the end to see what that kid grows up to be? Please and thank you?
New Girl airs Tuesdays at 9:30 p.m. on Fox.