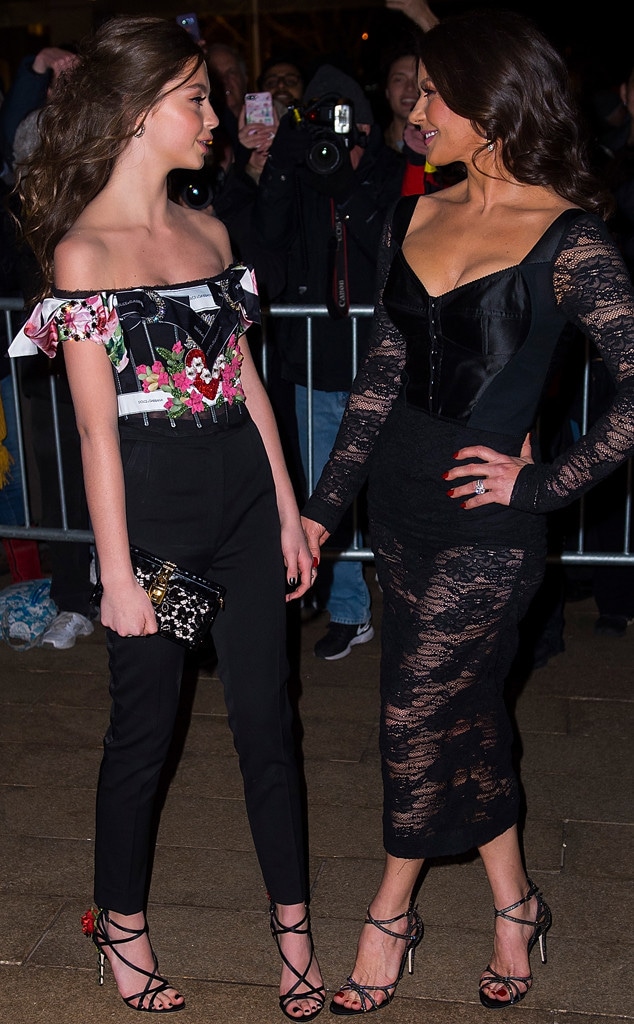 Gotham/GC Images
Catherine Zeta-Jones and her mini-me daughter, Carys Douglas, recently enjoyed girls' night out—all in the name of fashion!
The ageless actress and her 14-year-old daughter, whom she shares with husband Michael Douglas, sat front row at the Dolce & Gabbana Alta Moda Fashion Show in New York City on Sunday. The star-studded event took place inside the Metropolitan Opera House, marking the conclusion to a three-night extravaganza for the fashion powerhouse.
The mother-daughter pair looked flawless in pieces from Dolce & Gabbana's Spring 2018 ready-to-wear collection. Catherine wore a corset-inspired dress with a sheer lace skirt and sleeves, while Carys rocked an off-the-shoulder floral top with high waisted black pants and strappy heels. 
While this is far from the first event the fashionable duo has attended together, they were still just as thrilled to be there! Catherine captioned an Instagram video of the pair walking hand-in-hand up the Metropolitan Opera House's stairs, "We are so excited." 
Catherine is rightfully proud of her little girl, telling E! News this past September, "She's strong and smart, has good morals and good judgement, which for a 14-year-old, you never quite know what you're gonna get." 
And it appears as if Carys may be following in her famous parent's footsteps, with Zeta-Jones also revealing that the teen aspires to work in Hollywood.
From Carys' perspective, "Yeah, I love fashion... I definitely see it in my future, I just don't know about right now. Actress, model, brain surgeon... We'll see." 
Be sure to keep your eye on this rising star!