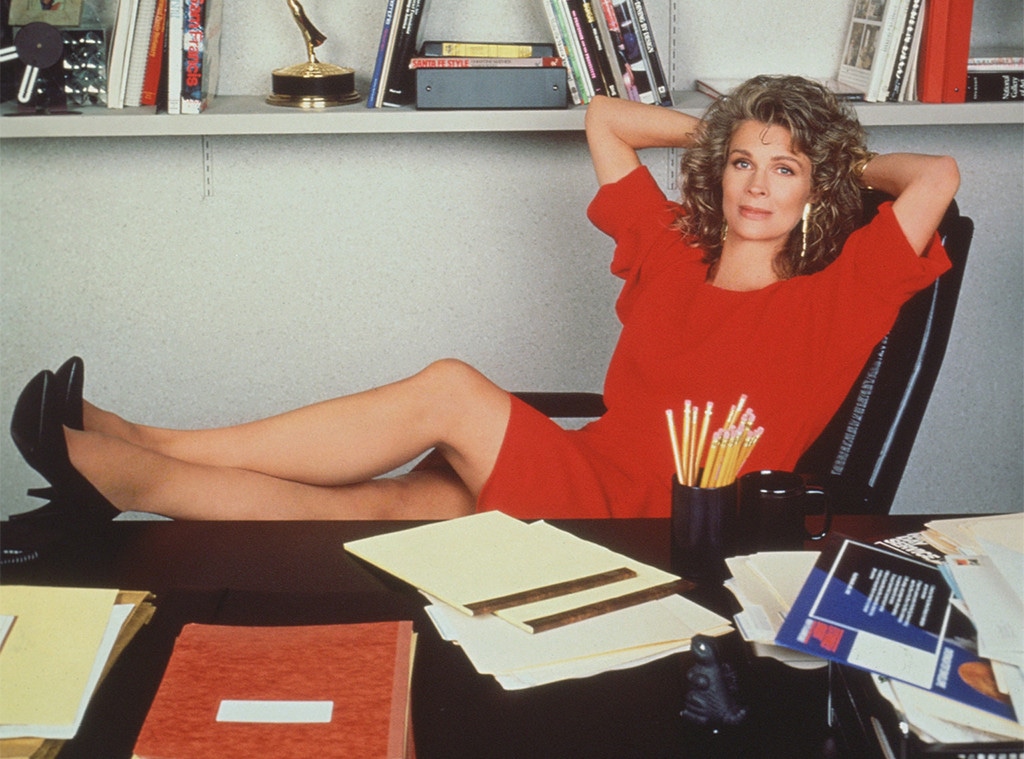 CBS
The current landscape of TV revivals is exciting, frustrating and exhausting. For most, the thrill of seeing an old friend brings them to their TV sets, yet for others there's fatigue: "Aren't there new ideas?" Then, depending on the show, a feeling of relief or disappointment usually follows for viewers; is your once-favorite show a shell of its former self or is it back and better than ever?
Roseanne came back to divisive reviews; yet record ratings on ABC and promptly earned a renewal. Already renewed for two additional seasons, Will & Grace made a splashy return to NBC, righting several missteps in the later part of its original run. Now CBS is getting into the revived comedy game with a 13-episode revival of Murphy Brown.
Thanks to nostalgia, it's a banner year for revivals, but beyond the familiar faces, these shows also have something to say.
The cast of Murphy Brown recently reunited to get to work on the series, and star Candice Bergen posted the group photo to prove it. I sent the photo to my parents, both Murphy Brown fans when the 10-season comedy originally ran from 1988-1997, and my mom summed up the great thing about—and the issue some have with—TV revivals in her response. "I'm not sure about all these reboots, but Murphy Brown is a welcome counter to vile Roseanne," she texted me back.
Like many viewers, my mom is weary about reboots (she's in the "Where are the new ideas?" camp).  But she, again, like many viewers are, is expecting Murphy Brown to return with the ideals the show represented during its original run, unlike the new Roseanne.
The character of Murphy Brown is known as a feminist icon. The show never stayed away from tackling what was once (and sometimes still is) viewed as taboo. Murphy Brown routinely tackled politics, gender issues, substance abuse and ageism. Because of the topics it covered, Murphy Brown was already very present in the cultural conversation when then-vice president Dan Quayle criticized the show's decision to have its title character have and raise her baby as a single mother. Quayle said Murphy Brown was "mocking the importance of fathers by bearing a child alone and calling it just another lifestyle choice."
"I wanted to challenge Murphy. She couldn't keep a plant alive. How's she going to have a child? I just thought it was good storytelling," series creator Diane English told the Los Angeles Times about the decision to make the character a single mother. "It never occurred to me that in that day and age that it would be some sort of a taboo."
The series used actual footage of Quayle's speech to tackle family diversity in the season five premiere, addressing family values and what makes a family. This controversy helped cement Murphy Brown, a series about a single career woman, as the heralded and trailblazing series it is thought of today.
When CBS announced the revival, the network said, "Murphy Brown returns to a world of cable news, social media, fake news and a very different political and cultural climate," hinting that the new season will not shy away from topics that made it a success the first time around. Just like when Murphy Brown first premiered, today's America is fractured and at a crossroads. The media is routinely attacked by the current White House administration and you can bet Murphy Brown and English will have something to say about the current state of affairs.
"Thirty years have passed, but America seems to be stuck in a feedback loop," Joy Press wrote in Time about Murphy Brown's comeback. "Back then we had George H.W. Bush and Dan Quayle wringing their hands about family values and welfare queens. Now we have Donald Trump, who described his female opponent for the presidency as 'such a nasty woman' and rode a wave of misogyny into the Oval Office…Today's small screens teem with the daughters of Murphy: feisty, fearless and unabashedly feminist. But it's happening in the real world too, from #MeToo's mass reckoning with sexual assault and toxic workplaces to the hordes of fired-up women running for office in record-breaking numbers this year. How apt that Murphy Brown should return now for a victory lap, with a new lease on her symbolic life."
There's reason to believe Murphy Brown will stick to the ideals it started with. In 2016 English released a fictional interview between Trump and Murphy Brown, where the two tackled ageism, abortion and women in the work place.
For some, Murphy Brown will be the antidote to what Roseanne Barr represents. With Roseanne, the show clearly has something to say, it's just different than Roseanne of the past. The ABC comedy returned to a huge audience—and split fans (and critics) down the middle. Barr, an outspoken supporter of Trump who also favors far-right conspiracy theories, made her famously feminist icon character Roseanne Conner into a Trump supporter. The opening episode had Roseanne and her sister Jackie (Laurie Metcalf) in a feud over the 2016 presidential election, and there were jokes about hot-button issues like healthcare, jobs and footballers taking a knee in peaceful protest.
The original Roseanne was inclusive. It routinely featured out gay characters and was also home to one of the first lesbian kisses on TV. The Roseanne of today still has some liberal ideals—the main character is fiercely protective of her gender-nonconforming grandson and maintains her daughter's decision to be a surrogate is her choice because it's her body—but Barr's personal politics and the character's support of Trump is a bridge too far for some.
"Personally, I wouldn't have predicted it. But I buy it," James Poniewozik wrote of Roseanne Conner's support of Trump in his The New York Times review. "First, the election left a lot of people stunned at the choices of (actual, nonfictional) friends they thought they knew. Second, Roseanne has always been a version of Ms. Barr, reimagined in different circumstances. And finally, well, people are complicated—'weird' is the Conners' preferred self-description—and a strength of the show has always been its refusal to put people in neat boxes."
In an opinion piece in the Times, Roxane Gay noted she was a fan of the original show, but could not separate the art from the artist and get on board with a series that was "normalizing Trump and his warped, harmful political ideologies."
"As I watched the first two episodes of the Roseanne reboot, I thought again about accountability. I laughed, yes, and enjoyed seeing the Conner family back on my screen. My first reaction was that the show was excellent. But I could not set aside what I know of Roseanne Barr and how toxic and dangerous her current public persona is. I could not overlook how the Conner family came together to support Mark as he was bullied at school for his gender presentation, after voting for a president who actively works against the transgender community," Gay wrote. "They voted for a president who doesn't think the black life of their granddaughter matters. They act as if love can protect the most vulnerable members of their family from the repercussions of their political choices. It cannot."
Lecy Goranson, who plays the eldest Conner child on Roseanne, said she had to reckon with Barr's politics before returning to the show. In an interview with Vulture, Goranson said she voted for Hillary Clinton, is a Democrat and disagrees with Barr's politics, yet she defended the show's messaging.
"People are angry. People are clinging to anger. There's a rigidity on both sides and my argument is our show has always been a source of social dialogue," Goranson said. "It's a reflective show that makes families look and reflect on their own lives, but it's also about talking about things. Roseanne didn't want the show to come back to spread her own propaganda. She wanted the show to come back to create a dialogue among these two rigid sides. I know for people who hate Trump, they don't want to think that someone who voted for him would have that intention, but that's the truth."
Even if it doesn't align with some of the show's original messaging, the revived Roseanne is speaking to a segment of the viewing population in regards to politics. In the premiere episode, Roseanne said she voted for Trump because he spoke about jobs. At its core, Roseanne was always—and still is—a show that sought to speak to a group of people who didn't see themselves on TV. Its focus on a struggling family defined it then and defines Roseanne now, even if its star is divisive.
With new political and social topics to skewer and elevate, NBC's Will & Grace also found success in a similar vein.
"It's a whole new world now where being gay and lesbian is not something that people are hiding like they did when we started almost 20 years ago," Debra Messing told The Huffington Post. "I think that there's an opportunity to now celebrate all the other initials of LGBTQ. It will be great to come out of this next round and feel like we're normalizing an even larger segment of underrepresented people on prime-time television."
The success of Will & Grace has the network already mulling a return of The Office and The West Wing. And then there are several stars of shows from the good old days all seemingly ready to jump should a network come calling. But what do they have to say in 2018? The sake of reuniting to make a buck isn't the driving force of today's successful revivals.
In its prime, Roseanne represented something viewers hadn't seen on TV, the audience identified with what the Conners represented. Will & Grace came along way before Hollywood and audiences were making and accepting Call Me By Your Name and Love, Simon. The NBC series normalized LGBTQ life to audiences across the country.
"I think Will & Grace did more to educate the American public more than almost anything anybody has done so far. People fear that which is different. Now they're beginning to understand," Joe Biden said when he came out in favor of gay marriage.
Meanwhile, Murphy Brown was tackling topics like Time's Up before the movement had that name.
Despite all the progress in today's society there are still political and cultural issues plaguing America, a gold mine of stories for all of these programs to tackle. While keeping the general premises the same, these revived shows have been able to evolve with the times and continue successfully tapping into the zeitgeist.
Most successful TV shows have a point they want to make, something to say, whether it's to highlight previously overlooked subsets of the population or provide commentary and humor about the world around it—this is something Roseanne, Will & Grace and Murphy Brown all did and will likely continue to do.
The successes of Roseanne and Will & Grace—and inevitably Murphy Brown—are twofold. All of these revived TV shows hail from a time when there weren't 500+ scripted programs available to watch, stream and binge. Nostalgia and familiarity get viewers in the door, but, as seems to be the case with my mom who is looking for a specific type of commentary in Murphy Brown, it's the messaging of the programs that gets viewers to stay.
Whether you agree or disagree with what they're saying, these shows once again found a relevant voice in 2018.