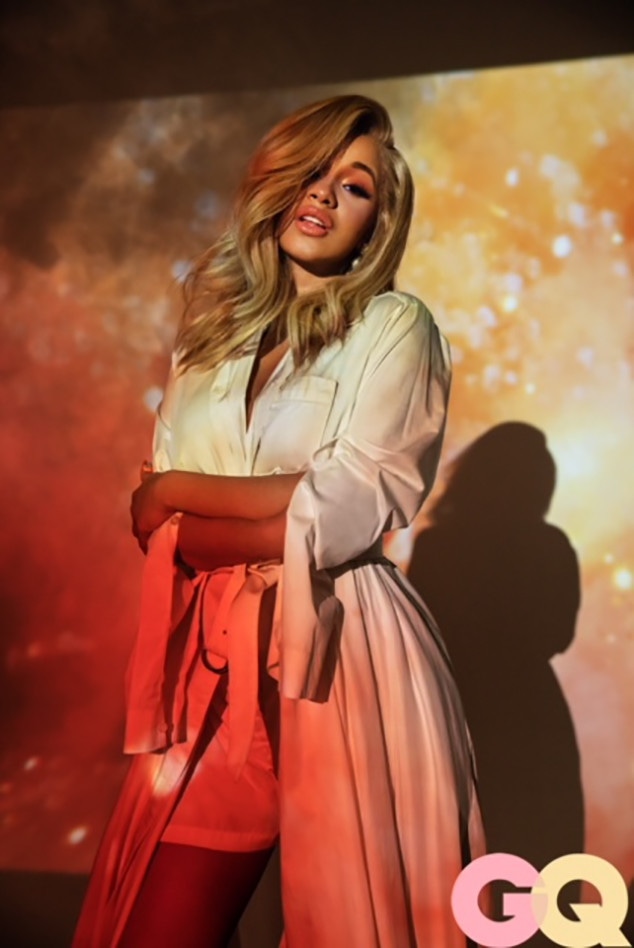 Christian Weber for GQ
There isn't a lot that scares Cardi B—not even getting illegal butt injections or being in a gang. 
The 25-year-old rapper opened up about both in the May issue of GQ.
According to the magazine, Cardi B got the injections when she was 21. The "Bodak Yellow" artist went to a basement apartment in Queens, New York where she paid $800 to have a woman inject her butt with fillers. 
"They don't numb your ass with anything," she told the magazine. "It was the craziest pain ever. I felt like I was gonna pass out. I felt a little dizzy. And it leaks for, like, five days." 
Cardi B told the publication she wanted a bigger butt because her boyfriend at the time had cheated on her with a woman who "had a fat, big ass." She also noticed her colleagues with bigger bums made more money stripping than she did.
After getting the procedure, the "Bartier Cardi" star planned on going in for a touch-up; however, the woman that gave her the fillers was suddenly unavailable.
"But by the time I was gonna go get it, the lady got locked up 'cause she's supposedly killed somebody," she told GQ. "Well, somebody died on her table."
In addition to talking about her rear end, the mother-to-be opened up about being in a gang.
"When I was 16 years old, I used to hang out with a lot of…Bloods," she told the magazine. "I used to pop off with my homies. And they'd say, 'Yo, you really get it poppin'. You should come home. You should turn Blood.' And I did. Yes, I did."
Cardi B eventually left the gang to strip, which she started doing when she was 19 years old.
"When I was a stripper, I didn't give a f--k about gangs, because I was so focused on making money," she said. 
Still, the "MotorSport" artist doesn't recall that time in her life very often.
"Sometimes it's almost like a fraternity, a sorority," Cardi B said. "Sometimes it's like that. And sometimes I see people that's in the same gang kill each other. So sometimes there is no loyalty. Sometimes you gotta do certain things to get higher, to get higher and higher. You're doing all of that and you not making money off of it. That's why I don't talk about it much. Because I wouldn't want a young person, a young girl, to think it's okay to join it."
One thing that bugs the artist is when people suggest she only started talking about her gang history once she got a record deal—to toughen her image.
"People always be like, 'Oh, Cardi never used to rep it when she wasn't making music.' Yeah, because I already got signed. I can do that now," she told GQ. "I'm smarter than what people think. There's so many things that I limited myself because I wanted a million-dollar contract. When I do interviews, I don't talk about it, because I will lose my endorsements. But since the cat is out of the bag, that's how I feel. Why? For what? Why would you join a gang?"
While butt injections and gangs didn't scare Cardi B, the artist admitted she still gets nervous meeting certain celebrities.
"When I met Beyoncé, people be like, 'How that felt? I bet you was mad happy.' " she recalled. "It's like, 'Actually, I wanted to sh-t on myself.' It was a very scary thing. All she was doing was like, 'Hi. I love your music.' And I was like 'UHHHN!'"
To read the full interview, check out GQ's May issue—on stands April 17.