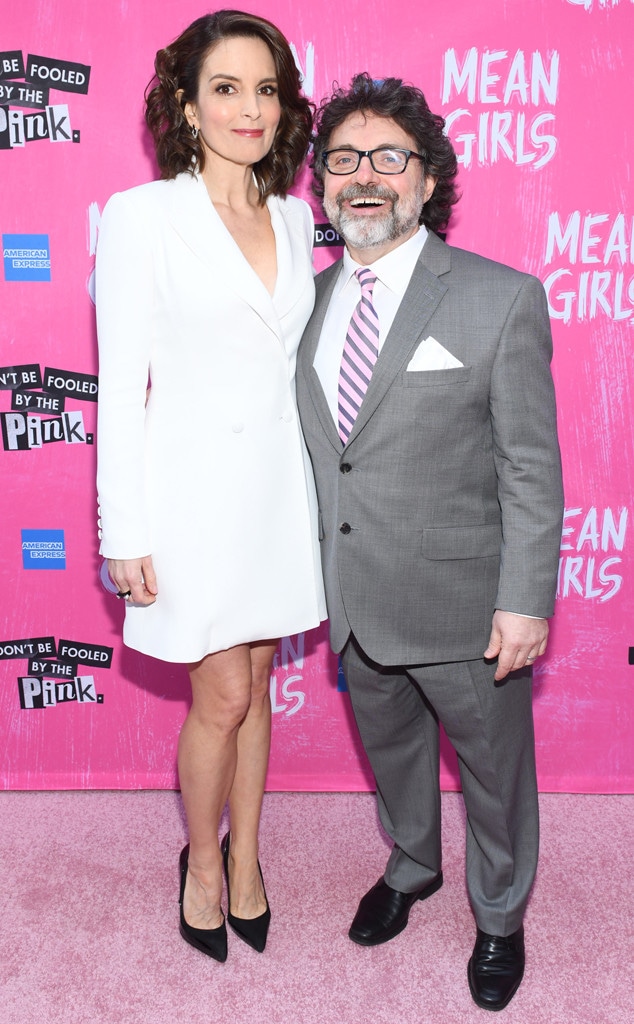 Noam Galai/Getty Images
Tina Fey looked so fetch Sunday night!
Pairing her custom Gabriela Hearst look with dazzling David Webb jewelry, the 47-year-old comedienne walked the red carpet to celebrate the opening night of Mean Girls on Broadway. Flanked by husband Jeff Richmond, who wrote the music, Fey smiled for photographers outside the August Wilson Theatre. Fey, who wrote the book, invited several of her A-list friends to see the musical, including Alec Baldwin, Tituss Burgess, Glenn Close, Jimmy Fallon, Ellie Kemper, Jane Krakowski, Kate McKinnon, Lorne Michaels, Busy Philipps, Diane Sawyer, Jerry Seinfeld and Emma Thompson. Cast members from the 2004 film, however, did not attend the opening.
After its limited run in Washington, D.C., last year, Mean Girls is now opening to rave reviews; The New York Times praised Fey's "sharpness," The Washington Post said Fey's script was "tailor-made for any adult ear that grooves on mischievous wit," Entertainment Weekly called it "frequently hilarious" and Variety lauded its "high fun factor" and effective "snappy one-liners."
In an interview with CBS Sunday Morning, Fey said bringing Mean Girls to Broadway is a "dream" come true. "I was trying to explain to my older daughter last night, when I was a kid, I didn't grow up in New York City, so if we came to New York to see a show and we got this real Playbill, and it was just so special," she said. "I really did feel, like, a burning desire to have my name in one of those Playbills someday." Later in the interview, a rightfully proud Fey pointed to her name in the Playbill and laughed, "Look at this! It's all happening. Dreams do come true!"
Choreographed and directed by Casey Nicholaw, the Broadway production of Mean Girls stars Kerry Butler as Mrs. George/Mrs. Heron/Ms. Norbury, Erika Henningsen as Cady Heron, Grey Henson as Damian Hubbard, Taylor Louderman as Regina George, Cheech Manohar as Kevin Gnapoor, Ashley Park as Gretchen Wieners, Kate Rockwell as Karen Smith, Kyle Selig as Aaron Samuels, Barrett Wilbert Weed as Janis Sarkisian and Rick Younger as Mr. Duvall. Michaels, Fey's friend and mentor from Saturday Night Live, produced the musical with Stuart Thompson.
Watch Daily Pop weekdays at 12:30 p.m., only on E!