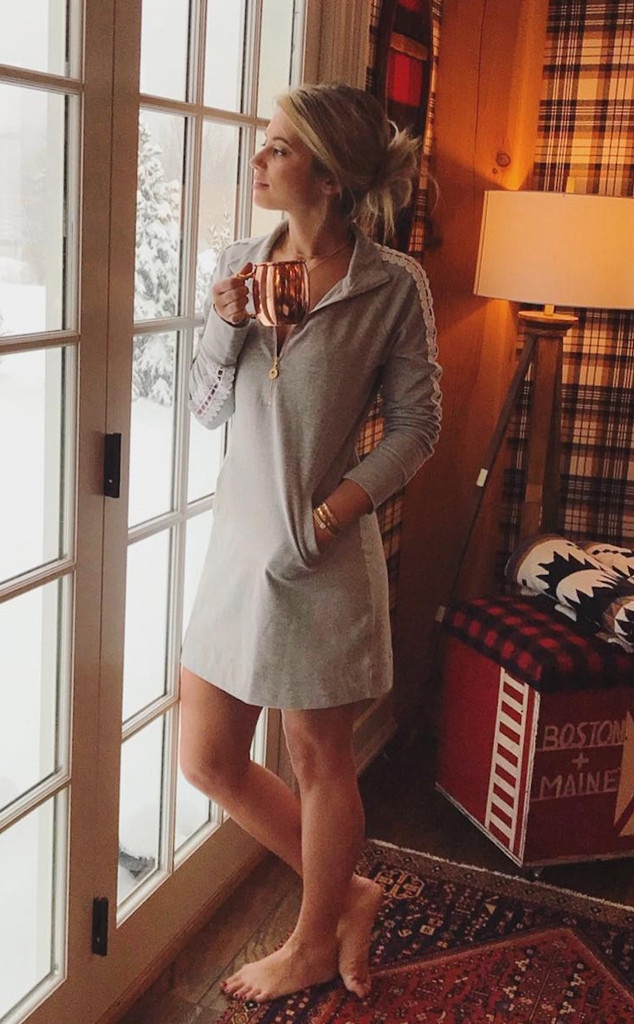 Lesley Murphy/Instagram
Bachelor Nation's Lesley Murphy is breaking her silence just days after E! News learned The Bachelor Winter Games star had split with Dean Unglert. The two met on the set of the ABC reality show spin-off and dated for four months.
On Sunday, Lesley posted a barefoot photo of herself on Instagram looking out into a snow-covered scene and holding a metal mug. The photo's location is tagged as Vermont.
Along with the wintry image, Lesley wrote a very lengthy note to her over 400,000 Instagram fans in which she doesn't directly address the breakup but she certainly writes candidly about love, loss and relationships.
Lesley, who was on season 17 of The Bachelor, begins by explaining and thanking her followers, "It's a bit strange to feel the need to post about this, but I don't think I can honestly resume my normal programming without giving you an explanation - and maybe that's the wrong word, but I just wanted to thank y'all for the love and respect you've shown me over the past few days."
Lesley writes that she spent five years away from Bachelor Nation living abroad and traveling for work.
She explains that she appeared on Bachelor Winter Games to to find love "because I've seen this franchise work miracles before."
The candid reality star then writes, "Through The Bachelor and my journey around the world, I have made deep connections, true meaningful intimate relationships with many walks of life."
The Arkansas native stresses what's important to her and what she values. "I know it's imperative to find someone who chooses us and acknowledges our many layers, who can be open and vulnerable, and most importantly, who is ready. To meet someone and be met. To be chosen and to choose. To love and to be loved. This is everything."
While she doesn't write about the details of her break up with Dean or what went wrong, she does make it clear that she's looking for an equal.
"All we need is that same energy reciprocated, and despite how open and loving you attempt to be, people can only meet you as deeply as they've met themselves," Lesley writes. "Don't be afraid to be the one that loved the most and give everything you had, because you've got to find people who love like you do and who are ready."
She says now it's all about being "out with the old, in with the ᴛʀᴜᴇ."
Lesley concludes the post, "It was a long winter, and I'm excited for a new season. Let the spring cleaning commence. I'm ready."
E! News had learned they were dating soon after filming ended, as they were spotted together at the Sundance Film Festival in January. 
Unlgert, a former Bachelorette star, also hit up social media to share a cryptic message on Instagram on Saturday. The caption appeared to indirectly address the split.
"Growing up as a kid I had a crude but utopian idea of what love is," he wrote. "I always had this idea that no matter what you did, no matter how you act, as long as you're true to yourself and act in good conscious, your path would lead you to the one person on this planet you're meant to be with."
"As I've gotten older, I've learned that although everyone DESERVES love, it's not something we're entitled to," he continued. "Love takes work. Love is compromise. Love is earned. I still have a lot of work to do on myself, a lot to prove to myself, before I'm ready for something like that."
Last week, a source told E! News that Unglert and Murphy broke up recently.
"They have been rocky for a few weeks now," the source said. "Distance and traveling were a factor. They are both going to continue to be friendly and are on good terms, but their romantic relationship has ended."
The moody Instagram posts certainly seem to confirm the split! Better luck next time, guys!