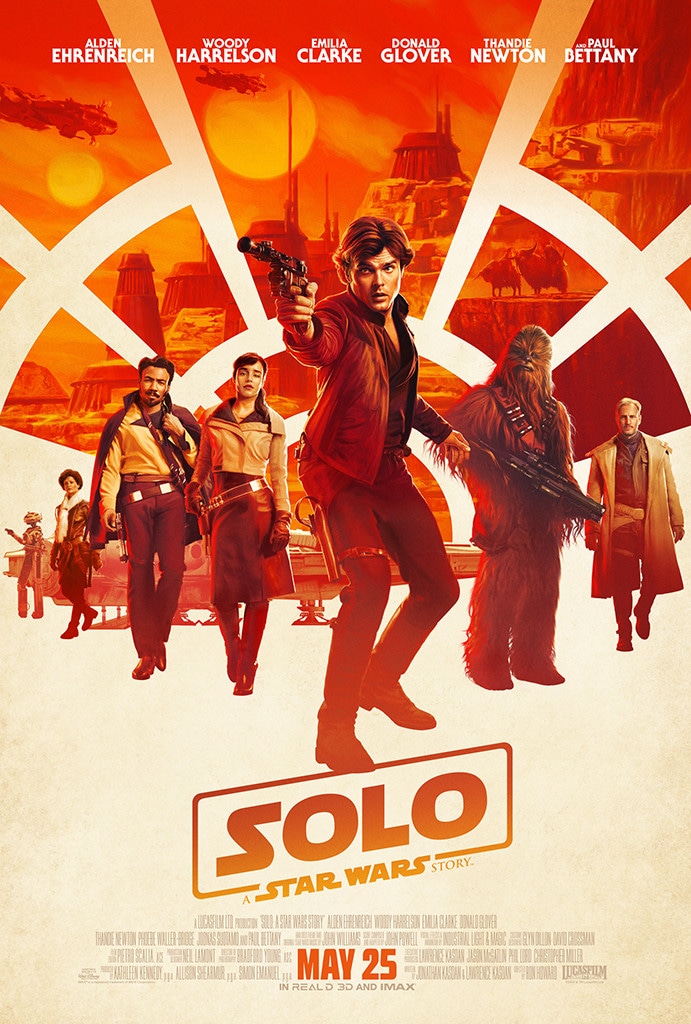 Lucasfilm/Walt Disney Studios
A month ahead of its release, Solo: A Star Wars Story's second (and possibly final) trailer has arrived and it is jam-packed with high-flying action. 
The film, which is set to premiere at the Cannes Film Festival on May 15, follows a young and reckless Han Solo (Alden Ehrenreich) as he meets his future bestie/copilot-for-life Chewbacca (Joonas Suotamo) and encounters Lando Calrissian (Donald Glover) and Beckett (Woody Harrelson) years before joining the Rebellion.
The two minute and 11 second trailer begins with a voice over, asking the future Millennium Falcon captain some important questions, "You are after something. Is it revenge, money or is it something else?"
The high octane trailer features fights, train heists, intergalactic battles and even when Han met Chewy. The space rapscallion says to his furry soon-to-be friend, "You're a 190 years old? You look great!"
At one point, Beckett warns the young smuggler to be wary of everyone: "Let me give you some advice. Assume everyone will betray you and you will never be disappointed."
In addition to the action-packed trailer, Disney also released a new poster for Solo. 
The film's first footage was released in a 45-second teaser trailer during the 2018 Super Bowl, giving viewers a first look at Ehrenreich's Solo, originated by Harrison Ford in 1977's Star Wars: Episode IV – A New Hope.
The first teaser trailer also featured glimpses of Qi'Ra (Emilia Clarke), Lando Calrissian, Chewbacca and Beckett.
On Feb. 5, the first full-length trailer premiered on ABC's Good Morning America.
"I've been running scams on the streets since I was 10. I was kicked out of the Flight Academy for having a mind of my own," a young Han reveals. "I'm going to be a pilot. Best in the galaxy."
In that trailer, fans saw Beckett putting together a crew, inviting Han and co. to join.
The sneak peek gave fans a more in-depth look at how Han came into possession of his prized possession, the Millennium Falcon—a.k.a. the "fastest hunk of junk in the galaxy."
The first trailer also gave fans a glimpse at Paul Bettany and Thandie Newton.
Phil Lord and Christopher Miller originally directed the blockbuster, but left the project amid controversy. Quickly, venerable director Ron Howard was hired to replace the duo.
Reshoots finished in October. John Powell scored the film, Star Wars icon John Williams composed the theme.
Solo: A Star Wars Story will premiere in theaters nationwide on May 25.