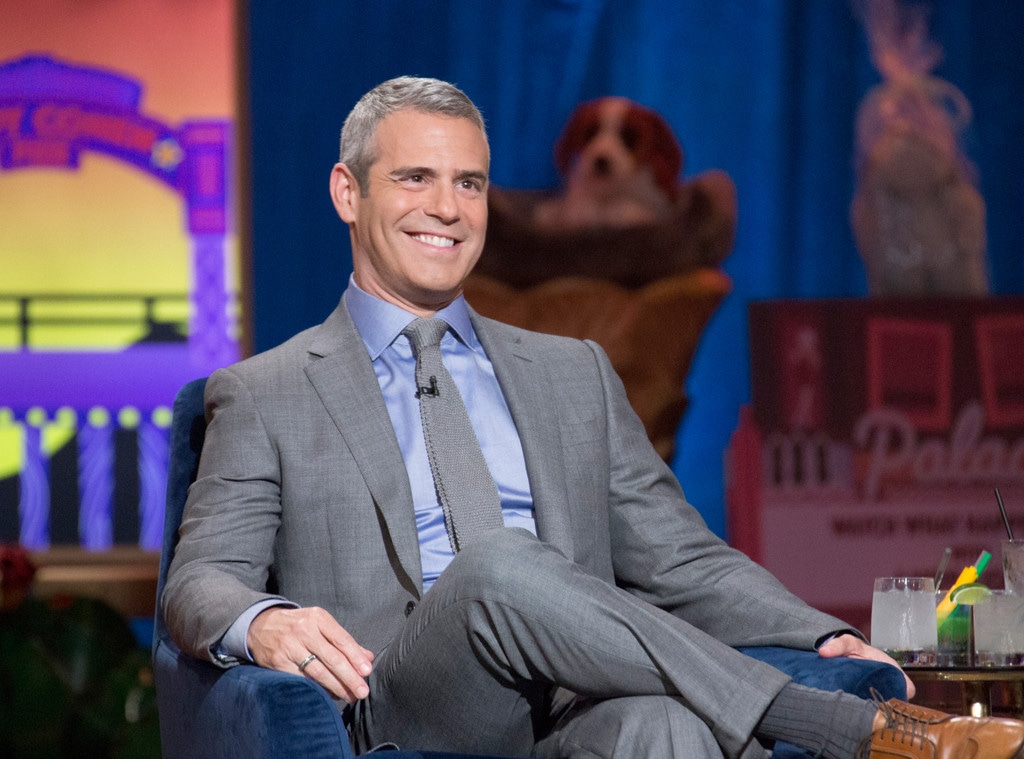 Bravo
Andy Cohen isn't just the host of Watch What Happens Live. He's also a pioneer in late-night television. 
The 49-year-old Bravo star has hosted the show since 2009. Over the years, he's interviewed reality stars and A-listers, alike. Jennifer Lawrence, Meryl Streep, Lady Gaga and Oprah Winfrey are just a few stars to step into the Bravo Clubhouse in New York. 
What started as a web series has quickly evolved into a late-night hit. Earlier this year, Watch What Happens Live With Andy Cohen was nominated for a Critics' Choice Award in the Best Talk Show category along with Jimmy Kimmel Live!, The Tonight Show and The Late Late Show (ultimately losing to Kimmel).
However, Cohen isn't just hosting late-night TV—he's actually reshaping it. In honor of Watch What Happens Live's week-long visit to Los Angeles, here are five ways Cohen is helping to redefine late-night TV.
Stephen Lovekin/REX/Shutterstock
1. His late-night show is live
While other late-night shows record their programs, Watch What Happens Live is actually live. 
"I call it a mix between Playboy After Dark and Wayne's World, OK?" Cohen told Charlie Rose in 2012. "We're the only live show in late night. We're live and interactive—with a little Larry King Live. We're the only ones live at 11:00. Anything can happen and anything does happen." 
Many late-night shows do live specials, like when Stephen Colbert did a live episode of The Late Show following president Donald Trump's State of the Union address. However, Cohen has been hosting live since the beginning. In fact, he actually considers it an advantage.
"In this universe of everything changing every half-hour, it's a real asset for us—especially in pop culture," he said during a 2017 episode of The Hollywood Reporter's "Awards Chatter" podcast. "It allows us to be on top of pop culture and news and [be] timely in a way that other people aren't."
2. His show is interactive
Watch What Happens Live's viewers are active participants of the show. Whether they're calling in to ask a question or answering a poll, the viewers help influence Cohen's conversations with the guests. 
"It helps me dictate what people want to know," he told THR on the podcast.
3. He is the first openly gay talk-show host on American late-night television
Cohen has always talked openly about being gay on his show.
"It's always been a part of me, but doesn't define me wholly," Cohen told the Los Angeles Times in 2017. "I'm the only gay talk show host in late night, but it's not a gay talk show." 
While the late-night host says he tries to be apolitical on the show, he does feel a responsibility to be a voice for gay rights.
"I think the one thing I will always do is speak out about any injustice," he told Michael Ian Black on the podcast "How to Be Amazing."
4. He ditches the late-night desk 
While many late-night hosts interview their guests from behind a desk, Cohen sits across from his guests in a chair. His set is also inspired by his actual apartment. 
"This show could not be more of an extension of me. It's so personal," he told USA Today. "It's my format. It's my set. It's based on my den in my house." 
Cohen likens his show to a get-together at his home. There's even a bar.
"Just like if you came to my house at 11:00, I would offer you a cocktail; I would try to, like, play some games; and I would try to like, you know, pump you for all the information that I could. And, basically, that's what I do with my guests," he told Today in 2014.
5. He pushes the envelope
Every late-night host has something that separates him or her from the rest. For John Oliver, it's breaking down a hot-button topic in 20 minutes. For James Corden, it's fun sketches like "Carpool Karaoke" and "Spill Your Guts or Fill Your Guts."
For Cohen, he believes it's pushing the envelope.
"In my mind, we've created an entirely new genre in late-night television, which can only be compared to what Howard Stern has done for years on morning radio. He's a big model for me," he told THR. "I go there in a way that no other late-night host does, and I did it at the beginning."
 This can come through Cohen's various games, like "Plead the Fifth," and his interviews.
"This is the only show in late-night television where you're going to see a host going there in the way of trying to generate news and ask questions and be dangerous," he told THR. "I want this show to feel dangerous, and unscripted, and sometimes awkward and always exciting. We don't pre-interview our guests. It is not canned....We let the conversation go, and it always pays off."
(E! and Bravo are both part of NBCUniversal).