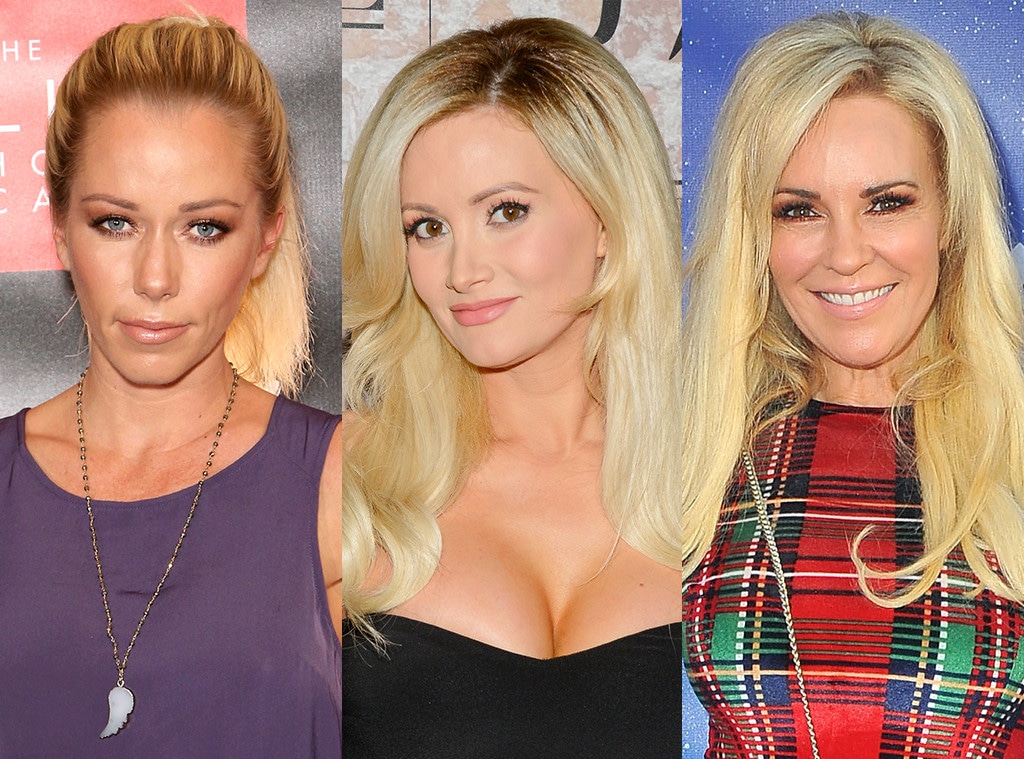 Getty Images
It's been more than eight years since the E! reality show The Girls Next Door ended its six-season run after introducing us to three of late Playboy founder Hugh Hefner's most famous girlfriends: Kendra Wilkinson, Holly Madison and Bridget Marquardt.
After leaving the Playboy Mansion, the three went on to pursue relationships with other men.
Kendra Wilkinson:
Wilkinson, 33, made headlines in April when she filed for divorce from her husband of eight years, former NFL player Hank Baskett.
The two had wed at the Playboy Mansion in 2009 and are parents to son Hank Jr., 8, and daughter Alijah, 4.
Wilkinson and Baskett, 36, had undergone marital problems for years and chronicled them on Kendra on Top. They also weathered a 2014 scandal involving alleged cheating by the former NFL player. In February, Wilkinson said the two were having marital problems again. Last month, the reality star took to social media to share that she's "not a perfect person."
"Just when I think I'm healed, I start to cry," she wrote to her followers on Instagram Stories. "Sorry I'm not a perfect person. I'm really sorry."
Jennifer Lourie/Getty Images
Bridget Marquardt:
The 45-year-old began dating Nick Carpenter in 2008. The two met when he directed her and Madison in the indie horror flick The Telling. Marquardt and Carpenter got engaged in 2015.
In 2016, Marquardt revealed that she was undergoing IVF treatments to try to have a baby, adding that she had a backup "insurance policy"; she had had her eggs frozen in 2008, when she still lived at the Playboy Mansion. She documented her infertility journey on YouTube. In 2017, Marquardt revealed that her IVF treatments failed and that the eggs she had frozen when she was younger did not survive the thaw.
"So that big insurance policy that I thought I had from eight years ago just literally went down the drain in 24 hours," she said on YouTube. "That was probably the most devastating blow for me because I just really thought that those were going to be my best chance at having a baby and just literally overnight, they were gone."
Marquardt has not given up on her dream and is currently concentrating on optimizing her health ahead of more possible treatments.
Holly Madison:
After breaking up with Hefner in 2008 and leaving the Playboy Mansion, Madison, 38, dated Las Vegas illusionist Criss Angel for almost four months until early 2009.
Two years later, Madison, 38, met EDM promoter Pasquale Rotella. Hefner's former head girlfriend and star of the Las Vegas burlesque production Peepshow and the CEO of Insomniac Events, met in 2011 in Las Vegas when his group produced the annual Electric Daisy Carnival.
Madison said in her 2015 memoir Down the Rabbit Hole: Curious Adventures and Cautionary Tales of a Former Playboy Bunny that the two started talking online, mostly on Twitter, and soon became "inseparable." She was smitten, calling him "the total package" and her "Prince Charming."
Watch:
Inside Holly Madison & Pasquale Rotella's Divorce
They soon moved in together and in 2012, Madison became pregnant. She gave birth to daughter Rainbow Aurora Rotella in March 2013. Madison and Rotella got engaged the following June at the Electric Daisy Carnival. He proposed on the top of the Ferris wheel with a 40-carat ring with a cushion-cut yellow diamond center stone surrounded by pink and yellow diamond flowers. Madison, a longtime Disney fan, and Rotella wed at Disneyland that September. The couple welcomed their second child, a son named Forest Leonardo Antonio Rotella in Aug. 2016.
Around the time of their fifth wedding anniversary, the couple decided to call it quits. According to court records obtained by E! News, Madison filed for divorce on Aug. 31 in Las Vegas. A source also confirmed to E! News that the couple has filed for divorce.
Shortly after news of their divorce broke, Rotella took to Instagram to confirm the split. "It is with love in our hearts and a deep respect for one another that Holly and I have amicably made the decision to separate," he began. "First and foremost, we are forever partners and parents to two beautiful children, and are fully committed to raising them in an environment filled with love and positivity."
"Holly is a talented woman and a beautiful soul," he continued. "We remain the best of friends while co-parenting and continuing to support one another in our respective passions in life. Though it was not a decision we made hastily or take lightly, Holly and I welcome this next chapter in our relationship, and have every confidence that the future will bring only the best for us and our kids. Thank you all for your continued love and support."
This post was originally published on Sat, Apr 7, 2018, 2:49 p.m.