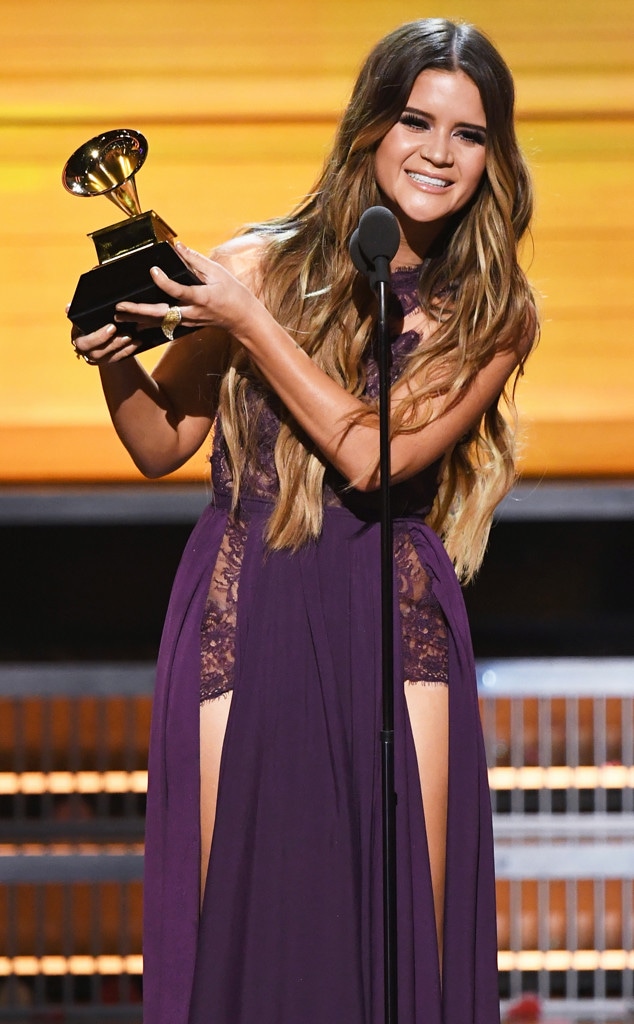 Kevin Winter/Getty Images for NARAS
"Thank you for giving me the most incredible year of my life."
When Maren Morris said those words at the 2017 Grammys after winning Best Solo Country Performance, fans knew that country music had a true star on its hands. Her performance with Alicia Keys later in the show sure didn't hurt either.
But in a competitive industry where so much can change so quickly, a few wondered if Maren had what it takes to create a lasting name in country music. As she turns 28 today, we'd say she's just getting started. In fact, the best may be yet to come.
Long before becoming a five-time Grammy nominee or reaching No. 1 on the Billboard country charts, Maren was just an Arlington, Texas resident with a passion for music.
At 10 years old, she started singing and slowly made friends with other young artists including Kacey Musgraves. In her teenage years, Maren self-released several albums all on her own and performed in small gigs across the country. 
And yes, she even tried her luck at auditioning for The Voice and American Idol. Spoiler alert: Maren was rejected from both shows. Instead of feeling sorry for herself or having a pity party, however, the artist decided to switch things up.
Kevin Winter/Getty Images for NARAS
"I was a little fed up with myself and I wanted to make a change. I never lived anywhere besides Texas and I just wanted to be a better something," she told CBS Sunday Morning. "I was trying to scare myself a little bit."
Despite a touch of hesitation from her family, Maren moved to Nashville with goals of becoming a songwriter. Ultimately, she would help write the track "Last Turn Home" that Tim McGraw mastered.  She also wrote "My Church" that changed everything.
"That was the day I realized when the demo was done, I'm not sending this to anybody," Maren shared with CBS. "I think it was a confidence thing I didn't have for those few years. I had to sort of find my way back to who I was."
The track was featured on her debut album Hero that also includes the smash-hit songs "80's Mercedes" and "I Could Use a Love Song."
Fast-forward to today and Maren is preparing to hit the road this summer with Niall Horan on the Flicker world tour. She recently collaborated with Zedd on a new track called "The Middle" that has country music and Top 40 fans turning up the volume coast to coast. And yes, Elton John personally called her and asked to be part of a tribute album. 
If that wasn't impressive enough, she's headed to Las Vegas this weekend to perform at the 2018 Academy of Country Music Awards—and possibly win multiple awards.
"I just feel really blessed to be in the center of all of it and a lot of it is just coming from a family that has always supported me and never felt like it was some pipe dream or silly little girl concept," Maren previously shared with CBS when recalling her success.
As for those TV rejections, Maren doesn't hold any ill will. Fellow contestants have since covered Maren's songs on both shows. Heck, former Idol judge Keith Urban invited Maren on his Ripcord World Tour.
"I think about all of the freaking talent shows I've tried out for in my life and I'm so glad I didn't make any of them," Maren previously told Rolling Stone. "It's full circle, because I was rejected from The Voice. I was rejected from American Idol—and I'm happier for it now."