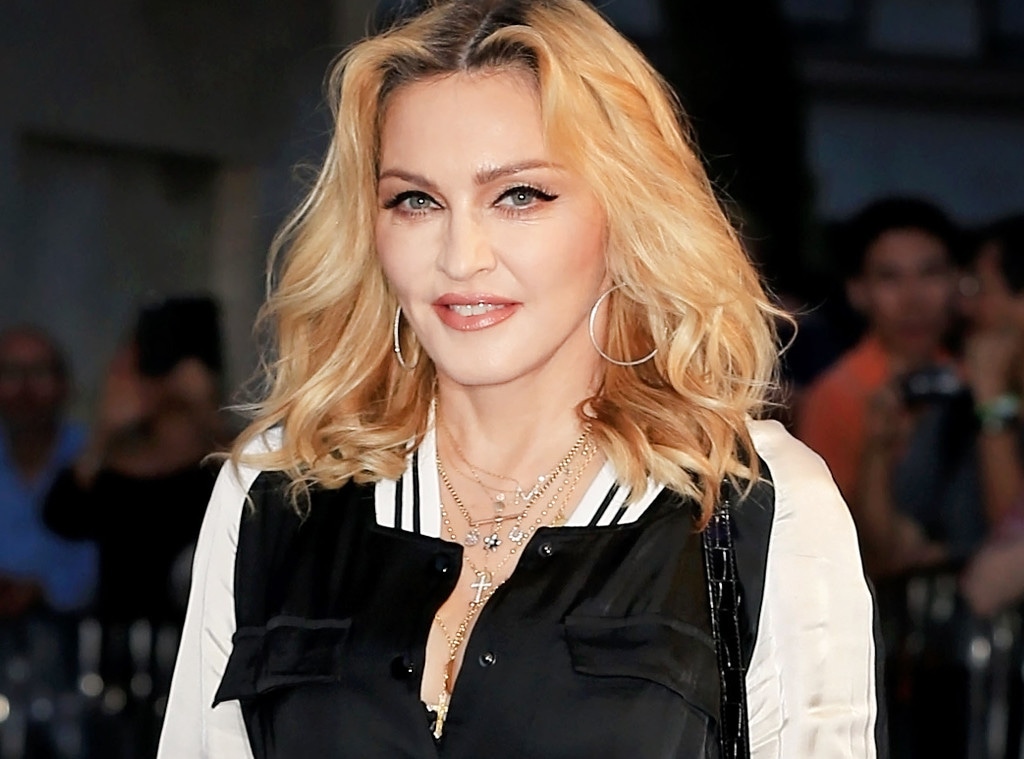 Anthony Harvey/REX/Shutterstock
You don't have to be a music icon to get great skin. But being Madonna helps.
Even at a young age, the "Like a Virgin" singer has always been diligent about maintaining a healthy complexion. When she didn't have much money, she used to get facials from a heroin addict, Madonna shared at the U.S. launch of her beauty brand, MDNA Skin, in September 2017. Now the 59-year-old queen of pop has the resources and platform to share her devotion to skin care with the masses.
"The biggest challenge is getting the story out there—where does this line come from and why it is important to me, that it's not a vanity project, why I developed it in the first place and connecting to people on a human level," said Madonna to E! News in a phone interview.
You could just scoop up her latest launch—a four-in-one (toning serum, lotion, cream and mask) product appropriately titled, The Reinvention Cream ($75). Like all MDNA products, the lightweight jelly-cream features M.T.Parca Thermal Water, which comes from four different springs in Montecatini, Italy, known for its healing properties. The cream also features three African Resurrection plants (the ones that can sustain extreme dehydration then spring back alive with water). But as Madonna can attest, basic lifestyle choices—the ones that cost almost nothing—can improve your skin, too.
Here, the Material Girl reveals the skin-care tips she imparts on her kids, three beauty products she always has in her bag (hint: one is crazy affordable!) and more!
E! News: It's been three or four years since you first launched in Japan. What are you most proud of?
Madonna: The ingredients are important to me—the fact that they are made with all-natural ingredients, that the hero ingredient of the line is thermal water that comes from Tuscany and that have been a part of healing people for thousands of years. I feel like there's history to it; there's authenticity to it. It's not just talk; it's also walk. It's great when you're not wearing makeup; it's great when you are wearing makeup. My 17-year-old [Rocco Ritchie] son uses it. It's something that everybody loves, and I'm very proud of that.
Since your son uses your products, do you also give him or any of your other children beauty tips?
Hell yes! Are you kidding? First of all, I'm like, "Don't squeeze your pimples! Please. You're scarring your face." Also, a lot of people think that if they dry their skin out all the time, they aren't going to get acne. You can get acne from having your skin too dehydrated. My son is always coming into my bathroom and stealing all of my skin-care products. It's very funny to have a 17-year-old son saying, 'Mom, can I have more serum? I need some more face wash. I need some more of this.' I think it's hilarious. My 21-year-old daughter [Lourdes Leon] loves them. I feel like I'm getting nods of approval from people from all walks of life, and it's not just female either. It's male as well—that means a lot to me. And, of course, I do advise my children on a regular basis: "Don't smoke. Stay out of the sun. Why are you drinking that? Stop picking at yourself."
What about those who can't quite afford luxury beauty products?
I was broke until I was 25-26 years old. I couldn't afford fancy skin care but I could take care of myself. I didn't go to the beach and get a sun tan. I never smoked. I didn't really drink that much. I have nice skin because I paid attention to those things when I was younger. Now, hopefully, with this Reinvention Cream, which is at a much lower price point than the rest of my line, kids without money or people without a lot of money will be able to afford this all-in-one moisturizer. I'm going to continue creating a line with a lower point as well for people who can't afford the line that is presently out right now. I have so many ideas that I don't want to share yet. It's going to be great.
What's your nighttime routine look like?
Washing my face, rose mist spray and then serum if I'm not feeling too dry. If am I feeling dry or if I'm in a cold place and there's a lot of heat, then I use the Reinvention Cream. Or if I'm wearing makeup during the day, I will also use the Finishing Cream. It's all about hydration. You can't do enough.
What are three things that are always in your bag?
I don't go anywhere without The Rose Mist spray in my bag. I wear it on the plane, during my workout. I have this weird theory that it gives me energy, and I love the smell of rose. And my serum is always with me, and besides from that, I love PawPaw cream ($10)—it comes in a red tube. I use it on my lips. It's the best.
Watch:
Madonna Rocks Grill to Grammys
Since the product is called The Reinvention Cream—how will you reinvent yourself next?
Skin care is not the only thing I do. I'm an artist, first and foremost. Well, no, I'm a mother first and foremost. Making sure my children have received the guidance they require in this crazy world that we live in and that they turn out to be decent, loving and compassionate human beings is my number one goal. After that, I want to keep finding new music to make and new ways to present my music, whether that's live performance or film slash video. Keep pushing the envelope artistically and creatively.
Once I establish the skin care line and it's doing well and I've created a base for myself and a certain level of success, then I'd like to slowly make my way into the [makeup] world but keep it simple. I don't want to have a huge line. I'm not a makeup artist—I wish I was. I can't do my own makeup—it's really tragic.
Do you have any beauty regrets?
People always ask me that question. The thing is I've gone to so many events, got my picture taken so many times, that I don't even remember. No regrets. It's too ephemeral to have a regret.
Spoken like the Mother of Reinvention.