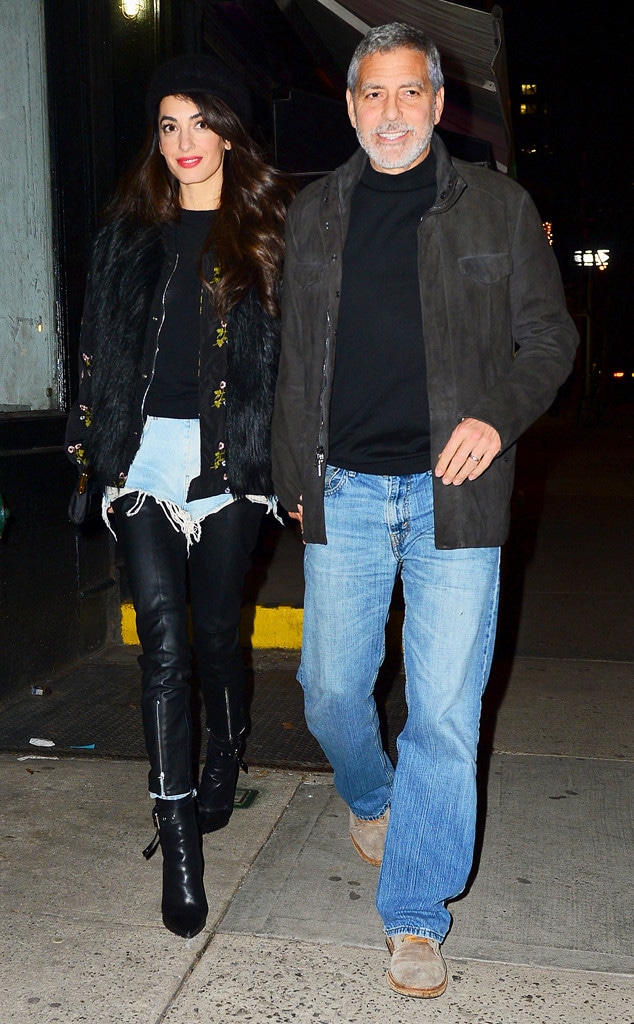 Splash News
Stepping out in style!
George Clooney and his wife Amal Clooney managed to put some room for date night into their busy schedules when they stepped out for dinner in New York City.
On Thursday evening, the couple was spotted holding hands as they headed to French restaurant Raoul's in SoHo with their matching denim looks.
George opted for faded denim jeans, a black turtleneck and grey jacket. As for Amal, she was photographed wearing a floral fur coat and leather leggings.
And yes, we also spy some denim daisy dukes from designer Alexander Wang over those leggings. Nice touch, Amal!
On Friday afternoon, Amal stepped out again where she wore a leopard print dress and blue trench coat that proved some people aren't ready for winter to be completely over.
While the pair finds themselves enjoying time in the Big Apple, a source recently shared with E! News that more traveling could be in their future.
"George will be in Italy this summer, around Rome, for a new show he is shooting, so they'll be spending a lot of time there," our insider teased. "They are always traveling but once the kids are of the age to start school the plan for now is for them to have their education in the U.K."
And while the actor and human rights attorney both have busy schedules, there's nothing quite like date night for these proud parents.
"When Amal and George have the time they do love to have date nights, whether that's going out to their favorite restaurants wherever they are around the world, or if they aren't going out they like having cozy nights at home where George will cook for Amal," a source shared with us. "He knows he's not the greatest cook but Amal still loves it!"