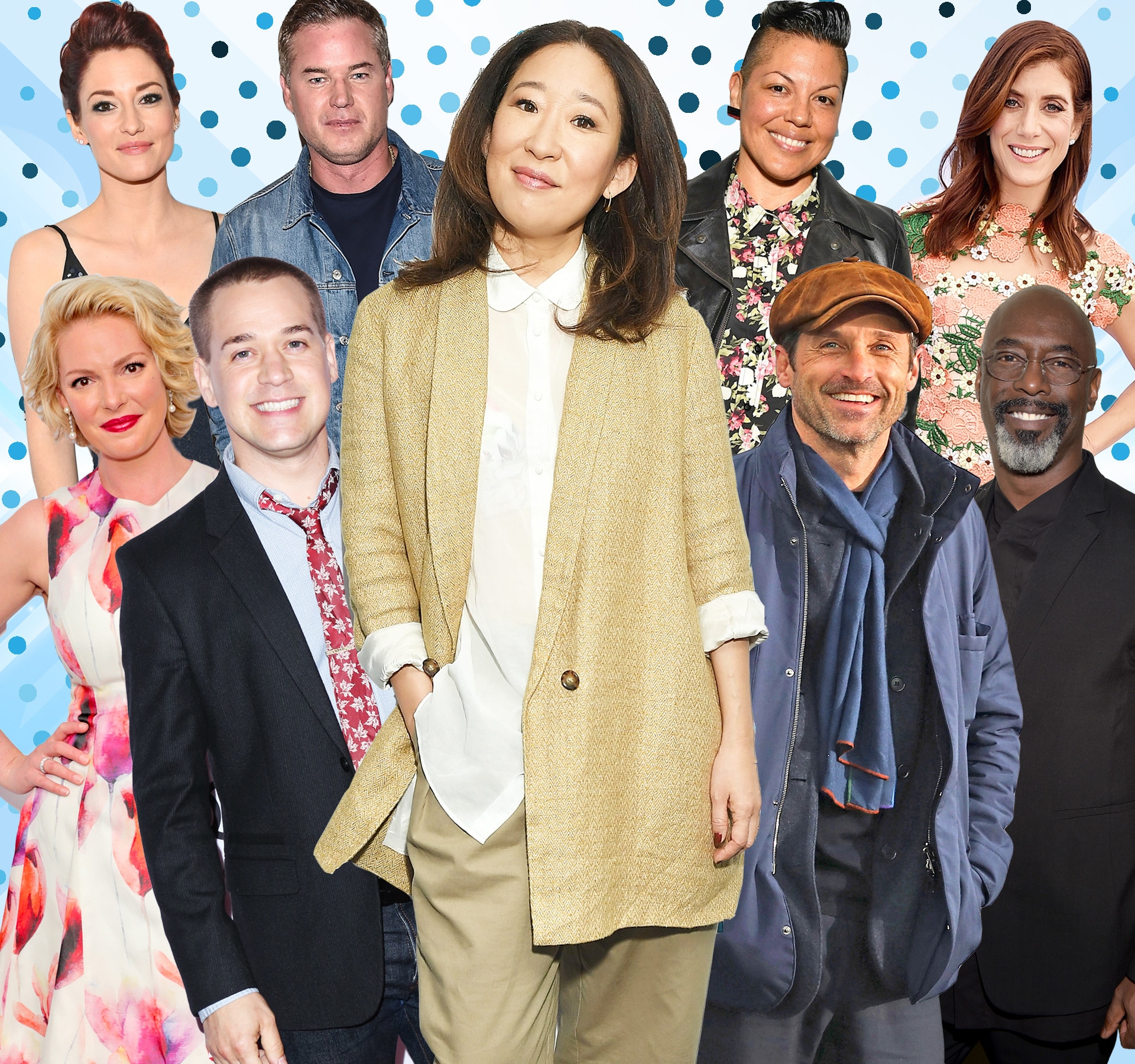 Getty Images/E! Illustration
The glorious Sandra Oh is finally back on our TV screens.
Four years after hanging up her scrubs and saying goodbye to Grey Sloan Memorial for good, the former Grey's Anatomy star has returned with the pretty incredible BBC America series Killing Eve. The series, a cat-and-mouse thriller from Fleabag creator Phoebe Waller-Bridge about an MI5 officer (Oh) and an assassin (Jodie Comer) who become obsessed with each other, has received some stellar reviews and earned a second season order days before it even premiered on April 8. All in all, it's one of more successful returns to TV for a former Grey's star.
But for every Oh, who's managed to prove that there can be life after Shondaland, there are those who haven't had as much luck.
Isaiah Washington
Grey's Anatomy's first series regular departure was also one of its most dramatic, with Washington's Preston Burke being written out at the end of season three after an on-set skirmish with Patrick Dempsey over Washington's use of a gay slur towards their co-star T.R. Knight. (Washington would return for one episode in season 10 to help send Oh's Cristina Yang off.) A month after ABC released the actor from his contract, NBC tapped him for a guest-starring role on their big swing for the fall of 2007: A reboot of The Bionic Woman. However, the series only lasted eight episodes after it was yanked due to poor ratings. After a handful of episodic guest appearances on shows like The Cleaner and Law & Order: LA, Washington was cast in the CW's The 100 in 2014, playing Chancellor Thelonious Jaha in the sci-fi series. However, he'll soon be looking for work once more, as he was downgraded from series regular to guest star for the upcoming fifth season, premiering April 24.
Kate Walsh
At the same time that Washington was getting fired, fellow series regular Walsh was saying goodbye to what was then known as Seattle Grace as her character Addison Montgomery (who was introduced in the season one finale with the iconic line "You must be the woman who's been screwing my husband") was shuttled down south to Los Angeles for the original Grey's spinoff, Private Practice. After six seasons, a few solid crossovers and one happy ending for Addison, Private Practice went off the air in January 2013. The same year, she appeared in Full Circle, a series created by playwright Neil LaBute for DirecTV's Audience Network. She followed that up with a supporting role in the first season of FX's Fargo and the title role in NBC's short-lived comedy Bad Judge, both of which debuted in 2014. She returned to TV in 2017 in the Netflix drama 13 Reasons Why, playing the grieving mother of Katherine Langford's Hannah, while also turning in a standout supporting performance in the box office hit Girls Trip.
T.R. Knight
The next major cast departure wouldn't come until the end of season five when Knight's George O'Malley perished after rescuing a woman from being hit by a bus. The death came as much of a surprise to fans as it did to poor Meredith (Ellen Pompeo) as she finally pieced the John Doe's identity together, but Knight admitted that summer that a "breakdown of communication" with Shonda Rhimes, as well as diminished screen time for George, led to him asking to be let out of his contract. Following Grey's, Knight mostly returned to the stage, where his career began. However, he did land a few film roles—most notable, 2013's 42—as well as TV appearances. After a 2011 appearance on Law & Order: SVU, Knight booked an arc on The Good Wife that spanned 2012-13. He appeared in the 2016 Hulu limited series 11.22.63, before returning to Shondaland with an arc in the second and final season of The Catch. He also appeared in ABC's mini-series When We Rise, as well as the first season of Nat Geo's Genius, both in 2017.
Katherine Heigl
Many fans expected newly-minted movie star Heigl to be the one to kick the bucket in season five when, after she alienated herself from Rhimes by publicly removing herself from Emmy consideration with a claim that she didn't believe the material she'd been written was worthy of it, Izzie was diagnosed stage 4 metastatic melanoma. However, she survived, married Alex (Justin Chambers), and then disappeared midway through season six when Heigl failed to show up for work and subsequently requested to be released from her contract 18 months early. She's appeared in a handful of films since leaving the series, though none nearly as successful as Knocked Up or 27 Dresses. In 2014, she mounted her TV comeback with the NBC thriller State of Affairs, which was canceled after 13 episodes. In 2017, she gave it another shot with the CBS legal drama Doubt, though that show also only lasted 13 episodes. She'll next be seen in season eight of Suits, stepping in as series regular once Meghan Markle and Patrick J. Adams wrap up their runs in the second half of season seven, which is currently airing.
Chyler Leigh
When season eight ended with the horrifying plane crash that stranded Meredith, Derek (Patrick Dempsey), Cristina, Arizona (Jessica Capshaw), Mark (Eric Dane) and Leigh's Lexie in the woods, it was Mer's younger half-sister who we said goodbye to first as she succumbed to her wounds after an emotional confession of love with McSteamy. Leigh returned to TV two years later in the summer of 2014 with NBC's short-lived Taxi Brooklyn before landing the role of Alex Danvers in the CBS-turned-CW series Supergirl, currently in its third season.
Eric Dane
Lexie may have perished in the season eight finale, but Dane's Mark Sloan survived long enough to get back to Seattle Grace in the season nine, where he died after two episodes. He immediately booked a starring role in a TNT pilot, The Last Ship, which premiered on the cable network in 2014. The series is due to return for a fifth season later this year. Dane also made a voice appearance in a 2018 episode of Family Guy, playing himself. 
Sandra Oh
At the start of season 10, Oh made the announcement that it would be her last year on Grey's, giving fans a season to say goodbye to Meredith's person before Burke invited her to Vienna to take over his hospital. Before returning with Killing Eve, Oh appeared in the films Tammy, Catfight, and Meditation Park, as well as the third and final season of ABC's American Crime.
Patrick Dempsey
Fans were stunned when Dempsey's Derek Shepherd was killed off the show in April of 2015, only one year into his newest two-year contract extension. He spent the rest of that year focusing on his auto racing, before returning to the big screen in 2016's Bridget Jones's Baby. The actor will make his return to TV later this year on Epix with a 10-episode adaptation of the novel The Truth About the Harry Quebert Affair, with Dempsey taking on the lead role of Harry Quebert.
Sara Ramirez
The last major series regular departure came at the end of season 12 when Ramirez's Callie Torres left Seattle for New York City, kicking off an ugly custody battle with ex-wife Arizona in the process. They worked it out and after the season finale, Ramirez released a statement announcing that she was taking "some welcome time off." She's continued her voice work as Queen Miranda in the Disney series Sofia the First and, in 2017, she joined the CBS drama Madam Secretary as a new series regular for the show's fourth season. 
Who's post-Grey's career has impressed you the most? Sound off in the comments below!
Killing Eve airs Sundays at 8 p.m. on BBC America, while Madam Secretary airs Sundays at 10 p.m. on CBS. Supergirl returns for the second half of season three on Monday, April 16 at 8 p.m. and The 100 kicks off season five on Tuesday, April 24 at 9 p.m., both on the CW. And, of course, Grey's Anatomy airs Thursdays at 8 p.m. on ABC.