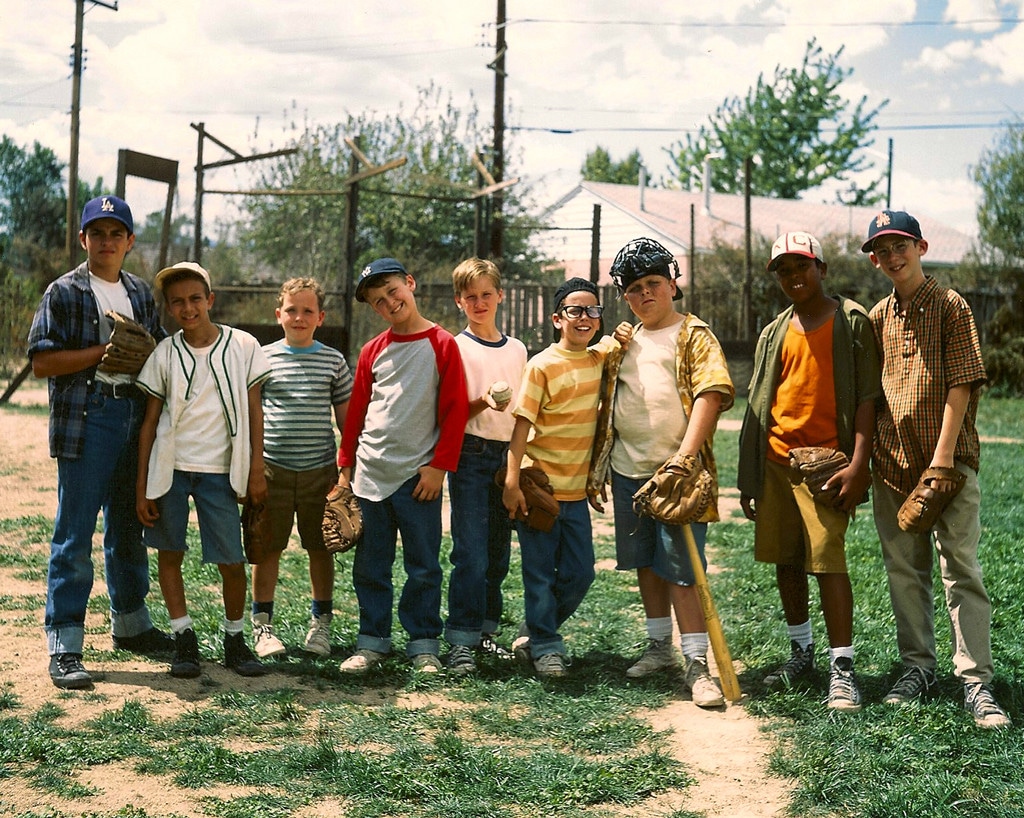 20th Century Fox
The '90s were an incredible decade for sports films.
For those of us who grew up then, our childhoods are forever intertwined with classic moments from movies like The Mighty Ducks, Angels in the Outfield, Rookie of the Year, Little Big League and more. But there's perhaps no more beloved sports movie than The Sandlot. 
The insanely quotable movie introduced some of us to the concept of s'mores, convinced us to never try chewing tobacco (especially not at the carnival), made us long for summer days at the community pool and somehow had us all in love with the idea of playing baseball—especially if it meant we'd find a friend as cool as Benny "The Jet" Rodriguez.
Set in the summer of 1962, The Sandlot followed Tom Guiry's Scotty Smalls after he and his family moved to a new town. The movie was about baseball, sure, but it was mostly about the sort of friendships formed through the sport, as Smalls is quickly taken under Benny's (Mike Vitar) wing and welcomed onto his team, who spent their days in the titular lot, practicing the sport they love. And now it's 25 years old. (We know. We feel old typing that out too.)
In honor of the film's major anniversary, E! News chatted with stars Patrick Renna and Marty York, who memorably played mouthy catcher Ham and Yeah-Yeah, respectively, about their memories of making the film, which was released on April 7, 1993 that they'll remember—say it with us now—for-eh-ver.
The cast of nine guys met, as you'd expect, on the baseball field, where director David Mickey Evans (who also wrote the film alongside Robert Gunter) put them to work, honing their skills and also building a camaraderie that only comes from being on a team. It was there that the final casting kinds were finally worked out, but for Renna, it almost didn't even happen. "I was the last person to be cast. They had some other ideas, but something happened with the guy…So they had already cast all eight of them. And there were a couple of role switches," he revealed. "Chauncey [Leopardi] and Marty York were going back and forth between who was playing Squints and who was playing Yeah-Yeah. Anyway...these guys had already had a couple weeks together, and then I jumped in. So it was great. They had gotten to know each other, but it took a little getting used to because I was jumping in on a team already formed. But we all became quick friends. Then they had us in Los Angeles for about four to six weeks, we had a coach and we just played baseball together every day. I thought that was a really smart way of getting us together and forming even more of a friendship before we headed out to Salt Lake. So when we got to Salt Lake City, we had already spent a couple months together and we were just like best friends."
"I think the friendships just developed naturally," York said of their summer camp-like filming experience. "We filmed the movie in Utah, so when we actually started filming the movie, that's when we started hanging out. We would do crazy stuff during the filming of the movie like I remember one time, I've told this story a couple of times, but we snuck into Basic Instinct when it first came out. That was funny."
Renna laughed at York's memory of the iconic—and definitely naughty—Sharon Stone film. "Yeah, I don't know anything about that. I don't know anything about that. I plead the Fifth on that one," he said. "Marty's telling that story everywhere he goes. I mean, listen, I don't remember doing it, but I'm not going to deny it because it's probably true that we snuck into Basic Instinct. Yes, I heard. Us 13-year-olds broke the rules and went to an R-rated movie."
While the film is full of iconic scenes, leaving Renna and York split on which was their favorite one to film—Renna's? His trash-talking montage during the scrimmage game. York's? His stunt being lowered down over the fence to try and retrieve the Babe Ruth-signed ball from The Beast's clutches—they were pretty unanimous on which was their least favorite. 
"I would probably say the carnival scene because being covered in that—the throw up was chicken soup mixed with…something else. They basically took buckets of the stuff and threw it on us," York said. "We had to keep it on our clothes for hours on end. I literally kept almost gagging because it was on my clothing. The carnival ride was fun to ride, but the throw up on us was gross."
"Yeah, you know it was that and the pool scene at the end got a little rough because it was actually a really cold day. So if you look at everyone, we were shivering. We were just really shivering. That wasn't supposed to be that way," Renna told us. "Between the two of them, yeah, being covered in split pea soup for five hours in the middle of the night or as late as they could legally work us. It was pretty gross."
What wasn't gross was what the cast was treated to once the film premiered. "The coolest part for me was to do the tour. They separated us into groups of two and we traveled all over the United States and we did a tour to promote the movie. It was me and Tom Guiry...and we did New York, we did New Jersey, Philadelphia, Boston—the whole East Coast," York said. "We were riding around in a limo, it was the first time. I'd never been in a limo before. And we went into FAO Schwartz in New York, you know, the giant toy store in Big. I remember the limo drove into a school where there were hundreds of kids and they were trying to drag us off the top of the limo. That was pretty cool."
Renna's tour experience almost got him into some trouble with the studio, he admitted. "Oh gosh, I have the funniest store on the national tour. Chauncey and I did the national tour and we were like 13, 14. Fox was putting us up at the Ritz-Carlton, Four Seasons and all these amazing hotels. We were like Macaulay Culkin in Home Alone 2, going to these giant, amazing hotels. Our mouths were dropping, our eyes were wide open. So the publicist at the time comes up to us and says, 'Chauncey, Pat, get whatever you guys want. You can go to the gift shop downstairs or get room service. It's on us. Get whatever you want,'" he reminisced. "And of course, Chauncey and I took that to the next level and I think we went and bought ourselves a future wardrobe, a current wardrobe, and we ordered every possible meal you could order. I think we must've racked up a several thousand dollar bill. And then the next morning, we got a knock on the door and the guy comes in. 'OK, so I didn't mean that much, so let's bring it back.' We were like, 'Oh, sorry, sorry. But you said anything!' He kind of laughed and said, 'I know, I know. But take it easy a little bit.' So that was the tour for us. 
While York said he doesn't get recognized all that much on the street these days, Renna told us that he does and people always ask him to say the same thing—and yes, it's probably the thing you're thinking: "You're killing me, Smalls."
"It's humbling and it's awesome to get those experiences. I love it when families come up because it shows how much it means to them. I still look a lot like I did then…so I would say it happens to me quite a bit," he said. "At Disneyland, it's a whole different experience. If I'm walking down the street with my baby and my wife and we're strolling, maybe I'll bump into someone once in a while. Just depends where I am. But usually, nine times out of 10—not even nine out of 10, 99 out of 100, everyone's awesome. It's great. A conversation-starter, you know?"
While Renna has remained close with Leopardi and York has maintained a friendship with Victor DiMattia, who played Timmy Timmons, they admitted that the entire cast hadn't all been together since the film premiered. "I haven't seen Tom Guiry or Brandon Adams…in 25 years, until yesterday. And that was awesome. That was awesome. We all posted pictures. We haven't had a photo like that together since the premiere probably. And if we get Mike in one of them, it'll be 25 years since all of us were together. So, it's awesome," Renna said, a day after the cast reunited for the Today show. "And we do just fall right back into it. You don't realize how close of a bond you had until you see each other. I tell people obviously Sandlot is amazing and has this nostalgic meaning for everyone, but it has kind of different meanings for us because we were in it. We remember behind the scenes, we remember the fun days sneaking into movies, the fights we had, you know?"
"I just feel blessed to be a part of the film. I think, especially in this day and age we live in, where a lot of films are CGI-driven or it's YouTube. A lot of the stuff I see nowadays doesn't really have the same value of film where back in the '90s," York said. "A lot of the stuff nowadays is based on nostalgia…Almost everything is based upon a movie from the '90s or '80s now. So I just feel blessed to be part of an original movie, not a movie that's a copy of another movie."
"We joke when people ask us 'When did you know this was a classic?' And we go, 'Uh about five years ago.' Or 'On the 25th anniversary.' It kept going and each time, you know, you go, everything keeps getting bigger," Renna, who will next be see in season two of GLOW on Netflix ("Isn't it ironic, huh? I became a wrestler at the end of The Sandlot and now I'm on season two of GLOW.") and is developing a TV concept loosely based on his Sandlot character, added. "The 20th was fun and the 25th is next level. We're in the major league ball parks now. It's never-ending and it never ceases to amaze me how much people continue to love the movie, you know?"
Something tells us that love will be around, you guessed it, for-eh-ver.