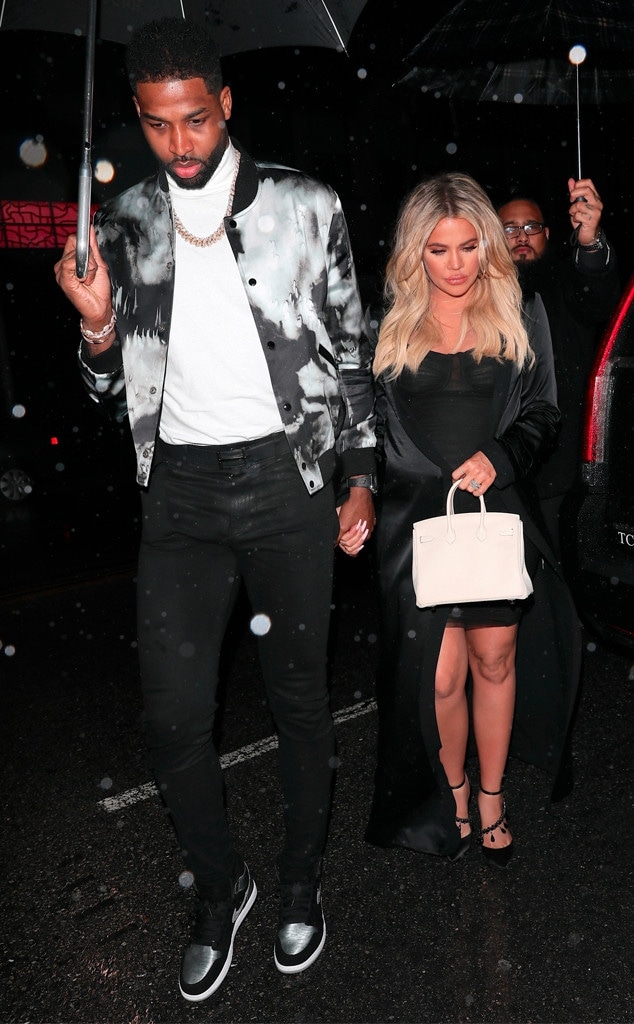 NGRE / BACKGRID
All her bags are packed, she's ready to go!
Khloe Kardashian will welcome her first child with Tristan Thompson very soon. But before their baby girl arrives, the Keeping Up With the Kardashians star is revealing what's inside of her hospital bag.
"When it comes time to go to the hospital to deliver my baby girl, I'll be ready," Khloe shares with her fans in a new post on her app. "Of course, I'm already packed up and have been for a while, LOL. I knew exactly what I wanted to put in my hospital bag—lots of comfy things for me and for her! See what was on my checklist!"
So what does Khloe have packed for herself?
Courtesy Getty Images for Rémy Martin/Jerritt Clark
Her computer, chargers, toiletry bag, cozy socks, pajamas "that button in the front,"  maternity bras, a comfy robe for breastfeeding, going home outfit with sneakers, a pillow and blanket, slides, undergarments and her cameras!
And what does she have packed for her baby girl?
Two gowns "matching hats and receiving blankets," socks and swaddles.
Khloe has been sharing a lot of pregnancy details on her app in recent months. Last week, she revealed her biggest parenting fear is that she "won't have time to do it all."
Khloe also revealed last week what she hopes her baby inherits from both her and Tristan.
When it comes to style, Khloe said she's hoping their baby girl inherits her fashion sense, but wants her to inherit Tristan's dance moves. Khloe wants her daughter to inherit her IQ from both her mom and dad, but shared, "I want maybe TT's IQ and my street smarts."
She then told her fans that she wants her baby girl to inherit Tristan's good looks and charm, sharing, "We are both charming but TT is pretty cute!"
And when it comes to what she would like to pass down to her daughter, Khloe said she would like her baby girl to inherit her patience and work ethic.
Khloe is currently in Cleveland, where she plans to give birth to her baby girl.
What do you think Khloe and Tristan will name their daughter? Sound off in the comments!