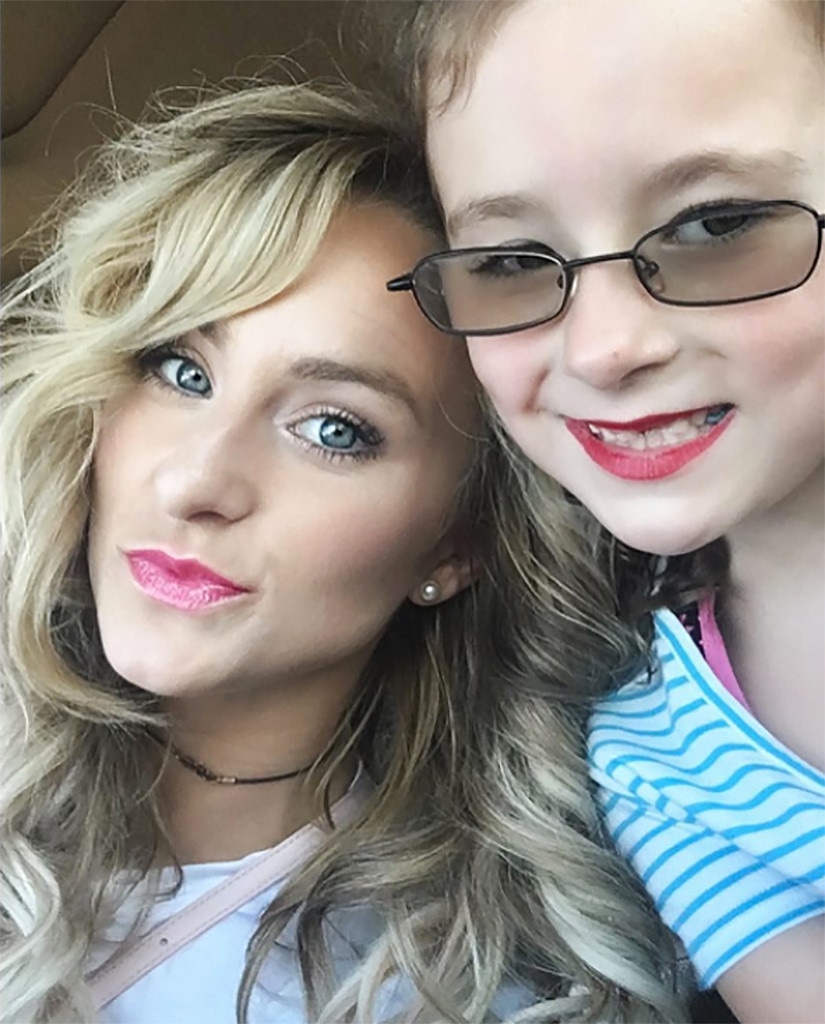 Instagram
Teen Mom 2's Leah Messer recently shared a heartbreaking story about one of her three daughters.
Ali Simms, 8, suffers from a rare form of the degenerative disease muscular dystrophy and one of the symptoms is muscle weakness in the eyes. 
"As I'm doing Ali girl's makeup, she looks at me and says, 'Mom, what's it like to see with two eyes?'" Leah wrote Twitter this week.
"Everyday I wish I could take her place but I know there's a greater purpose!" she added. "Just broke my heart."
The mom of three seems to be holding it together for her girls, but it wasn't long ago when she was faced with scary situations.
In an episode of Teen Mom 2, Leah received a phone call from Ali's father, saying he was taking her to the hospital. Ali was having trouble breathing. The episode saw Leah rushing to the hospital after dropping off her other daughter, Addie Calvert, at her grandmother's.
In an earlier episode, Leah was in tears after finding out there is a possibility that Ali may not be able to walk.
Messer's latest series of tweets elicited many empathetic and encouraging responses from followers, including parents going through similar struggles. 
One fan commented on her first tweet, telling her that her own son can't see out of his left eye and has asked the same question before. Leah responded by saying this was the first time Ali asked about her eyes, but questions like this were becoming more frequent.
"This is the first time she's asked," she said. "She's starting to ask a lot of questions like this.."
She also responded to another fan who told her, "It must be heartbreaking to know you can't trade places... but she's a child loving life. Who would wanna swap with an adult having to do adult things? She is so happy. Its obvious."
"Ohh for sure!! I don't think of it negatively at all," Messer replied. "It's just like, dayyyyuum. Sooo many take the little things in life for granted."