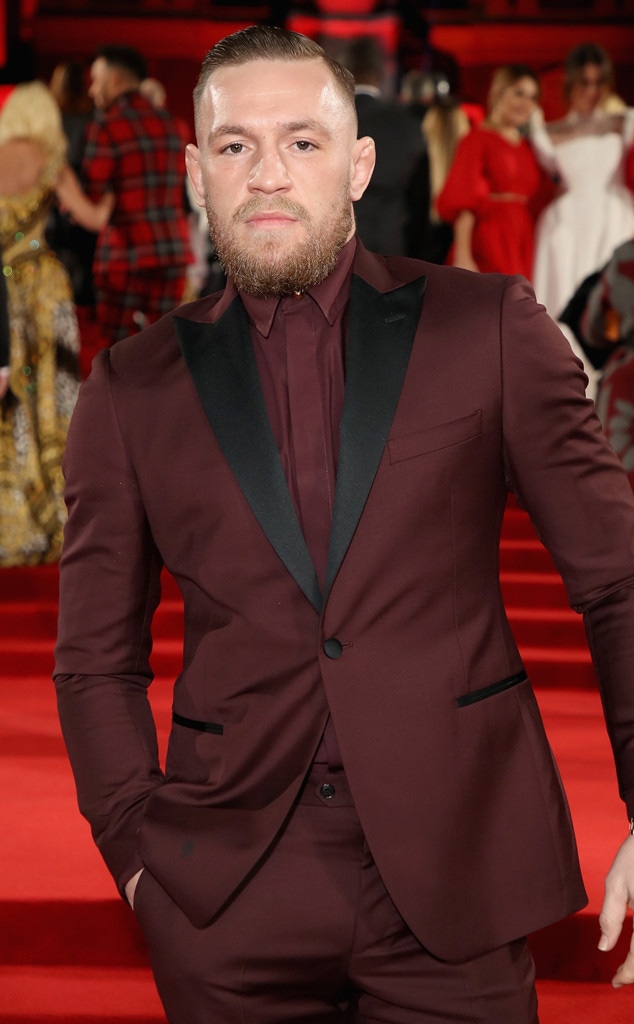 Mike Marsland/BFC/Getty Images
MMA fighter Conor McGregor turned himself in to police and was arrested and charged with assault and criminal mischief in New York on Thursday after he allegedly took part in an attack on a bus carrying fellow fighters, the NYPD says.
The incident was caught on camera after a UFC 223 press conference at Barclays Center in Brooklyn. One video shows McGregor picking up a metal guardrail and running with it in an apparent attempt to throw it at a departing bus carrying several other MMA fighters, including rival Khabib Nurmagomedov, NBC New York reported. McGregor also allegedly hurled an object that smashed a window. UFC fighter Michael Chiesa was cut in the face and hospitalized and was deemed unfit to fight at UFC 223 this Saturday, the Washington Post reported.
McGregor was charged around 11 p.m. with three counts of misdemeanor assault and one felony count of criminal mischief, an NYPD spokesperson told E! News. In addition, fellow Irish fighter Cian Cowley was charged with misdemeanor assault and criminal mischief. Both men turned themselves in to police.
A source close to McGregor told NBC New York that he was "upset and distraught" following the episode.
UFC President Dana White said on Fox Sports 1's First Things First that McGregor and "20 hoodlums they flew in from Ireland" were involved in the incident. In an earlier Facebook interview with MMAJunkie, White called the rampage "the most disgusting thing that has ever happened in the history of the company."
The incident took place a day after White announced that McGregor was being stripped of his UFC lightweight championship, which he had won in November 2016 with a victory over Eddie Alvarez, adding that either Nurmagomedov or Max Holloway will receive the title after their fight on Saturday at UFC 223. McGregor responded on Twitter early on Thursday, tweeting, "You's'll strip me of nothing you's do nothing c--ts."
However, White said on Friday that the fracas was not prompted by McGregor getting stripped of his lightweight belt, but rather by previous bad feelings between the fighter's camp and Nurmagomedov, who earlier this week got into a confrontation at a hotel with Artem Lobov, a friend of McGregor's.
White said on Fox Sports 1's First Things First that he was in contact with McGregor before he turned himself in to police and that the fighter attempted to justify his actions.
"Conor and I talked through text yesterday, obviously the worst conversation we have ever had," White said. "It's not that I don't think he understood what happened, it's just...he justified it, it was justified to him...[He thought] it had to be done."
UFC also issued an official statement, which read, "During today's media event at Barclays Center to promote UFC 223: Khabib vs. Holloway, Conor McGregor and Artem Lobov entered the building accompanied by over a dozen individuals. The group, which included McGregor and Lobov, vandalized the vehicle that contained a number of athletes competing at the event taking place this weekend."
"The organization deems today's disruption completely unacceptable and is currently working on the consequences that will follow," the statement said. "Immediately, Lobov has been removed from this weekend's card and individuals involved in the incident are not welcome at tomorrow's ceremonial weigh-in or Saturday's event at Barclays Center."
White told MMAJunkie that the fighter and "approximately 20 guys" gained access to Barclays Center from credentialed individuals who opened the doors for them.
"They stormed the building, got down to the loading docks where the fighters were getting on the buses and started to attack the buses, throwing trash cans, and dollies and things like that, broke one of the windows and cut Michael Chiesa really bad."
He said others, including female fighters, were injured and shaken up.
"You can imagine, he's going to be sued beyond belief," White said. "This is a real bad career move for him."