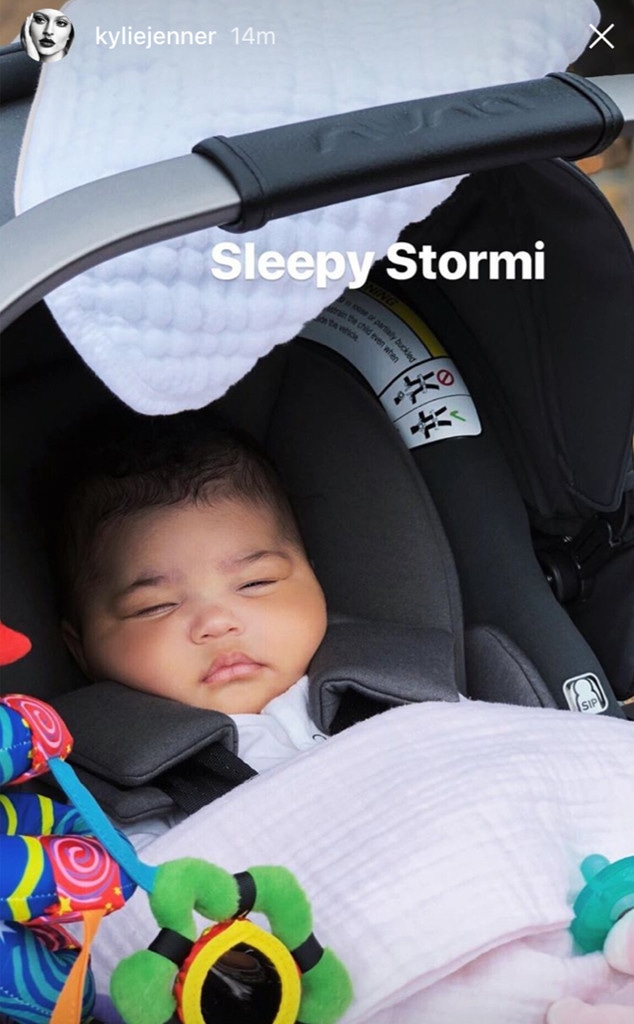 Kylie Jenner/Instagram
Sweet dreams, baby girl! 
Kylie Jenner took to social media on Thursday to document an afternoon stroll with boyfriend Travis Scott and their 2-month-old daughter, Stormi Webster. "Sleepy Stormi," the E! reality star and cosmetics mogul captioned a precious photo of her little girl snoozing soundly in a stroller. 
"Walk w mommy & daddy," Kylie captioned another snapshot of Stormi waking up from her nap. 
Over the Easter holiday, the tightknit trio joined other members of the Kardashian-Jenner family for a celebration. Kylie and Travis dressed Stormi up in a light pink dress with a giant bow for the milestone occasion. 
Since giving birth in early February, there's no question 20-year-old Kylie has soaked up all the joys of motherhood. In fact, sources have told E! News that baby Stormi has even strengthened her relationship with the rapper. 
The couple has "elevated to a new level," an insider shared, adding, "They also are making time to get out just the two of them and Kylie appreciates and enjoys that. She feels like she has the best of both worlds with her amazing baby at home and a little bit of time with Travis doing the things they love to do."
A separate source said the "Antidote" artist, 25, "can't get enough" time with his two leading ladies.
"It's surreal for him that they created this," the source explained. "He's working a lot but spending time with Kylie and Stormi when he isn't. He misses them so much when he's gone and wants to make sure he doesn't miss anything."
Sounds like quality time is just what these proud parents need!