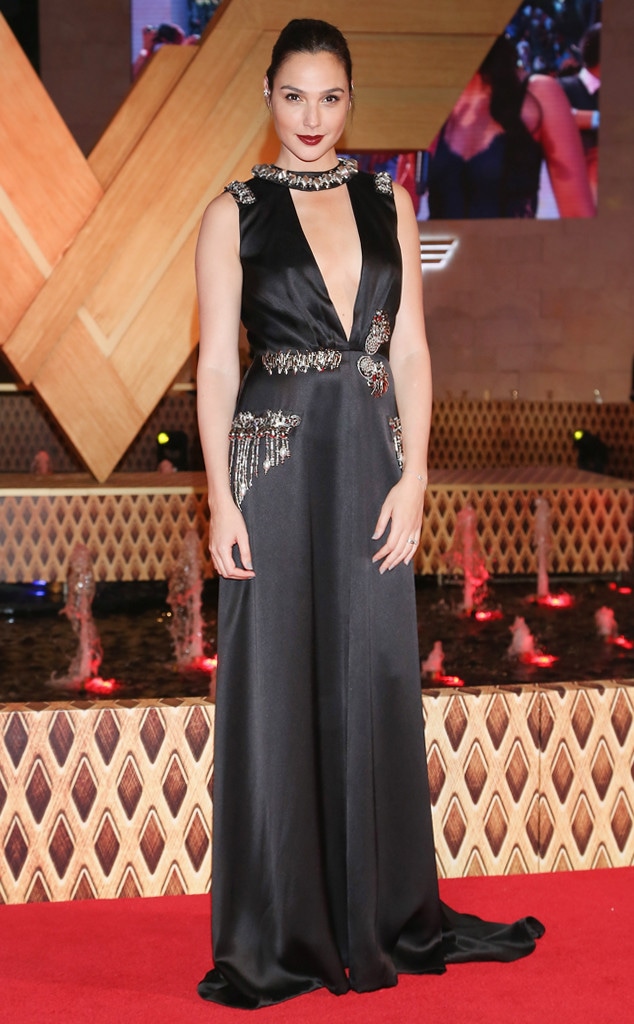 Victor Chavez/WireImage
Believe it or not: Celebrities mix high and low-priced items, too.
At least A-list stylist Elizabeth Stewart's clients do. If you're unfamiliar with the fashion pro, you can often find her work on Gal Gadot, Jessica Chastain, Viola Davis, Julia Roberts, Rebel Wilson…the list goes on. And although these stars may always look like a million bucks (and perhaps are even wearing more), sometimes, they are donning a piece that we can actually afford, too.
Case in point: Gal at the premiere of Wonder Woman in Mexico. The Israeli actress was adorned in a black silk Prada gown with beaded embellishments on the neckline, waist and hips. Her Anita Ko jewelry was as stunning as her deep berry lip. You would've never guessed that Gal was also wearing Rocket Dog sandals—yes, the brand responsible for those chunky, platform shoes you probably wore in high school. While we're not sure exactly which shoe Gal wore, we do know the brand's sandals ring in under $60.
Then, there was the L.A. premiere of Wonder Woman, where Gal wore a glittering Givenchy red halter dress, with Tiffany and Co. jewels…and $50 Aldo Starda Sandals.
"I've been doing high and low my entire career," Elizabeth told E! News. "It's a badge of honor for stylists to find deals."
So, it makes sense that the stylist would partner up with Walmart to launch the mega-retailer's spring apparel lines, including brands like Time and Tru, Terra & Sky, George and Wonder Nation. Now that red carpet season is over, the stylist is talking major spring trends you can do on a budget. The easiest of the bunch: statement earrings.
David Fisher/REX/Shutterstock
"Earrings are pretty huge; it's such a thing. It was picked up from the runway," explained the stylist, who uses affordable accessories to balance her own everyday uniform of a polka-dot blouse ("a perennial spring trend," she says), jeans and a high-fashion jacket.
When in doubt, a pop of color is all you need. The stylist's Instagram account is a montage of bold-red and hot-pink pieces.
"It's a great way to pop, a great way to stand out," Elizabeth noted. "For those who gravitate to black, try to work in pops of color." For instance, if you live in Helmet Lang (notable for its neutral colorways), throw in statement earrings, a red bag or a red shoe, the stylist advised.
Stewart considers florals and ruffles spring staples rather trends, transcending momentary demand. But if she had to pick a trending look, a cold shoulder is where it's at. If you're attending a dinner date or party, an off-the-shoulder should be your go-to. "I think showing some skin, right above the table, is good for dinner," suggested the stylist.
Lisa Maree Williams/Getty Images
Although denim will always on-trend; this spring, the focus will be on dresses, shirts and non-pant silhouettes. Though, personally, Elizabeth will live in jeans.
"I really love the Time and Tru jeans. I wear them on planes," said the stylist. "I focus on eco-brands. There are eight water bottles in [one pair of jeans]. That's a lot of water bottles taken out of landfills. I don't know what those water bottles do, but [the jeans] are super soft and comfortable!"
Practical concerns, like comfort, silhouette or simply color, can deter women from feeling comfortable with fashion, according to the stylist. Her solution? If you're like Rebel, you know what you like and you stick it. "Rebel looks great in body-con, form-fitting silhouettes. Find one formula that works for you and stick to that," suggested the pro.
But every now and then, experiment! For instance, one of her most recent favorite looks was worn by Jessica Chastain at a Piaget event. The actress wore a bright pink gown featuring a plunging neckline from Dubai-based designer Rami Al Ali. Elizabeth' first instinct was to keep jewelry minimal...but what would it hurt to try something else? 
"You have to try everything," she explained. "The neckline should've been clean. The basic rule is don't clutter up the neckline, but I'm glad I went against it."
The result? A pretty major look.