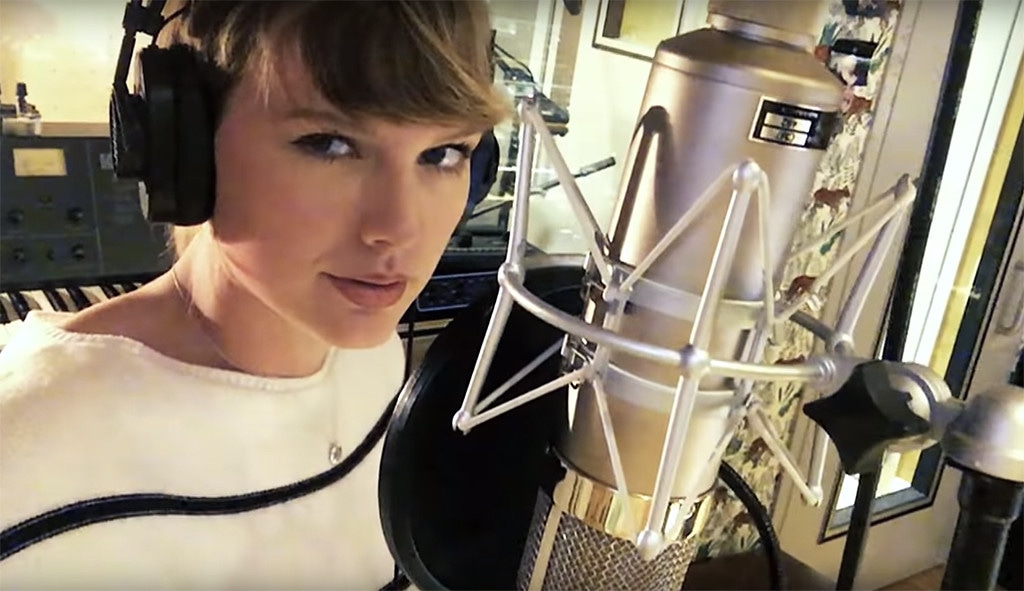 AT&T
They can't say they weren't warned.
Sure, Joe Jonas probably didn't realize that Taylor Swift would immortalize their 27-second breakup phone call. And certainly the high school boys that stepped out on her couldn't possibly have known she'd grow up to be a 10-time Grammy winner with a sizable, devoted fan base.
But the liner notes of the pop sensation's self-titled 2006 debut included a dedication "to all the boys who thought they would be cool and break my heart, guess what? Here are 14 songs written about you. HA."
So you could argue future boyfriends were put on notice.
Or, as the 28-year-old phrased it to Vulture in 2013, "Did you not Wikipedia me before you called me up?"
Not that her ex-flames are the only sources of inspiration. Over the course of her decade-plus career, Swift has penned lyrics about everyone from longtime bestie Abigail Anderson to her beloved mom Andrea to any bold-faced name that dare wronged her. So by the time her highly anticipated sixth studio album Reputation was released last November (it went on to become the year's best-selling album in the U.S.) the speculation about who she'd spurn in verse had reached a fever pitch.
Big Machine Label Group, LLC
Swift didn't disappoint. She littered both the lyrics and the music video of her first single, "Look What You Made Me Do" with allusions to Kanye West (seemingly acknowledging the set he used for his Saint Pablo tour, she sings, "I don't like your little games / I don't like your tilted stage / The role you made me play / Of the fool / No, I don't like you") and frenemy Katy Perry. Along with sporting a Perry-esque hairstyle in the music video, she dropped references to the burn book in Mean Girls ("I've got a list of names and yours is in red, underlined / I check it once, then I check it twice, oh!") an innuendo to Perry's 2014 tweet, "Watch out for the Regina George in sheep's clothing…"
She also canonized her romance with British actor Joe Alwyn. Lest anyone think the references in "Gorgeous"—she sings about his "ocean blue eyes" and getting drunk and making "fun of the way you talk"—were about any of her previous paramours, she told the 300 fans who gathered at her Watch Hill, Rhode Island manse for an October listening party that it was a tribute to her 27-year-old love of nearly a year.
"Basically Taylor made us all promise that if anyone made any accusations of who this song is about, we tell them it is 100 percent about her angel boyfriend of one year," one devotee wrote on Tumblr. "This isn't a secret. She wanted us to tell people."
Of course, Swift isn't the only musician who litters her lyrics with Easter eggs her fans can carefully dissect and craft into increasingly elaborate theories.
Most recently, Cardi B took aim at rumors her fiancé, Migos rapper Offset cheated in her latest single, "Be Careful". 
Jeff Kravitz/Getty Images for iHeartMedia
Though the 25-year-old two-time Grammy nominee doesn't mention him by name—as she did some 16 times in last year's "Bartier Cardi"—she does seem to address their relationship issues in the first verse.
"I wanna get married, like the Currys, Steph and Ayesha s--t / But we more like Belly; Tommy and Keisha s--t / Gave you TLC, you wanna creep and s--t / Poured out my whole heart to a piece of s--t / Man, I thought you would've learned your lesson / 'Bout liking pictures, not returnin' texts / I guess it's fine, man, I get the message," she raps, before continuing, "I could've did what you did to me to you a few times / But if I did decide to slide, find a n---a / F--k him, suck his d--k, you would've been pissed."
She doesn't let up in the second verse, either: "I was here before all of this / Guess you actin' out now, you got an audience / Tell me where your mind is, drop a pin, what's the coordinates? / You might have a fortune, but you lose me, you still gon' be misfortunate, n---a / Tell me, this love's got you this f--ked up in the head / You want some random bitch up in your bed? / She don't even know your middle name / Watch her, 'cause she might steal your chain / You don't want someone who loves you instead? I guess not though / It's blatant disrespect, you nothin' like the n---a I met." 
Getty Images for Harper's BAZAAR
That same week, The Weeknd dropped his latest disc, My Dear Melancholy, with no less than three tracks seemingly dedicated to his previous loves.
On "Call Out My Name" he appears to dissect his nine-month romance with Selena Gomez. Just weeks after they split last October, she was spotted kissing former boyfriend Justin Bieber, an incident the three-time Grammy winner nods to by singing, "Guess I was just another pit stop 'til you made up your mind."
Other lyrics in the song appear to be about the kidney transplant Gomez underwent last summer (sample lines: "I helped you out of a broken place," and "When times were rough, I made sure I held you close to me,") and one—"I almost cut a piece of myself for your life,"—suggests the 28-year-old "Starboy" crooner contemplated donating his own kidney to Gomez.
He also seems to diss Gomez in "Privilege," singing, "Enjoy your privileged life 'cause I'm not gonna hold you through the night / We said our last goodbyes. So, let's just try to end it with a smile / And I don't wanna hear that you are suffering, you are suffering, no more / 'Cause I held you down when you were suffering / You were suffering."
Former love Bella Hadid, the supermodel he dated pre-Gomez, is immortalized, too. In "Wasted Times", he sings about the former competitive horseback rider, "You were an equestrian, so ride it like a champion," also acknowledging, "Wasted times I spent with someone else / She wasn't even half of you."
But while some musicians send up their exes, others use their hits to call out their own less-than-savory actions.
A year after wife Beyoncé released her 2016 smash sensation Lemonade—first as an HBO short film riddled with symbolism, then an album—came Jay-Z's purported response, the confessional 4:44. 
While Lemonade served as a damning indictment of the rapper's wandering eye and other bad husband behavior, 4:44 was a confirmation.
In "Kill Jay-Z" the music mogul acknowledged his famed post-Met Gala elevator fight with sister-in-law Solange Knowles widely rumored to have been about fashion designer Rachel Roy. "You egged Solange on / Knowin' all along /All you had to say you was wrong," he rapped, adding, "But you gotta do better, boy, you owe it to Blue / You had no father, you had the armor / But you got a daughter, gotta get softer."
He also name drops Eric Benét, who split with Halle Berry in 2003 amid cheating allegations, rapping, "You almost went Eric Benét / Let the baddest girl in the world get away." Still, he insisted to iHeartRadio, the song is "not to be taken literal. It's really about ego. It's about killing off the ego, so we can have this conversation in a place of vulnerability and honesty."
His lyrics appear more explicit in the title track, which he's called "one of the best songs I've ever written." Referencing infidelity, the 48-year-old raps, "And if my children knew / I don't even know what I would do / If they ain't look at me the same / I would probably die with all the shame / 'You did what with who?' / What good is a ménage à trois when you have a soulmate? / 'You risked that for Blue?'"
Rich Polk/Getty Images for Disney
And then there are the songs that simply serve as sweet tributes of love.
With her latest disc, Younger Now, Miley Cyrus decided to forgo the use of a songwriter. "Writing the lyrics for me solo on this record was important because I'm really trying to project what I think and feel, and I don't think that anyone can know that besides me," the singer-actress, 25, explained in a September 2017 interview with Grammy.com. "It's just a different time for me in my life—how I want to create, how I want to co-create and how I want to collaborate."
Lyrics, she concluded, "are very sacred to me, and also to my fans. I want them to understand that this record is really all the truth, from me."
One of the more personal tracks, "Malibu", serves as an ode to fiancé Liam Hemsworth, the Aussie actor she met on the Tybee Island, Georgia set of 2010's The Last Song.
"I never came to the beach, or stood by the ocean / I never sat by the shore, under the sun with my feet in the sand / But you brought me here and I'm happy that you did," she sings before jumping into a chorus that references the compound Hemsworth bought in the oceanside California town: "But here I am, next to you / The sky's more blue in Malibu / Next to you in Malibu / Next to you."
Cyrus told Billboard she wrote the verses in the back of an Uber en route to The Voice when she realized, why shouldn't she share her emotions about her on-again love. "They're going to talk about me if I come out of a restaurant with Liam," she reasoned. "So why not put the power back in my relationship and say, 'This is how I feel'?"
Just, you know, leave a little something for fans to decipher on their own.