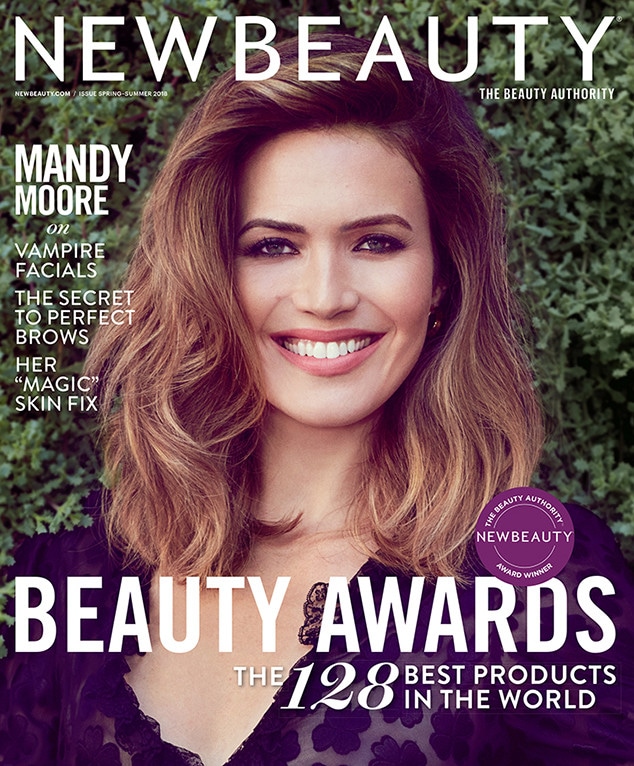 NewBeauty Magazine
Fans have grown up with Mandy Moore.
It's been almost two decades since she debuted "Candy" and teased Mia Thermopolis in The Princess Diaries. Now, she stars on the award-winning drama This Is Us and is getting ready to tie the knot with Dawes singer Taylor Goldsmith.
In her new cover story for NewBeauty, the 33-year-old actress opens up about how she's evolved both personally and professionally. 
Moore admits she used to stress over the little things when she was younger but now tries to focus on the more important things in life. 
"The older you get, the less of a sh-t you give," she tells the magazine.
In fact, she would tell her 20-year-old self to understand there will be bumps in the road but that she needs to believe in herself and stay strong. 
"Everything happens for a reason," Moore says in a message to her younger self, "so try to own it and embrace it because it's going to be part of her story."
To stay centered, Moore tries to live a healthy lifestyle. Before a big event, she stops eating unhealthy food and ups her water intake. She also tries to have a 12-hour window between dinner and breakfast. 
Of course, Moore isn't afraid to give into indulgences now and then. She says French fries, chocolate chip cookies and a glass of wine are her biggest weaknesses. 
She also works out with her trainer Jason Walsh and does everything from circuit training and cardio to hiking and running. Still, she admits working out isn't her favorite activity, adding she's not the type of person to wake up and say "I can't wait to work out."
In addition to dishing on her health and fitness routine, Moore shares a few of her beauty staples. The actress is a fan of coconut oil and Biologique Recherche P50. As far as her daily routine goes, she keeps it simple by washing her face every day and only wearing moisturizer and sunscreen to the gym. If she's not working out, she'll add some clear eyebrow gel, as well as a pop of color to her lips. She also has her eyebrows microfeathered, which is a trend she claims she always wanted to try.
"I was a bit of a guinea pig because I was one of the first clients [Kristie Streicher] did it on," Moore recalls.
Still, her makeup routine is a bit more intense for her role as Rebecca Pearson on This Is Us. 
For one episode, the star plays a 66-year-old version of herself, which required her makeup artist to paint on age spots, sunspots and broken capillaries. She even had to wear 10 prosthetics and says the process took three and a half hours. 
"I doubt I will look like that at 66," Moore says. "Clearly she's worn sunscreen and gotten sleep…"
Playing Rebecca on This Is Us has been a "humbling" experience for Moore as she's often approached by fans who want to open up about vulnerable experiences. Still, she loves playing the character and feels comfortable and confident in the role. 
"It's like I slip on the clothes and shoes and I'm ready to go," she says.
To read the full interview, check out NewBeauty.