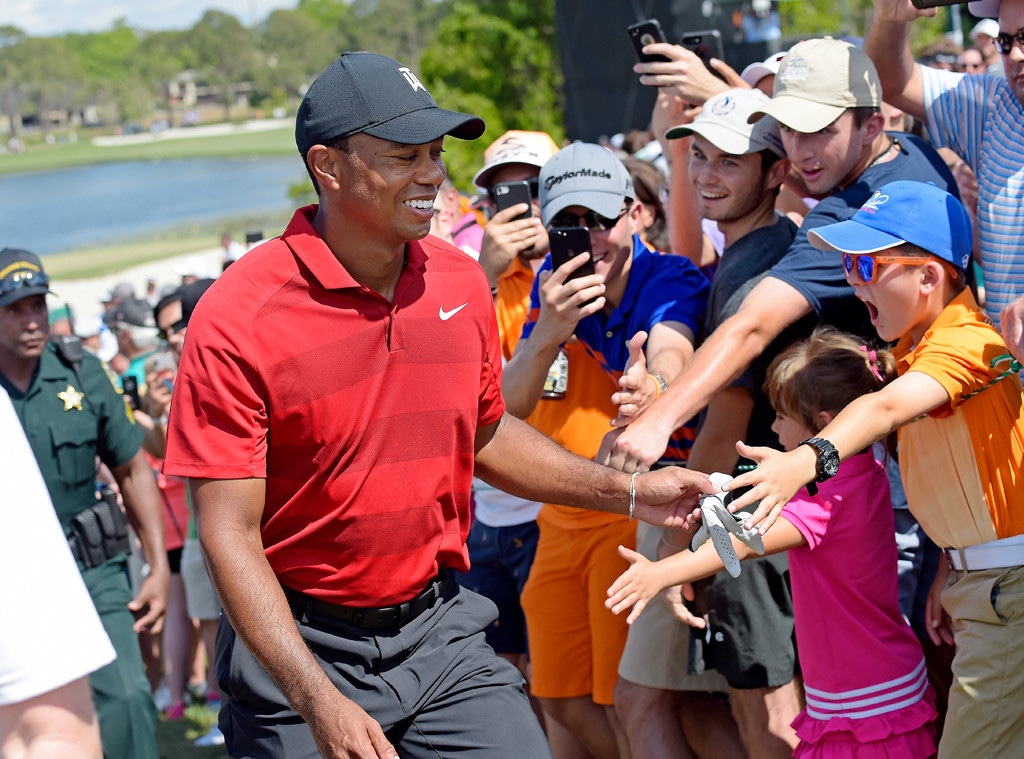 Tracy Wilcox/PGA TOUR via Getty Images
When it comes to playing from the rough, Tiger Woods has learned a thing or two.
The golf great—bowed but not broken by injury, addiction issues and perhaps the most shocking cheating scandal of the past decade—returns to the Masters today for the first time in three years and as of yesterday afternoon he was one of the favorites to win the whole thing. And just a few days before that, he was the favorite. (Maybe not among his peers, but they're not going to be the ones laying wagers.)
"I don't think there's one clear-cut favorite," Woods has said modestly. "I think there are so many guys playing so well at one time. There's no one guy. That's what's exciting about this year."
Which just goes to show, when you give someone enough time to heal, be it his aching back or a bruised ego, he may just surprise you.
To be sure the storied course at Augusta National Golf Club has been the site of some of Wood's biggest triumphs, including his first major win in 1997, when he was a wee 21 years old. Among his 14 major titles he's won the Masters four times.
But in his last appearance at Augusta, in 2015, he came in 17th. And though it seems like only yesterday he was triumphing in a sudden-death U.S. Open playoff on one leg, that was almost 10 years ago.
A year and a half later, in November 2009, he destroyed his reputation as one of sports' most inspiring, likable figures when he smashed his Escalade into a tree outside the palatial Florida home he shared with his stunning wife of five years, Elin, and two adorable children, Sam and Charlie.
And not because he had been exposed as a careless driver.
Rather, as Jeff Benedict and Armen Keteyian's new biography, Tiger Woods, points out—the golfer's wife "was finally onto him." 
The National Enquirer had reported two days earlier that Woods was having an affair with the soon-to-be-household-name Rachel Uchitel, whom he'd met shortly after their son was born in that February. On the night of the accident, Elin found a text on her husband's phone sent to an unknown number that read, "You are the only one I've ever loved." She called the number, Uchitel picked up...
The next thing the world knew, Woods had hit the curb, then a fire hydrant, and then a tree. He would try to deny the rumors of what put him in the car that night, calling the incident a "private matter," but it's been widely reported that Elin threw his cell phone back in his face, chipping his tooth, and then grabbed a golf club and chased him out of the house. When the cops arrived, the back window of the Escalade was broken. Elin told them she had heard the crash from inside and used the club to help pry Woods out of the SUV.
Benedict and Keteyian report that Woods—who by then figured a divorce was inevitable—was actually more concerned about what his mother, who was staying with the couple for the Thanksgiving holiday, would think.
But let's just say, the Enquirer story seemed all that more compelling the next day.
Maybe that salacious story would have taken off anyway, maybe not. Regardless, it would soon be revealed that Woods was a serial cheater with a coterie of girlfriends, some of whom kept receipts despite Woods' hapless requests to delete their texts or take their names out of their outgoing voicemail messages. Fourteen names were unearthed by Dec. 11.
"The word betrayal isn't strong enough. I feel like my whole world is falling apart," Elin reportedly told her mother, who along with Elin's sister arrived to help care for the kids. She would later tell People she "never suspected, not a one." By Christmas, Elin—who had been working as a nanny for golfer Jesper Parnevik when she met Woods at the 2001 British Open—had moved Sam and Charlie into a nearby rental house.
Woods, meanwhile, had fled to Arizona—to get his tooth fixed and to spend 45 days in a treatment facility.
David Cannon/Getty Images
"I was unfaithful. I had affairs. I cheated. What I did is not acceptable. And I am the only person to blame. I stopped living by the core values that I was taught to believe in," he said at a televised press conference on Feb. 19, 2010.
"I knew my actions were wrong. But I convinced myself that normal rules didn't apply. I never thought about who I was hurting. Instead, I thought only about myself. I ran straight through the boundaries that a married couple should live by. I thought I could get away with whatever I wanted to. I felt that I had worked hard my entire life and deserved to enjoy all the temptations around me. I felt I was entitled...I was wrong. I was foolish. I don't get to play by different rules."
He lost an estimated $22 million in endorsements afterward, though still came in as Forbes' top-earning athlete from June 2009-2010 with $90 million.
He also finished a decent fourth (two places higher than the previous year) at the 2010 Masters that April, despite the embarrassment of a public dressing-down from Augusta National Chairman Billy Payne, who spoke for everyone when he said that Woods had "disappointed all of us, and more importantly, our kids and our grandkids. His future will never again be measured only by his performance against par, but measured by the sincerity of his effort to change."
True, though mainly by his performance against par. 
Elin Nordegren filed for divorce in August 2010. She said she wished her future ex-husband the best, "as a person and as an athlete. I know he is going to go down as the best golfer that ever lived, and rightfully so. I feel privileged to have witnessed a part of his golfing career."
FRANCK FIFE/AFP/Getty Images
Her divorce settlement was said to be worth almost $100 million. Just last month she put the 25,000-square-foot home in North Palm Beach she had custom-built in 2011 on the market for $49.5 million, because she's looking to "downsize."
Woods called their breakup a "sad time in our lives." He remained winless in 2010, and didn't notch any victories in 2011 either.
In 2012 Woods started dating Olympic champion skier Lindsay Vonn, a very well-liked (and recently separated) athlete who added some badly needed personal-life polish to Woods' game. She also may have been a good-luck charm. Woods finally started winning again (never mind that 40th-place finish at the Masters), collecting three titles in 2012.
He regained his No. 1 ranking in 2013 and won five more tournaments, though his drought at the majors continued. Also that year Vonn suffered a catastrophic knee injury during the World Championships in Austria, after which Woods provided the private plane to get her back to Colorado for surgery. Soon after they made their relationship Facebook-official.
After re-injuring the knee while trying to rush her return that November, Vonn ended up sidelined for most of 2014, allowing her much more quality time with Woods than her competition-season schedule would normally allow.
She was back in championship form by December 2014 after what she called a "very dark moment" in her career.
In May 2015, however, Vonn and Woods announced that they had broken up. Rumors that Woods had cheated on one of the most famous Winter Olympians ever naturally soon followed, and he denied stepping out on her.
Later that year he acknowledged to TIME magazine that being a champion athlete organically required a certain amount of selfishness.
"I think every great champion who has ever lived would say, yeah, they're selfish in certain aspects. That's how you got there. You had to put in extra time in the weight room, extra time running and running, extra time recovering, extra time running their plays or hitting shots or doing the things that other people didn't do," Woods said. "Why do you do it? Yeah, you wanted to become better. But there's a cost."
Asked what went wrong between him and Vonn, he said they simply never had enough time together.
Ethan Miller/Getty Images
"We're texting each other," he said. "It was a great relationship, but it was so hard, when I'm training to do my sport, it takes umpteen hours to do, and I can't travel, except to my tournaments, because I'm here dedicated to my two kids. Meanwhile, most of her summer is spent in South America, at training camps in Chile and Argentina, and then you've got her season, which is mostly in Europe.
"And I can't travel because I have the kids—my off weeks I'm devoted to my kids—and I have to be here. It's a relationship that was fantastic, but it just can't work on that level. It just could not work. It was doing an injustice to both of us."
Additionally, throughout their three years together, they were the subject of much fascination, particularly Vonn because she represented Woods' first foray back into romantic respectability since his marriage imploded. 
Vonn told E! News in 2016, "The breakup, being together, it was all really hard. It was essentially being in a fish bowl. Everybody's looking at you and judging you and commenting on what they think is right or wrong and it was hard."
Lester Cohen/Getty Images
Woods, who over the years has suffered shoulder, elbow and back issues, a ruptured ACL, a torn Achilles, an MCL strain and a stress fracture in his tibia (the injury that he hobbled through to win the 2008 U.S. Open), intently devoted 2016 to rehabbing his back and getting back into competitive form, but he kept having to put off his return to competition.
His high notes that year included marking the 20th anniversary Tiger Woods Foundation, which focuses on youth education, provides golf instruction for underprivileged kids and awards scholarship money. He also launched TGR Live, an event and management company, and—having never been known for being anyone's buddy on the PGA Tour—served for the first time as a vice captain on the U.S. Ryder Cup team, which went on to beat Europe for the first time in eight years.
Woods finally made it to the first day of a tournament in February 2017, but had to withdraw after experiencing back spasms. He pulled out of the 2017 Masters and underwent fusion surgery to relieve pain in his back and leg. On May 24 he said in a post on his website that he was feeling better than he had in years after getting to a point where he could "no longer live with the pain."
But it turned out he was also still trying to manage how to live without it.
Five days later, in the early morning hours of Memorial Day, police in Jupiter, Fla., came upon Woods asleep in the front seat of his Mercedes-Benz, which was stopped on the side of the road. The vehicle was damaged on the driver's side and both the front and rear tire on that side were flat.
Woods was booked for alleged DUI and released on his own recognizance. He insisted that he wasn't drinking; rather, he said he had suffered an unforeseen reaction to prescription medication. The police report confirmed that he blew a 0.0 on the Breathalyzer test and a urinalysis showed no traces of alcohol. A police report later obtained by the Golf Channel mentioned Vicodin, Torix (an anti-inflammatory) and a couple of other prescription medications.
That big comeback, or at least a return to normalcy, in which Tiger Woods is competing with the best of them on the golf course, looked further and further out of reach.
Following numerous reports that he had checked into rehab, Woods confirmed on June 19 that he was "receiving professional help to manage my medications and the ways that I deal with back pain and a sleep disorder."
He added, "I want to thank everyone for the amazing outpouring of support and understanding especially the fans and players on tour."
Woods completed a private intensive program that July and said he would continue to work on his health with his own doctors. In October he pleaded guilty to reckless driving, avoiding the more serious DUI charge, and was sentenced to a year of probation, ordered to pay a $250 fine and make a matching donation to Palm Beach County Victim Services, and ordered to attend DUI school and a workshop to listen to victims of impaired drivers discussing how their lives were affected. 
And in December, just months after being cleared to hit balls, he returned to golf at his own annual tournament, the Hero World Challenge. He finished tied for third.
He's played five tournaments since, finishing one stroke off the lead at the Valpar Championship last month and atop the leaderboard when it comes to commanding the attention of the fans, the cameras and the audience at home. And his fellow pros can't help but feel the difference in the air when Tiger is around.
"As soon as Tiger walked in, everybody stood up and started clapping," Jon Rahm, the current No. 3 golfer in the world, told the Los Angeles Times at Augusta this week. "It doesn't happen for anybody else."
"I've been a Tiger fan for the last 20 years," Rory McIlroy, one of the young champions who helped fill the void while Woods was away from the game, told Golf Digest last month. "I think anyone who is maybe my age and even a little bit older and a little bit younger was inspired by him because of what he did on the golf course and how he approached the game. He was golf for the better part of a decade, if not more. So it's cool to have been able to get to know him and call him a friend."
Woods' far jollier attitude may have won him a few more friends on the circuit, but it's the return of his reconstructed swings, his short game and his Sunday-red Nike shirts that has fans feeling like it's 2005.
"If you would have asked me at the beginning of the year that I would have had a chance to win two golf tournaments, I would have taken that in a heartbeat," he told reporters after finishing fifth at the Arnold Palmer Invitational in Orlando.
"All of a sudden I have this pop," Woods said this week while readying for his 21st Masters. "It's crazy," he admitted. "I'll be honest with you, it is crazy."
Athletes are known for their miraculous physical comebacks, be it from broken backs, destroyed legs or reconstructed shoulders. Add to that the mental pressure weighing on Woods, major-less for the last 10 years, smart enough to know that he was an active participant in his decline, both in stature and swing.
But at the end of the day, the warm reception he's getting—strike that, the unmatchable thrill the game of golf is experiencing because Tiger Woods is back in action—isn't that crazy. This is a sporting world, and the rest of us are just playing through.