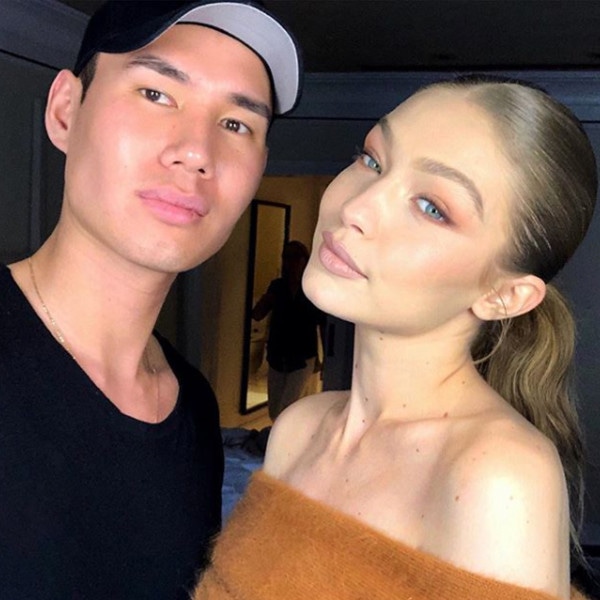 Now that the sun is coming out, we're seeing a softer side of makeup.
The pastel trend has gained major props as the go-to makeup look for brunch dates, weekend trips and epic getaways. It's simple, only requiring one or two shades. It's impactful, meaning you can dial down the rest of your makeup. And, it will look amazing in front of any spring-inspired backdrop, specifically the now-popular flower wall. 
There are, however, some things to keep in mind when recreating the look, and there's no one better than celebrity makeup artist Patrick Ta to keep us in the know.
After the beauty expert made a solo trip to the ipsy Gen Beauty convention in Los Angeles to share his tips and tricks with the makeup obsessed, he opened up to E! News on what went in to creating Gigi's pastel eye makeup.
"Gigi was changing into something else later but she wanted something natural that would still make her eyes pop," he said. "So I went for neutrals with a bit of color."
The result: a soft peach eyeshadow that you can wear pretty much anywhere.
The pro used the newly launched Gigi Hadid Jetsetter Palette, which the model referred to as a "kit that had all my favorite colors and everything I needed—all in one place."
Love her look? Check out the expert's tips below!
Select the right primer.
"I use any primers that have coverage with yellow undertones," he revealed. 
Although the pro didn't say which primers he prefers, Urban Decay and Jane Iredale are among the few brands that sell eyeshadow bases with yellow tones. 
Keep your pastels neutral for the spring.
"Warmer pinky, caramel to rose gold hues are great for this spring."
Blend, blend, blend!
"The biggest mistake people make when applying eyeshadow is not blending enough."
Add highlighter and concealer.
To make your eyes pop, Patrick suggests that "putting a little bit of highlighter in your tear ducts area really opens up your eyes."
If you don't have the right highlighter, he shared that you'll be just fine "using a great concealer to brighten your under-eye area and curling your lashes."
Pretty easy, right?
RELATED ARTICLE: Cardi B's Makeup Artist Uses a $5 Concealer for Doll-Like Skin