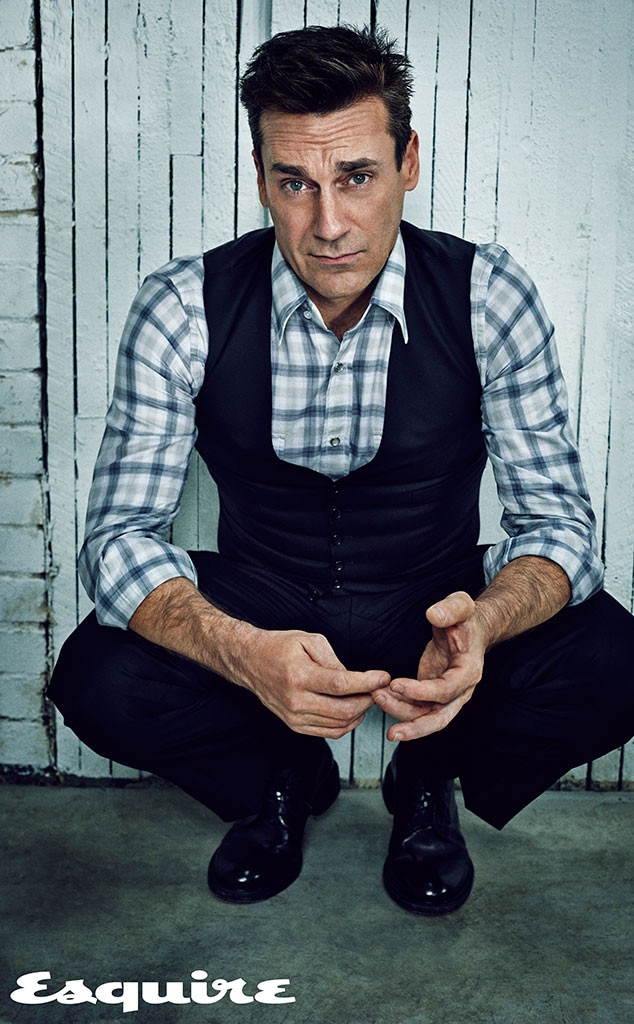 MARC HOM
Jon Hamm is opening up about his past in a candid new interview with Esquire.
The Mad Men alum covers the Spring + Summer issue of the publication's bi-annual style manual, The Big Black Book, and reflects on the years leading up to his big break on the AMC show.
After moving from Missouri to Los Angeles at the age of 25, Hamm struggled to find work as an actor and ended up working behind the scenes of softcore porn films to pay the bills.
"I got that job because of a friend of mine, this girl who was like our stage manager in college…I was hanging out with her and another friend of ours from Mizzou, commiserating at a potluck," Hamm tells Esquire. "None of us had any money. I'd lost my catering gig. I was like, 'I need a job.' My friend said, 'You can have my job. I'm doing set dressing.'"
He continues, "I said, 'I don't know how to do that.' She says, 'It's not that hard. They'll hire anybody.' She says, 'It's just soul-crushing for me. I can't do it.' I said, 'Soul-crushing: That sounds amazing. I'll do it.' And she's like, 'It's for these Skinemax softcore titty movies.' I asked, 'What do you do?' She hands me this bucket with all of her tools in it and says, 'You just move shit around. Do whatever they want you to do.' I went in the following Monday and said, 'I'm the new set dresser.' Literally, no one blinked."
In the late '90s, Hamm's career as an actor started to gain some traction, but it wasn't until 2007 when he made his big break in Hollywood by landing the role of Don Draper in Mad Men. Since that time, Hamm's career has taken off and he's now consider an A-list actor. But with all of that success comes a lot of unwanted attention.
Back in the early '90s, Hamm was a college student at the University of Texas when, according to reports, he and fellow fraternity members were accused of severely hazing a pledge. The incident resurfaced in 2015, just as Mad Men was airing its final season.
"Everything about that is sensationalized," Hamm tells Esquire. "I was accused of these things I don't…It's so hard to get into it. I don't want to give it any more breath."
He continues, "It was a bummer of a thing that happened. I was essentially acquitted. I wasn't convicted of anything. I was caught up in a big situation, a stupid kid in a stupid situation, and it's a f--king bummer. I moved on from it."
In addition to Mad Men ending in 2015, that year also saw the actor enter rehab for alcohol abuse and split with his longtime love, Jennifer Westfeldt.
Talking about that time period in his life, Hamm shares, "I had a lot of shifts in my life. A lot of rearranging of priorities. I don't think it was conscious, but it was necessary. It was tricky, and the dust is still settling in many ways."
The Spring + Summer issue of Esquire's Big Black Book is available nationwide on Tuesday, April 10.